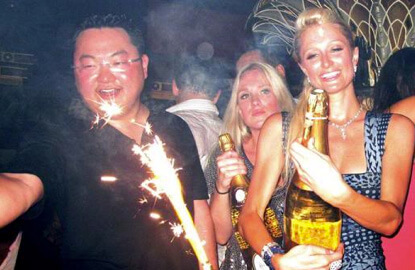 SINGAPORE (Aug 23): How would you celebrate your birthday if you were sitting on billions of dollars allegedly siphoned from a state-owned fund?
Have Britney Spears sing you 'Happy Birthday', perhaps? Or fly in Korean superstar Psy to perform 'Gangnam Style'? Maybe even invite Leonardo DiCaprio to rap on stage?
Low Taek Jho, the Malaysian businessman at the centre of the alleged 1Malaysia Development Berhad (1MDB) embezzlement scam, had all that — and more.
Better known as Jho Low, he threw some of the biggest parties Las Vegas, the entertainment capital of the world, has ever seen.
To celebrate his turning 30 in 2012, Low reportedly invited more than 300 guests to the mother of all parties at a giant tent erected on an empty five-acre lot along the Las Vegas strip, complete with an indoor Ferris wheel and a 24-foot bar carved from solid ice.
The guest list read like the who's who of Vegas. On top of Spears, Psy, and DiCaprio, the party was headlined by stars such as Jamie Foxx, Paris Hilton, Kanye West, Kim Kardashian, Robert De Niro, Benicio Del Toro, and swimming champion Michael Phelps.
Brittney Spears was said to have been paid US$1 million (S$1.3 million) for her Happy Birthday song performance, while Psy was rumoured to have been paid even more for his gig, according to a report by The Hollywood Reporter.
From his VIP area, Low was reported to have watched as his minders birthday unwrapped his birthdays presents, including three luxury Italian motorcycles and a supercar believed to be a US$2.5 million Bugatti Veyron.
Low reportedly did not mingle with many of his guests, who were made to sign a confidentiality agreement that barred them from any photography and disclosure of details about the party.