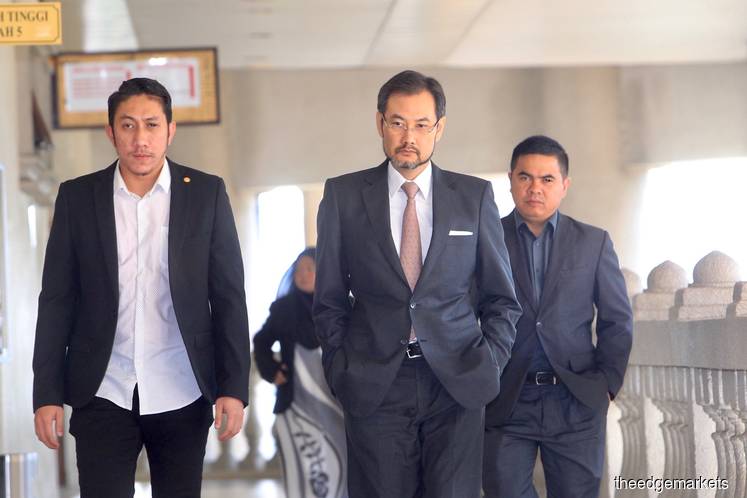 KUALA LUMPUR (Oct 10): Low Taek Jho, aka Jho Low, had pre-empted Datuk Shahrol Azral Ibrahim Halmi from investigating further by telling him to expect the Yang di-Pertuan Agong to question the fugitive businessman's role in Terengganu Investment Authority (TIA), the precursor to 1MDB, and raise the issue of the purported misrepresentation of the palace by "a certain individual".
Shahrol, who was the former 1MDB and TIA chief executive officer, testified this in the High Court today when he was cross-examined by lead defence counsel Tan Sri Muhammad Shafee Abdullah as the prosecution's ninth witness.
According to previous witness Datuk Amhari Efendi Nazaruddin, in 2009, a representative of Istana Negara had refuted Jho Low's claim that he was an adviser of the Agong, who was then Sultan Mizan Zainal Abidin of Terengganu.
Based on a document produced by the defence, the minutes of a meeting on June 30, 2009, show that Istana Negara representatives questioned who Jho Low was and what role he played.
The palace was recorded as having raised the concern as it was worried that there are quarters that may have misused the name of the Agong.
However, Shahrol admitted that he did not take it upon himself to find out about Jho Low when the concerns were raised about the latter's role as it would appear that the businessman may have conflicted himself.
Shafee: Did you ask for any explanation [about Jho Low's claim to represent the Sultan]? You did not say anything to the [representative] of Istana Negara?
Shahrol: No.
Shafee: Why is that?
Shahrol: I don't remember… It was not a surprise to me that the Terengganu side would call [the matter] into question.
Shafee: This was the representative from the Istana, direct from the YDPA (Yang di-Pertuan Agong) no less, asking who is Jho Low and what is he representing. You would assume that this is from an order of the YDPA.
At that time, didn't it cross your mind, "what has Jho Low been doing? he presented to all of us that he is the YDPA's representative".
Shahrol: Because right before this meeting, Jho had already informed me to expect something like this.
Shafee: Ohh, he told you to expect this? So when Jho Low told you to expect this, you didn't think it was very wise of you to at least find out what were they talking about and explain the situation? You are the CEO, you know.
Shahrol: I saw this as a shareholders' matter, to be resolved between the shareholders. And up to that point, I was confident that Jho Low was representing one of the special shareholders, which is Datuk Seri Najib.
Shahrol went on to describe Jho Low as Najib's consigliere — an Italian mafia term which means a person who serves as an adviser or counsellor to the leader of a criminal organisation.
Addressing Shahrol's inaction on the matter, Shafee hit back at Shahrol, describing him with another Italian term soprammobili, which means table ornament.
"You never confirmed with Datuk Seri Najib. What was the Italian word that you said? Consigliere? But as the CEO, you seem to be what the Italians say soprammobili. A table ornament, and nothing more. You are someone who has no use... Merely a decoration. That's what you are. Do you agree?" Shafee said, to which Shahrol disagreed.
The Edge is reporting the proceedings of the 1MDB-Tanore trial live.
Users of The Edge Markets app may tap here to access the live report.