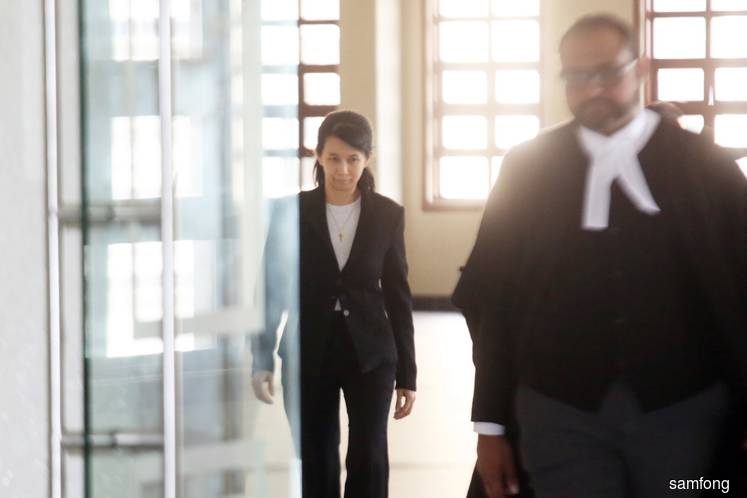 KUALA LUMPUR (Aug 5): Businessman Low Taek Jho — better known as Jho Low — had ordered RM40 million from SRC International Sdn Bhd be moved into Datuk Seri Najib Razak's AmBank accounts in the final week of in Dec 2014 to ensure funds advanced by two Putrajaya Perdana Bhd units could be returned. 
This was revealed by Harvinderjit Singh during cross-examination of former AmBank relationship manager Joanna Yu, during the SRC trial at the Kuala Lumpur High Court today.
The RM40 million transfer from the former 1Malaysia Development Bhd (1MDB) unit to Ihsan Perdana Sdn Bhd and finally Najib's accounts ending 880 and 906 respectively, was done to enable the reversal of two transfers of RM27 million and RM5 million to Putrajaya Perdana's subsidiaries, Permai Binaraya Sdn Bhd (PBSB) and Putra Perdana Construction Sdn Bhd (PPC), on Dec 26, 2014. 
Najib's accounts had insufficient balance in December 2014 — account ending 880, which received RM27 million, had a balance of RM6.8 million; while account ending 906, which received RM5 million, was overdrawn by over RM3 million. 
Recall Low had facilitated the transfer of funds into Najib's accounts from PBSB and PPC in the third quarter of 2014, to ensure cheques issued by the two accounts do not bounce. 
Harvinderjit pointed out that the monies were eventually returned to Putrajaya Perdana, which he argued was facilitated by Low to zerorise cash advances issued by the company in the financial year ended Dec 31, 2014 (FY14). 
The two outbound transactions were part of the RM42 million sum which Najib was accused of receiving between December 2014 and February 2015.  
Najib is currently facing seven charges of money laundering and abuse of power in relation to the RM42 million which was allegedly siphoned from SRC.
Read also:
Day 47 of Najib's SRC trial: Joanna Yu to continue testifying for seventh day
Jho Low issued most of the instructions for Najib's accounts, affirms witness
'Rogue banker' Yu says she never conspired with Jho Low
'Eagle 27 transaction misrepresented as donation by Jho Low'
Joanna Yu rejects Jho Low's lucrative job offer at 1MDB