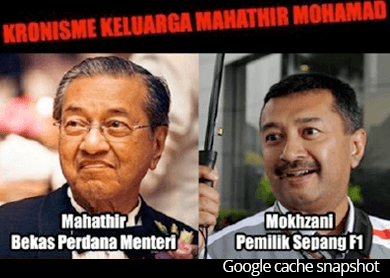 KUALA LUMPUR (Feb 4): Businessman Low Taek Jho has denied being part of attacks by an anonymous blogger against Tun Dr Mahathir Mohamad, Datuk Seri Nazir Razak and The Edge publisher Datuk Tong Kooi Ong, saying he respected the trio for their professional achievements.
A spokesman for the businessman also known as Jho Low said he has asked his lawyers to look into The Malaysian Insider's expose about a blogger registered as ahrily90 who had blogs praising him and 1Malaysia Development Bhd (1MDB) projects while criticising the retired prime minister, banker Nazir and Tong, who owns The Edge Media Group.
"This article wrongly suggests that Mr Low was somehow involved in the press attacks by an anonymous blogger on Tun Dr Mahathir Mohamad, Datuk Seri Nazir Razak, and Datuk Dr Tong Kooi Ong.
"This is preposterous and completely false," the spokesman said in a statement sent to The Malaysian Insider, referring to the article headlined "EXPOSED! Pro-Jho Low blogger behind attacks on Dr M, Nazir and Edge owner Tong".
"Mr Low respects these individuals for their professional achievements.
"Given the false and improper innuendos made against Mr Low in this report, this matter has been referred to his lawyers," the spokesman added.
The Edge Malaysia reported that the blogger of malaysianexpose.wordpress.com behind the baseless attacks on Tong and The Edge Media Group was also behind similar vicious onslaughts on Dr Mahathir and Nazir, while running other blogs which published complimentary articles on Jho Low.
One common thread behind the attacks appeared to be the fact that The Edge had been publishing exposes about state investment vehicle 1MDB, while Dr Mahathir had been openly critical of it, even saying it was unnecessary and should be shut.
The anonymous blogger used the public display and user name "ahrily90" and he wrote at the following blogs since mid-2014: kronismemahathir.wordpress.com and politikukus.wordpress.com that have attacked Dr Mahathir since last July.
"ahrily90" also wrote on two blogs which targeted Nazir: kamibukanbodohtau.wordpress.com and corruptednazirrazak.wordpress.com.
The same blogger also wrote on three blogs which praised 1MDB and Jho Low:  bisnes2malaysia.wordpress.com, todayinbusiness.wordpress.com and worldofcorporate.wordpress.com.