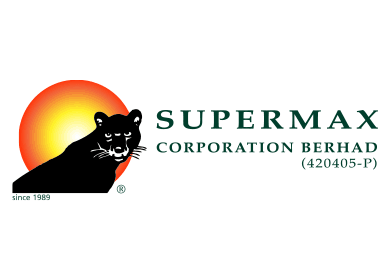 KUALA LUMPUR (May 26): JF Apex Securities Research has maintained its "Hold"rating on Supermax Corporation Bhd with a lower target price of RM2 (from RM2.07) and said Supermax reported quarterly net profit of RM24.9 million for the quarter ended March 31, 2015.
In a note today, the research house said Supermax's revenue fell by 3.9% year-on-year (y-o-y), as the Group priced its gloves cheaper amid falling costs of raw material i.e. natural latex and nitrile latex.
"Meanwhile, net profit dipped 6.2% y-o-y which we believe was partly dragged down by the start-up costs incurred for its new plants in Klang.
"Besides, we reckon that the price competition in the industry resulted in margin squeeze where the Group had to keep its selling prices attractive to support its sales volume growth.
"As a result, the operating profit margin shrank by 2.1 perentage points in 1Q2015 to 12% from 14.2% a year ago.
JF Apex slashed its earnings forecast for CY2015 by 20% to account for the lower-than-expected selling prices of gloves and narrower margin of the Group.
"Following the change in financial year-end from December to June, we have fine-tuned our earnings forecast for FY16 accordingly. We also instate our earnings forecast for FY17F," it said.