This article first appeared in The Edge Malaysia Weekly, on August 3, 2020 - August 09, 2020.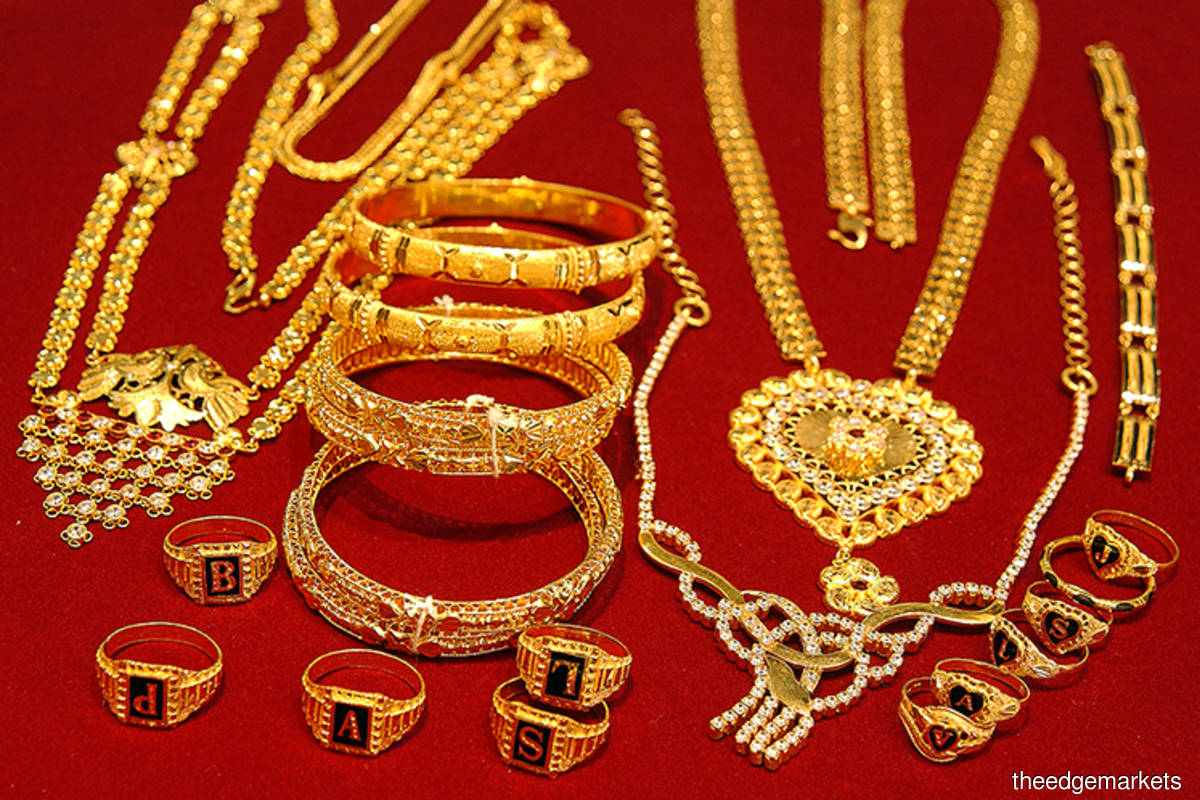 JEWELLERY stocks, often overlooked by investors, came under the spotlight last week. Trading volumes were higher than usual and share prices soared, in tandem with the gold upcycle.
Since July 24, Poh Kong Holdings Bhd had gained 62.5% at last Wednesday's close of 84.5 sen, valuing the company at RM346.74 million. Its closest rival, Tomei Consolidated Bhd, climbed 82.8% to settle at 90.5 sen over the same period, reaching a market capitalisation of RM125.4 million.
At 90.5 sen per share, Tomei is close to its five-year high of 96 sen reached on Sept 14, 2017, while Poh Kong's shares are at a record high.
Notably, Poh Kong's average trading volume has increased by 30% since July 24 to 2.08 million shares from 1.58 million. Tomei has also seen a 25% increase over the same period to 637,591 shares from 510,469 shares.
The surge in the jewellers' share prices comes amid the enthusiasm seen in the gold bullion market.
Prices of the precious metal have been rising steadily, hitting record highs last week.
Last Monday, gold was at US$1,944 per ounce and by Wednesday, it had hit US$1,971. The flight to precious metals has been spurred by the economic downturn, apart from other factors such as low interest rates, weakness in the US dollar and geopolitical tensions. Experts expect prices to go higher as gold continues to be seen as a safe haven in the midst of so much uncertainty globally.
However, one question that arises at times like this is whether investors buying into jewellers are being rational. Do they benefit from higher gold prices at a time when the world is tackling a recession brought about by the Covid-19 pandemic?
"There is not much correlation between gold prices and the jewellers, in my opinion. They would only benefit if they have a lot of inventory at lower prices. I believe the buying is sentiment driven. In terms of earnings, I don't think there will be anything to shout about this year because of the recession," Rakuten Trade Sdn Bhd vice-president Vincent Lau tells The Edge.
Tomei group managing director Datuk Ng Yih Pyng says any benefit jewellers derive from soaring gold prices would only be for the short term as the selling price is marked to market.
In other words, when gold prices increase, jewellers benefit as they are to sell their pieces at market price, provided they have purchased the precious metal at lower prices. When gold prices start to fall, jewellers will lose out if their average cost is higher than the prevailing market price.
For the first quarter ended March 31, 2020, Tomei's financials reflected the implication of rising gold prices. While revenue fell 11% to RM127.8 million from a year ago due to the closure of operations during the Movement Control Order (MCO), the jeweller's net profit increased 40% to RM4.01 million as gross margins improved because of higher gold prices.
As for Poh Kong, it bore the brunt of the MCO in its third-quarter results ended April 30, 2020 (3QFY2020).
Revenue for the quarter halved to RM112.46 million from a year ago, with the company recording a net loss of RM2.31 million compared with a net profit of RM5.39 million in 3QFY2019.
"The MCO interrupted our business from March 18 to May 3. However, business has been picking up gradually since May. The sales momentum is increasing as the government has now relaxed the restriction on the movement of people since June 10," says Poh Kong chairman and group managing director Datuk Eddie Choon Yee Seiong.
But what is more important for the jewellers is consumer sentiment, says Ng. Like many other retail-centric businesses, Tomei is operating under a new normal.
Ng says since the MCO restrictions were relaxed, allowing physical operations to resume, store locations where tourists used to frequent have been badly affected.
"A lot of offices still have their employees working from home. So, we see a reduction in the crowds in the city centre. Over the weekends, it is more of the younger generation that is out whereas the older generation are still a bit fearful to venture out. Yes, there has been some buying and selling of gold bullions and wafers," he adds.
Typically, Tomei's core customers have been skewed towards those in their 40s and above, who have more purchasing power for precious metals.
"Gold jewellery is seen as a necessity for occasions like weddings, so it boils down to how willing consumers are to spend. Do they spend more ... or less? If the economy is not good, consumers tend to buy less for now. So, it is really about sentiment," Ng explains.
Choon says Poh Kong's customers are buying a combination of gold jewellery and gold investment products now.
"The Covid-19 outbreak has caused uncertainties globally. Investors are changing their investment portfolios to gold. Thus, we are experiencing more consumers turning to gold as it is seen as a safe haven," he says.
He adds that barring unforeseen circumstances, the company's business in gold is seen as resilient amid weak market sentiment due to the worldwide outbreak.
At the time of writing last Thursday, spot gold prices had slipped to US$1,956 per ounce. Similarly, Poh Kong and Tomei's share prices have eased after the week's run, closing at 78.5 sen and 86 sen respectively.