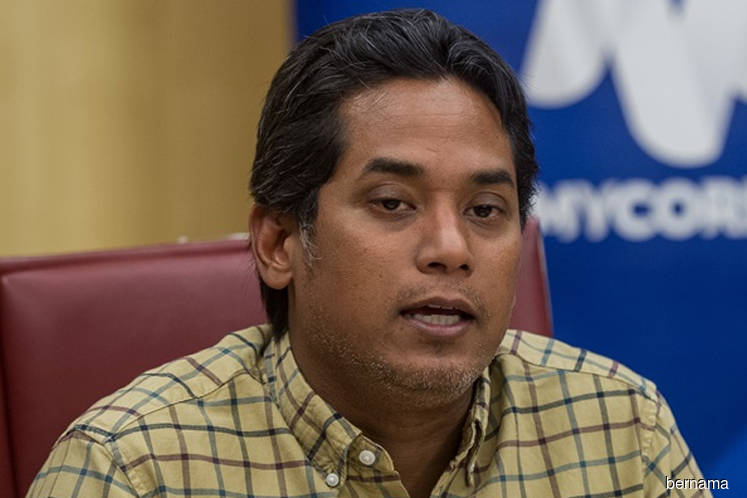 KUALA LUMPUR (Aug 9): Jelutong Pakatan Harapan Member of Parliament (MP) RSN Rayer has lauded the move by Rembau MP Khairy Jamaluddin to lodge a report with the police and Malaysian Anti-Corruption Commission (MACC) on the alleged missing RM18 billion input tax credit under the goods and services tax (GST) system.
"The mystery is that during the debate yesterday, none of the former ministers can explain the missing input tax credit.
"But today, we see only YB Rembau (Khairy), who dares to come forward to lodge a police and MACC report over the matter. For this (action) I salute him," he told the Dewan Rakyat during the second reading of Customs (Amendment) Bill 2018.
Rayer said that at the least, Khairy will be present as a complainant if former prime minister Datuk Seri Najib Razak is accused in court for misusing the missing money.
"I challenge YB Rembau to continue as he is credible over the others," he added.
Earlier today, Khairy tweeted that he would like to once again call for this matter to be investigated and substantiated over Finance Minister Lim Guan Eng's speech in parliament which was devoid of a detailed breakdown of the unpaid claims.
"I do not think an internal inquiry by Finance Ministry is sufficient when a serious allegation of misappropriation or 'rompakan' has been made. Since Guan Eng is not keen on anything beyond an internal inquiry for now, I would like to nudge this along in the public's interest.
"Later today and tomorrow I will be lodging a report with the police and the MACC against former top officials of the Finance Ministry at the material time (of the misappropriation).
"This is so that an open investigation can take place to ascertain the veracity of Lim's exposé.
"So, rather than waiting for some internal inquiry by the Finance Ministry, I hope police and MACC will investigate Guan Eng's allegation once my reports are made," he said in a thread on Twitter.
Yesterday, Khairy urged the government to take the case to court if it is true that a misappropriation had happened, after Lim said about RM18 billion or 93% of the RM19.4 billion input tax credit under the GST system since 2015 had gone missing.
On Tuesday, Lim accused the previous Barisan Nasional government of stealing the GST input tax that was to be returned to manufacturers two weeks after it was collected.