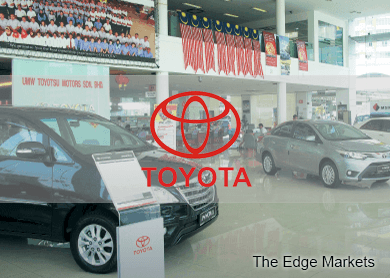 KUALA LUMPUR (Oct 30): For the third year running, Toyota bagged the top spot on global market information company JD Power's 2015 Malaysia Sales Satisfaction Index (SSI) Study, scoring at 791 against the national average of 752 out of 1,000 points.
The study, which is in its 13th year, examines six factors contributing to customer satisfaction when it comes to new-vehicle purchase experience in the mass market.
In order of importance the factors are: salesperson (19%); dealer facility (19%); delivery timing (17%); deal (16%); delivery process (16%); and sales initiation (13%).
"Toyota ranks highest in overall sales satisfaction among mass market brands for a third consecutive year, with a score of 791. Toyota performs particularly well in all factors, except sales initiation. Mitsubishi ranks second at 787, while Honda ranks third at 758," said the statement today.
JD Power's SSI study identified 22 sales standards that enhances customer sales satisfaction with the customer expecting a minimum of 18 out of the 22 standards to be met for a positive service experience.
Satisfaction level drops down to 693 points when 17 or less standards are met, compared with 825 points when all 22 factors are met.
In a separate statement, UMW Toyota Motor's deputy chairman Akio Takeyama said: "Clinching the first spot for three consecutive years gives us great pleasure."
"It is milestone such as this that continue to inspire and drive us to deliver not only quality products, but an overall meaningful experience with the brand," he added.
According to JD Power, new household vehicle owners consider the good reputation of the vehicle's brand (43%) and vehicle performance (42%), as well as attractive design and styling, good fuel efficiency, low purchase price or attractive deals when making their purchases.
The study also noted 40% of new vehicle buyers in 2015 acquired new vehicles for their first household vehicle, which is a 15% increase from last year.
Malaysia's JD Power country head Rajaswaran Tharmalingam said ongoing training for sales service staff is critical, especially when dealing with new-vehicle purchasers.
"The sales approach that works for someone who has purchased several new vehicles in the past, doesn't necessarily work for someone who has never purchased a vehicle before," said Tharmalingam. "It is important that salespeople are trained to understand the distinct shopping behaviors of the two buyer segments, so they can deliver a meaningful sales experience."