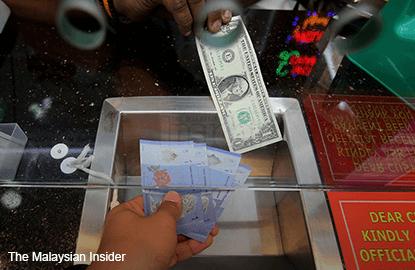 (August 5): The Malaysian ringgit's slipping value against the American currency has prompted some money changers in Johor Baru to stop stocking up on the US dollars, The Star reported today.
Checks by the paper in the city showed that businesses there had on the average some US$1,000 with them.
The exchange rate was pegged at RM3.87 for every US$1 yesterday.
A worker at a money changer outlet said they did not plan to replenish their US currency when stock ran out, as it was expensive.
"Although there is still demand, we are not planning to buy US dollars from the bank if our stock finishes," the paper quoted Alice Chua as saying.
Another money changer said that not many wanted to buy the US dollar now, adding that they have temporarily stopped buying the currency from the bank.
An outlet manager said the low supply of the currency was also due to the off-peak holiday season.
"If there are more tourists, then our supply will increase because we rarely buy dollars from the bank," he reportedly said.
Last month, the Malaysian Association of Money Services Businesses (MAMSB) warned money changers against hoarding foreign currencies in the face of a weak ringgit, as it posed risks in a volatile market.
MAMSB president Ramasamy Veeran told The Malaysian Insider that it was never a practice to stockpile and withhold foreign currencies in order to make a profit from the weak ringgit. – The Malaysian Insider