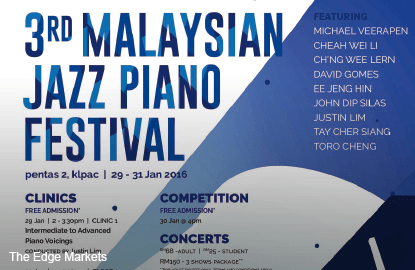 This article first appeared in The Edge Financial Daily, on January 26, 2016.
IN the city of New Orleans, the heart of the American Deep South — land of sinfully delicious cuisine — a soulful genre of music started spreading its wings over a hundred years ago. First created by African Americans, jazz music slowly inspired musicians and fans alike across the country, and by the first half on the 20th century, legends like Louis Armstrong and Ella Fitzgerald had become household names, their music being heard the world over. Today, jazz music has a strong footing with a loyal fan base here in Malaysia, spawning the creation of jazz festivals and bars where home-grown artists get the chance to entertain crowds with their talents.
The Malaysian Jazz Piano Festival (MJPF) is back again in its third incarnation at the Kuala Lumpur Performing Arts Centre (KLPac) from 29th to 31st January. Two successful runs of the MJPF saw the coming together of Malaysia's biggest jazz pianists, and this year, they will be performing over a span of three days, and the festival will also feature clinics and competitions for visitors.
The festival is the brainchild of Michael Veerapen, one of Malaysia's most prominent musicians, who is a composer, arranger, music director and producer as well as one of the region's most respected jazz musicians.
Recognizing that the music industry in Malaysia has grown over the years with young talents taking up music as a profession, "The main objective of this festival is for the experienced and new jazz pianists to come together. There is a need for musicians to pool their talents and inspire each other to greater abilities in their instruments", he said.
"The first festival was held in January 2014 in No Black Tie and it was a great success. In 2015, we added clinics and competitions in the programme and held the festival in KLPac. The overwhelming response for this gives me hope and drive to grow this event to become an international festival and reach out to jazz pianists from around the world".
A graduate of the prestigious Berklee College of Music in Boston, Massachusetts, Veerapen has composed a wide array of music for commercials, television, cinema and radio, and he has also arranged, composed or produced music for musicals such as M the Opera, Frogway, Cabaret, LAT Kampung Boy 2011 and Supermokh.
The concert also features pianists Cheah Wei Li, Chn'g Wee Lern, David Gomes, Hin Ee Jeng, John Dip Silas, Justin Lim, Tay Cher Siang and Toro Cheng and the concerts vary from solos, duos and trios.
Gomes, an established name in the KL jazz scene has travelled extensively in the past two decades, performing in Australia, Holland, UK, Germany, Singapore and Thailand. He's also the man behind The Top Room @ Top Hat, a place where musicians, both local and transient could enjoy a quick jazz fix. In addition, Gomes has played at a range of hotels, premier jazz clubs and jazz festivals around the world.
Tay, on the other hand, has performed in local musical productions, and has produced, arranged, directed and recorded four albums to date. His collaborations with Lydia Chew, Paulway Chew, Yudi Yap, Janet Lee, Winnie Ho and Ida Marianna among others have led to many fruitful concerts, productions and recordings. Tay has also been involved in the production of Yao Lee — The Legendary Rose, and was the music composer for the film, The New Village.
Cheng, who is an adjunct lecturer at Universiti Putra Malaysia and UCSI University. He has performed with international and local artists such as Bobby Chen, Gina Panizales, Jasmine Chen, Salamiah Hassan, Amanda Imani, Winnie Hoe and Atilia Haron, among many others. He has also made appearances at No Black Tie, Alexis, NeroFico, Hakka Republic, Mezze Lounge, Merdekarya and Bangkok Jazz Thai Bistro.
Clinics conducted by several of these musicians will take place throughout the festival. Jazz Improvisation for Beginners by Chng' Wee Lern is happening at 11am on the Jan 30, while Jazz for Classical Musicians will be hosted by Tay at the same time the next day. A competition will be held at 4pm on the Jan 30, whilst concerts start at 8.30pm daily. Tickets are priced at RM68 for adults and RM25 for students per concert. A three-show package ticket costs RM150. Clinics are free, but slots are limited and are first-come-first-serve.
---
To purchase tickets, logon to www.ticketpro.com.my or call the KLPac box office at (03) 4047 9000. For inquiries on the schedule, visit www.klpac.org.