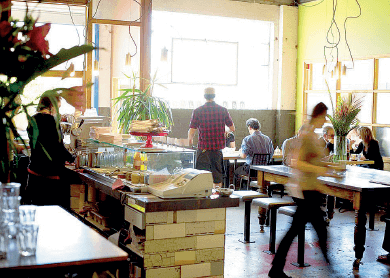 ANTICIPATE an authentic taste of Melbourne coffee as the famed Australian coffee specialist, St Ali, brings their caffeine best to Malaysia from June 11 to 14.  
Initiated by Tourism Victoria to showcase what the country's "coffee capital" — which imports over 30 tonnes of coffee beans each day — has to offer, the pioneering coffee shop will be conducting a series of activities here in KL, from private coffee pairing session to exclusive coffee workshops. 
Leading the coffee exchange would be Matt Perger, ranked among the world's top three baristas with an impressive list of awards, including champion at the 2012 World Brewer's Cup and second place at the 2013 World Barista Championship. 
The head of coffee at St Ali and Sensory Lab will be taking over Melbourne-inspired local café, Garage 51, on June 13 and 14 between 11am and 2pm, joining their baristas in whipping up Melbournians' familiar favourites such as flat whites, long blacks and espressos. 
"Melbourne definitely has one of the strongest café cultures in the world," commented Perger. "It is known not only for the quality of the roasting, brewing methods and baristas, but for the café scene that continues to flourish with more quirky venues." 
Having grown from an unassuming presence tucked away in a laneway in North Melbourne to one of the most recognisable names in the city's coffee industry, St Ali's flagship "warehouse chic" store is a buzzing landmark among local coffee lovers.  
Perger and team's visit will be hosted by Garage 51's founders, Choong Kar Wai and Choong Kar Heng. Part of the Société Family, the brand's line-up also includes CoffeeSociété, Underground Société and Procaffeinating.
"It is certainly an honour to be able to pay homage to the city that inspired our café through this collaboration with Tourism Victoria and St Ali," said Kar Wai, adding that they saw a gap in the Malaysian market for a similar café style. 
Coffee fanatics can also do an exclusive master class with Perger and the Société Family team during the two-day takeover event. Participants can expand their knowledge on third wave coffee, roasting and coffee culture worldwide and in Australia. 
To sign up, visit www.facebook.com/Garage51MY, or call (03) 5612 5618 for more information.
This article first appeared in The Edge Financial Daily, on June 10, 2015.