This article first appeared in The Edge Malaysia Weekly, on October 15, 2018 - October 21, 2018.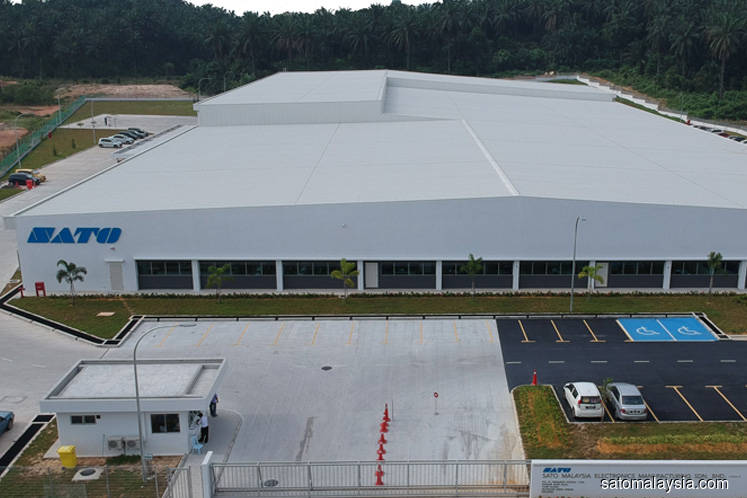 JAPAN-based barcode manufacturer Sato Malaysia Electronics Manufacturing Sdn Bhd has put a second plant in Petaling Jaya, Selangor, up for sale as it has moved its manufacturing base to a larger facility in Bandar Bukit Raja, Klang. Sources say Sato may be able to obtain about RM50 million for the building.
Last year, Sato sold a five-storey industrial complex with passenger and cargo lifts to Despark College for RM29 million. The complex, with a gross built-up of 82,000 sq ft, sits on 1.35 acres. The buildings are separated by Jalan 51A/221.
"They want to make better use of the money. They have grown. A lot of the jobs have been automated and so they do not need as many workers too," a source tells The Edge.
The property is the third known industrial asset within the Jalan 223, Jalan 225 and Jalan 51A/225 area — which are a couple of kilometres from one another — that have been put up for sale in the past four months. In May, The Edge reported that Jebsen & Jessen Logistic Services Sdn Bhd had put its office and plant in Jalan 51A/225 up for sale while Sime Darby Bhd sought bids for its Mecomb office building in Jalan 225.
This appears to be part of a trend that started a few years ago. An estate agent-cum-valuer tells The Edge that many owners of properties in the Petaling Jaya Industrial area have held on to them for a decade now in the hope that the area will be rezoned as commercial from industrial, like Section 13, Petaling Jaya. Land zoned as commercial tends to fetch a higher price. Since the rezoning has not happened, the owners are letting go of their properties.
Industry experts have also said that old trading and manufacturing houses have been relocating from established locations in Petaling Jaya. The Jalan 51A area is said to be no longer suitable for manufacturing and warehousing because the old factories are turning semi-commercial and becoming car showrooms and offices.
Moreover, the cost of production in Petaling Jaya is said to be higher as wages are higher than in industrial areas in Shah Alam and Klang. Some factories in PJ are too small to cater for some operations, so companies — such as F&N Dairies and Aluminium Company of Malaysia — have purchased larger parcels elsewhere to build new manufacturing and warehousing facilities.
Meanwhile, an industry expert dealing with the sale and rental of industrial assets in the PJ Industrial area tells The Edge that more transactions are expected to be executed over the next six months as companies unlock the value of their assets and relocate to a larger space.
"I think the supply of factories for sale in Section 51A sees the area transforming into more a service industry-driven than manufacturing. Hence, those who are selling are likely manufacturers who want to go into a bigger and more conducive space for their activities," he points out.
He adds that assets in Jalan 221, Jalan 223 and Jalan 225 remain attractive despite being leasehold, with some having only 50 years remaining on the lease.
"Those moving out are both local and foreign companies … but the buyers are mostly local companies," he says, adding that those moving out include two that are downsizing.
Data shows that sales of industrial assets in the area gained momentum over the past few years. In 2016, Pixio Sdn Bhd purchased a factory in Jalan 51A/223 for RM18 million. In June, 51 Land Sdn Bhd bought a factory in Jalan 51A/225 from Shiro Property (M) Sdn Bhd for RM30.19 million.
In 2015, Pelaburan Hartanah Bhd purchased Linde Malaysia Sdn Bhd's factory in Jalan 222 for RM42.65million, Eureka Capital Sdn Bhd bought a factory from Continental Oasis Sdn Bhd for RM41.5 million and Quick Junction (M) Sdn Bhd bought Aiman Motor Sdn Bhd's premises for RM14.5 million.
The asset
Sato, a Tokyo Stock Exchange-listed company, was established in 1940. The Malaysian factory commenced production of printers and hand labellers in 1986 and began to produce labels in 2004.
The asset it has put up for sale is a four-storey,  99,684 sq ft building. Facing the Federal Highway, it sits on 2.42 acres. Sato has hired Rahim & Co as the exclusive marketing agent to invite tenders. Rahim & Co is promoting the building as "ideal for trading-cum-warehousing, private college, private hospital or corporate headquarters". The closing date for the tender is Oct 31, 2018. The company declined to comment when contacted for further details.
According to an industry player, Sato purchased the asset — the former Cadbury chocolate factory — in the late 1980s or early 1990s. The firm bought the building across the road, now Despark College, for RM2 million from British trading firm JL Morison, which went under during the 1980s recession.
Save by subscribing to us for your print and/or digital copy.
P/S: The Edge is also available on Apple's AppStore and Androids' Google Play.