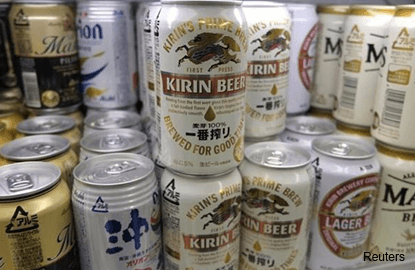 TOKYO (Feb 13): Japan's Kirin Holdings is selling its unprofitable Brazilian breweries unit to Heineken for 2.2 billion reais (US$706 million), exiting Brazil's beer market after losing share and seeing raw material costs rise due to a weak currency.
The transfer of the unit to Heineken subsidiary Bavaria S.A. will be executed immediately upon approval by Brazil's antitrust agency, Kirin said in a statement on Monday.
Heineken had said last month it was in talks with Kirin over the deal. Brasil Kirin operates 12 breweries and was created in 2011 after Kirin paid 6.3 billion reais for Brazil's Schincariol brand.
"Considering the various risks associated with the Brazilian economy and the stagnant and competitive situation in the Brazilian beer and soft drink market, Kirin has come to the conclusion that there are certain limitations in transforming Brasil Kirin into a sustainable and highly profitable business on its own," Kirin said.
Brasil Kirin posted an operating loss of 284 million reais for 2016, it said.
Separately, Kirin said it will take a 51% stake in a beer company in Myanmar. The company, Mandalay Brewery Ltd, will be 49% owned by Myanmar Economic Holdings. Kirin and Myanmar Economic Holdings already run already another beer joint venture, Myanmar Brewery Ltd.
Kirin also said it ended capital alliance talks with Coca-Cola Group, though the two companies will continue to discuss a potential operational partnership.
(US$1 = 3.1145 reais)