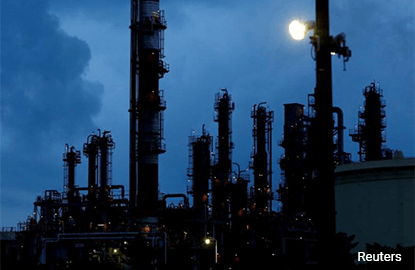 TOKYO (March 10): Japan's core machinery orders likely rose for a second straight month in January but at a much slower pace, adding to views the Bank of Japan will keep policy unchanged next week as it waits for more evidence of a modest economic recovery.
Core machinery orders, a highly volatile data series regarded as a leading indicator of capital spending, probably rose 0.5% in January, after a 6.7% gain in December, a Reuters poll of 14 economists found.
From a year earlier, core orders, which exclude those for ships and electrical equipment, were seen falling 3.3% in January, which would be the first fall in three months.
While monthly growth likely ebbed, analysts maintained their views that machinery orders are slowly recovering, amid signs of improvement in global manufacturing. A weaker yen is also making Japanese exports more attractive.
"Corporate profits are on the recovery trend thanks to a weak yen, so there is a chance that capital spending is picking up going ahead," said Yoshiki Shinke, chief economist at Dai-ichi Life Research Institute.
Still, analysts cautioned that fears of growing trade protectionism under President Donald Trump may sap firms' willingness to make fresh investments.
"If machinery orders turn out to be weak, that will raise views that companies are refraining from making investment, because of uncertainty over the Trump administration's trade policy," said an analyst at SMBC Nikko Securities in the survey.
The Cabinet Office will announce the core orders at 8:50 a.m. on Monday (Sunday 2350 GMT).
The poll also found that the central bank is expected to keep its policy settings unchanged at its next meeting on March 15-16.
While recent Japanese data has been largely upbeat by recent standards, it is still subdued, and inflation, while picking up remains well below the BOJ's 2% target.
The BOJ is seen keeping its short-term policy interest rate at minus 0.1% and the 10-year government bond yield target at around zero percent.
Analysts also expect the BOJ will keep the current pace of its Japanese government bond buying, with the annual increase in holdings maintained at around 80 trillion yen (US$694.81 billion).
But markets are growing nervous that healthier economic readings may soon prompt the board to start debating the unwinding of its massive stimulus programme.
"The currency market is stable and upward pressure on long-term bond yields has calmed down because the economic recovery remains moderate," said Atsushi Takeda, chief economist at Itochu Economic Research Institute.
"In addition, the political situation in Europe stays uncertain, so the BOJ will likely wait and see."
The BOJ's February corporate goods price index (CGPI), which measures the prices companies charge each other for goods and services, likely rose an annual 1.0% from a year ago, the poll showed.
It would be the second straight month of gains for the index, helped by a recovery in oil prices, after it rose in January for the first time since March 2015. 
(US$1 = 115.1400 yen)