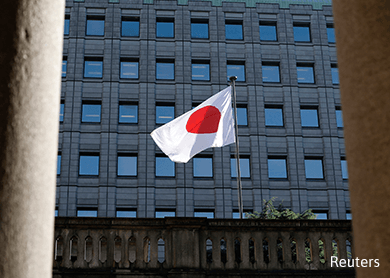 TOKYO (Aug 28): Japan's consumer inflation ground to a halt for the first time in more than two years and household spending unexpectedly fell in July, heightening pressure on policymakers to offer fresh fiscal and monetary support to underpin a fragile recovery.
The gloomy data, coupled with soft exports blamed on China's slowdown, reinforces the dominant market view that any rebound in growth from a contraction in April–June will be modest.
But with premier Shinzo Abe's stimulus measures having failed to significantly boost wages, exports and prices, analysts doubt whether additional monetary easing or fiscal spending will have much effect in reflating the economy.
"You can't stop overseas headwinds with policy measures, so it will be a waste of money," said Taro Saito, senior economist at NLI Research Institute. "Traditional pork-barrel spending focused on public works spending won't do the trick."
The core consumer price index (CPI), which includes oil products but excludes volatile fresh food prices, was unchanged in July from a year earlier, government data showed on Friday, against a median market forecast for a 0.2% drop.
That was the slowest pace of growth since May 2013, with sharp declines in oil offsetting price rises for a growing number of items like hotel rooms and television sets.
Separate data showed household spending fell 0.2% in the year to July, confounding forecasts for a 1.3% rise and reinforcing concerns on the strength of Japan's recovery.
Big-ticket items such as cars and housing renovations remained particularly weak, a sign consumers were still reluctant to spend after splashing out ahead of last year's sales tax hike.
RECOVERY UNDER THREAT
Japan's economy shrank in April–June and analysts expect any rebound in the current quarter to be modest as fears over China's slowdown jolt markets, hurting exports and business sentiment.
Many analysts expect prices to slide in coming months with a renewed drop in oil costs pushing inflation further away from the BOJ's ambitious 2% target.
Policymakers sound sanguine for now with BOJ Governor Haruhiko Kuroda saying that China's slowdown is unlikely to hit Japanese exports much.
But Kuroda's dilemma runs deep. The central bank has said it will look through the effect of the oil rout and won't act as long as a steady economic recovery keeps prices in an uptrend.
The recovery itself, however, is under threat as slow wage growth cools consumption. Policymakers also worry the recent market turmoil may prompt firms to postpone capital expenditure.
"The timing of the BOJ's next easing will depend more on the health of the economy and market developments, rather than on the inflation figures," said Yoshiki Shinke, chief economist at Dai-ichi Life Research.
With the BOJ already aggressively printing money, some aides close to Abe are calling for a fiscal spending package of around 3 trillion yen ($25 billion) to support the economy.
The government remains cautious of additional fiscal spending, given Japan's massive public debt — at least for now.
"I'm not considering compiling an economic stimulus package now," Finance Minister Taro Aso told reporters after the data's release.
"Real wages are definitely rising. When you take that into account, you can say that things are in an upward trend."
($1 = 121.0300 yen)