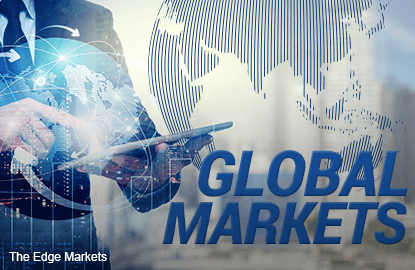 TOKYO (April 20): Japan's exports fell for a sixth straight month in March in a sign that the yen's rise and sluggish emerging market economies may be hurting foreign demand and holding back Japan's recovery.
The trade data comes on the heels of a Reuters poll suggesting that although confidence at Japanese manufacturers rose in April it was expected to worsen again in the coming three months, reflecting worries over the strong yen and tepid overseas demand.
Wednesday's data are among the key indicators this month which will show whether the economy contracted again in the first quarter after shrinking in October-December. If that is the case, Japan's economy will once again be experiencing the technical definition of a recession.
Weak indicators should add pressure on the government and the Bank of Japan (BOJ) to do more to stimulate growth, while a series of earthquakes that struck a southern manufacturing hub in the past week could hamper supply chain and economic activity ahead.
"A delayed recovery in the U.S. economy, slowdown in China, and sluggish demand for electronics parts on a cut in iPhone production were factors behind weak exports," said Hidenobu Tokuda, senior economist at Mizuho Research Institute.
"External demand likely put a drag on the first quarter GDP, which could show another economic contraction."
The Ministry of Finance said exports fell 6.8 percent in the year to March, versus a 6.9 percent drop expected by economists, and followed a 4.0 percent fall in February.
Exports to China - Japan's largest trading partner - fell 7.1 percent in March, while the U.S.-bound shipments also dropped 5.1 percent year-on-year.
Exports to Asia, which accounts for more than half of Japan's shipments, fell 9.7 percent.
In the Reuters poll of 510 big and mid-sized firms between April 1-15, exporters of cars and electronics complained about the rapid yen rise, which could dim Japan's recovery prospects and delay its recovery from two decades of deflation and stagnation.
A total 253 firms responded to the monthly poll, which closely tracks the BOJ tankan. The survey's sentiment index for manufacturers rose to 10 in April from 6 in March, but it is seen sliding back to 6 in the coming three months.
The dollar so far this year is down about 10 percent, on track for its worst performance since 2010, prompting verbal warnings from Japanese policymakers against investors pushing up the yen too fast.
The dollar was hovering around 109 yen, after hitting a 17-month low of 107.63 yen hit last week on expectations that the United States would go slow in raising interest rates.