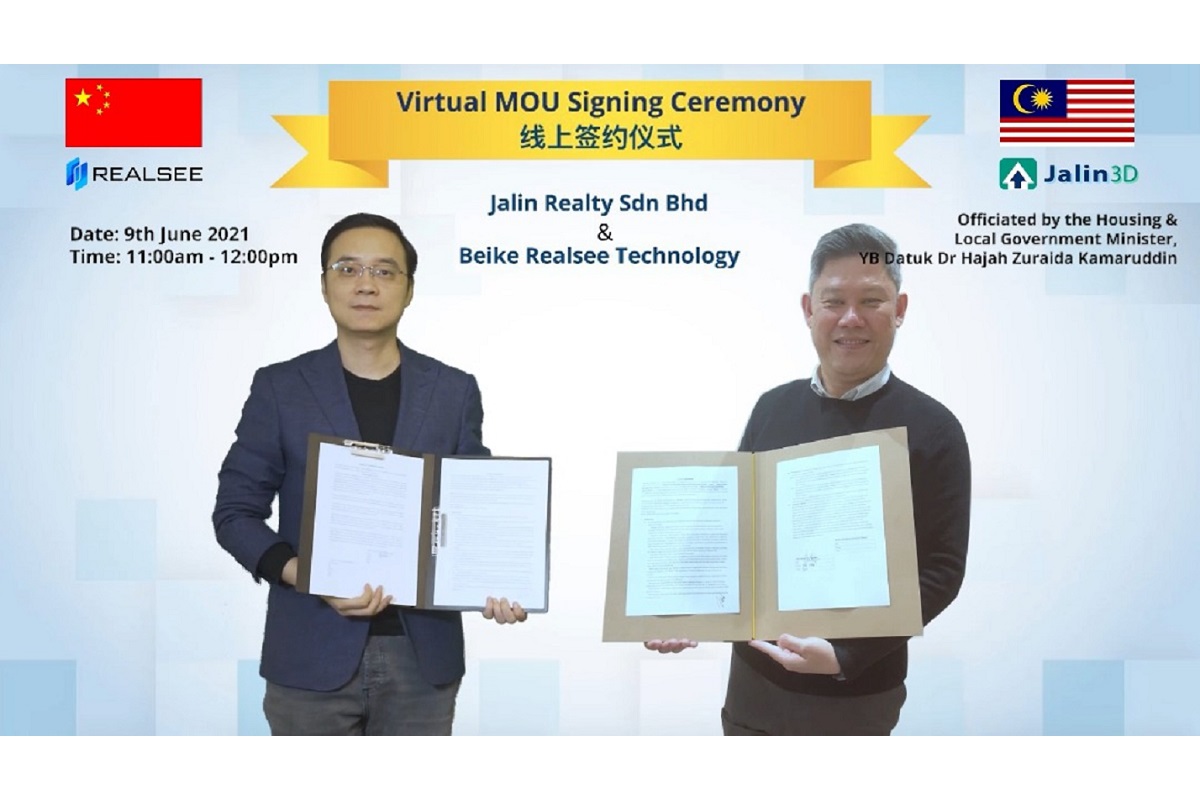 PETALING JAYA (June 9): Jalin Realty International and KE Holdings Inc have signed a memorandum of understanding (MoU) in a virtual ceremony today to create a partnership and offer Realsee property virtual reality (VR) technology to Malaysians.
The MoU was signed between Jalin Realty group chief executive officer (CEO) Ian Chen and KE Holdings Inc VP Hui Xin Chen. Hui is also the CEO for Beike Realsee.
The MoU will see the collaboration available in most offices of Jalin Realty, including Malaysia, Australia, Singapore, Indonesia and Hong Kong. The ceremony was also witnessed by Housing and Local Government Minister Datuk Zuraida Kamaruddin.
Jalin Realty is an international real estate company with more than 30 years of experience. KE Holdings, meanwhile, is an integrated online and offline platform for housing transactions and services. Beike is a platform for property listing, and one of its services is Realsee VR technology.
In his welcoming speech, Chen noted that the collaboration aims to accelerate digitalisation across the global real estate industry, by ensuring quality services, increasing efficiency and overcoming current issues in the industry.
In commenting on the differences between Realsee and other similar property VR technology, he explained that Realsee comes with additional features such as an information card with the details of the property, Google map, as well as direct agent contact.
"There are also more functions coming up, such as AI (artificial intelligence) staging to see how the property is staged; live virtual tours between agents and clients; as well as recording the viewing process," he said during the virtual event.
Together with Beike, Jalin Realty will be providing free 3D virtual property VR hosting service, valued about RM5 million, for a period up to six months. The eligible parties are Malaysian developers supporting the Home Ownership Campaign, Malaysian property owners planning to sell or rent their property, as well as property agents with existing property listings. Also, Jalin Realty will provide free tour creation for interested homeowners in the Klang Valley.
Commenting on the outlook for the property market, Chen added: "Property markets in different countries perform differently… for example, property markets in Singapore and Australia are very hot because the borrowing rate is low and local money is circulating. In Malaysia, many people are buying properties as well and the market is still active. The 3D tour will help in terms of viewing and showcasing the properties locally and globally."