This article first appeared in City & Country, The Edge Malaysia Weekly, on September 5, 2022 - September 11, 2022.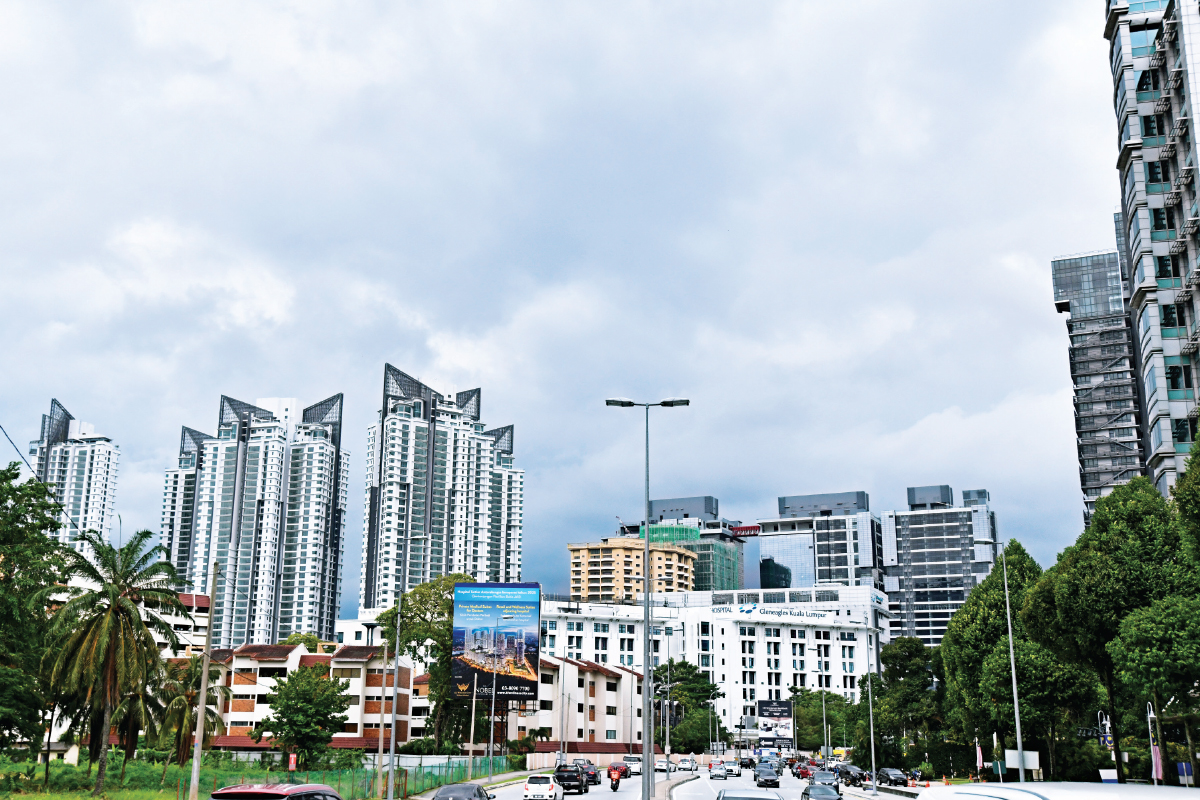 Jalan Ampang, or Ampang Road as it used to be known, is one of the oldest roads in the Klang Valley and runs adjacent to the Golden Triangle, Kuala Lumpur's main entertainment and shopping hub. It is a relatively long road that begins from the oldest sections of the city's old CBD — home to the buildings of some of the earliest financial institutions in Malaysia, such as Bangunan Chartered Bank, HSBC Bank, Menara AIA and Menara Great Eastern — to the east side of the city and the Ampang Jaya areas, hence the name Jalan Ampang.
The road covers the entire stretch of the Petronas Twin Towers and Suria KLCC frontage, as well as some of the most exclusive offices and residential properties in the country. Housing areas in the vicinity include Kampung Datuk Keramat, Taman Keramat, Taman U-Thant, Taman Dato Ahmad Razali, Desa Pahlawan, Kampung Berembang and Ampang Hilir.
In this article, the focus is on the eastern stretch of Jalan Ampang, starting from DoubleTree by Hilton/Integra Tower and The LINC KL at the Jalan Tun Razak intersection through the embassy heartland popularly known as Embassy Row, all the way to Plaza Ampang City.
In recent years, there have been some new completions on Jalan Ampang, especially the eastern side. These include VST Group of Companies' Reizz Residence, Acmar Group's D'Rapport Residences, and the first phase of Land & General Bhd-Malaysia Land Properties Sdn Bhd's (Mayland) Astoria Ampang.
Upcoming residential projects in the area include Boulevard Realty Sdn Bhd's Residensi Ampang Tengah 6 (AT 6, to be completed this year), phase four of Titijaya Land Bhd's 3rdNvenue (ready in 2023), Agile Property Development Sdn Bhd's Agile Embassy Garden (2024) and Paramount Corp Bhd's The Atrium (2024).
In terms of land transactions, Savills Malaysia Sdn Bhd managing director Datuk Paul Khong highlights two of significance along Embassy Row in the past five years. "The neighbouring Chinese embassy had acquired two plots of land measuring 2.33 acres for a total consideration of RM181 million (RM1,780 psf) from Yip Fung Sdn Bhd, a subsidiary of Nan Fung Textiles Ltd, in December 2018. Another transaction involved the purchase of a 4.54-acre parcel with a building by Paramount Corp for RM243.8 million (RM1,230 psf) from Wing Tai Holdings Ltd in October 2020."
Meanwhile, PPC International Sdn Bhd managing director Datuk Siders Sittampalam says Putrajaya Holdings Sdn Bhd also acquired two tracts of land adjacent to the Embassy of the People's Republic of China in 2017, on which a mixed development comprising retail, hotel and residential components is planned. The site is currently being developed for the first phase, which will consist of serviced apartments.
In terms of outlook, Siders notes that as Jalan Ampang is, to a large extent, an extension of the city centre, it will only continue to rise in popularity and value. "It is the main arterial road linking the city centre to the eastern part of larger KL, which has attracted various developers that want to have their share of development in the area, leading to an appreciation in land values over the last few years."
As for Embassy Row, Khong notes that properties there are often aimed at high-net-worth individuals (HNWIs) and foreign buyers/investors. Given its prime address, amenities and self-contained nature within the city, Embassy Row is likely to retain its premium and prestige in the long term.
Demand remains relatively steady
According to Savills' Khong, the local development trend towards the eastern side of Jalan Ampang began to change rapidly when the sites of the British and French embassies were sold at record-breaking prices exceeding RM2,000 psf in 2012 and 2015 respectively. The Embassy of France moved to Integra Tower, and the British High Commission relocated to Menara Binjai. More consulates continued to slowly relocate from this prime area to allow for redevelopment during the earlier peak.
"Developers could justify such prices then, with the high-density approvals and high-rise strata developments coming through to this neighbourhood, being located so close to the Kuala Lumpur City Centre (KLCC) and lying across Jalan Tun Razak. This acted as a cheaper alternative for an equally premium product located in a greener mixed-residential precinct," he reasons.
"New projects, including Pavilion Embassy, 3rdNvenue, D'Rapport Residences and Agile Embassy Garden, began to spring up in the last few years, and this area became more commercial in character, changing the feel of Embassy Row into a KLCC extension at the front end of this eastern stretch near Jalan Tun Razak towards the new Ampang Park MRT station."
Khong notes that a unique point about this eastern stretch of Jalan Ampang is that the residential projects and land values are often skewed towards the southern side of Jalan Ampang, being a better freehold half than the northern side, with the Royal Selangor Club located nearby.
"The transacted value of residential properties has remained relatively stable since 2015. The KLCC side is expecting a total of 4,830 units in the pipeline while Embassy Row has about 3,450 units, which will be completed later this year," says Khong.
PPC International's Siders says a property along Embassy Row is a good alternative for those who want to be near the city centre and enjoy the nightlife it offers. It comes in at a slightly lower price point but with bigger units, as good as a residential dwelling. Amenities are all close by and KLCC is a short distance away on the same main road.
Data from PPC International shows that condominiums located towards the eastern part of Jalan Ampang such as Suria Jelatek, Menara Polo and Mutiara Upper East with built-ups of 1,420, 1,485 and 1,679 sq ft were transacted at RM545,000, RM600,000 and RM1.2 million respectively in 2019 and 2020; whereas serviced residences in M City, M Suites, The Nomad SuCasa and The Elements measuring 506 to 950 sq ft were transacted at between RM400,000 and RM680,000 from 2018 to 2020.
As for landed residential properties nearby, transacted prices of townhouses with a built-up of 1,582 sq ft trended from RM725,000 in 2010 to RM950,000 in 2020, while 2-storey terraced houses with a built-up of 1,800 sq ft saw transacted prices of RM1.2 million to RM1.36 million in 2020. Bungalows with built-ups of 1,947 to 3,145 sq ft changed hands for RM750,000 in 2017 and RM900,000 in 2019.
Meanwhile, Siders notes that commercial properties such as retail units in Plaza Ampang City with a built-up of 603 sq ft were transacted at RM155,000 in 2014 and RM160,000 in 2020, while 2-storey shoplots on Jalan Ampang with a built-up of 2,827 sq ft were sold for RM1.33 million and RM1.43 million in 2014 and 2017 respectively. Office units in 3 Towers measuring 832 sq ft recorded transactions of RM1.02 million in 2017 and RM1 million in 2018.
"Developments on the eastern side [of Jalan Ampang] generally took off as a spillover from the immediate developments around KLCC as land became scarce, with high prices for development land. As such, the eastern stretch saw a mix of commercial and mid- to high-end residential developments. It also [comprises] a number of embassies such as those of the People's Republic of China, the Netherlands, Finland, Thailand, Peru, Yemen and the Republic of Kazakhstan," says Siders.
Redevelopment potential
Khong notes that many foreign missions have been located there for decades, resulting in some premises becoming old and dilapidated. As these buildings occupied prime development sites, several foreign missions decided to dispose of the properties and relocate their embassies to proper purpose-built offices with good security, putting up their respective ambassador at a residential bungalow or serviced penthouse nearby.
"Embassies today no longer need as much space to run their daily operations and have therefore started reducing the maintenance and operation costs of the consulates accordingly. With the current changing urban environment in the locality, it is foreseen that more [of these embassy grounds] will make way for redevelopment to maximise development potential and generate higher returns from the sale of the old embassy sites," says Khong.
Siders points out that some buildings on Jalan Ampang may have redevelopment potential or even benefit from a facelift, but a pressing issue to resolve is traffic congestion during peak hours. Nonetheless, he agrees that highway infrastructure such as the Ampang-Kuala Lumpur Elevated Highway (AKLEH), Middle Ring Road 2 and Duta-Ulu Kelang Expressway (DUKE) have helped ease traffic.
Transportation hubs nearby include the Ampang Park, KLCC, Jelatek and Keramat LRT stations. "When completed next year, the Ampang Park MRT station (which is part of the Putrajaya Line) will enhance rail connectivity in the area with its link to a wider network of localities such as Tun Razak Exchange, Bandar Malaysia and beyond," Khong says.