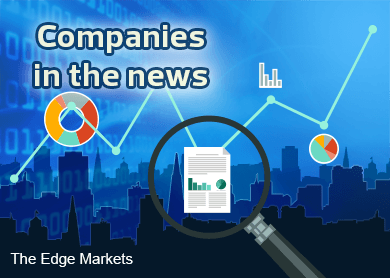 KUALA LUMPUR (July 6): Based on corporate announcements and news flow today, the companies that may be in focus tomorrow (Tuesday, July 7) could be the following: Jaks, OSK Holdings, MMC Corp, Pentamaster, Public Bank and Oriented Media.
Jaks Resources Bhd has roped in China Power Engineering Consulting Group Co Ltd to jointly build and run a US$1.87 billion (RM7.05 billion) 1,200MW power plant in Vietnam. The project comes under a 25-year concession.
In a statement to Bursa Malaysia today, Jaks (fundamental: 0.65; valuation: 1.5) said the company and China Power would each own a 50% stake in Jaks Pacific Power Ltd, which would in turn own 100% in Jaks Hai Duong Power Co Ltd.
Jaks Hai Duong has secured a build-operate-transfer contract from the Vietnam government to undertake the project. According to Jaks, construction of the power plant is expected to start in the first half of 2016, while electricity generation is scheduled to begin in 2020.
Jaks and China Power signed a subscription agreement today, under which Jaks will reduce its stake in Jaks Pacific to 50% from 100%. China Power will then become an equity partner in the power plant project.
Jaks officials told reporters after the signing ceremony that recurring income from the project would be more than US$150 million a year.
Chairman Tan Sri Hussin Ismail said the power plant would enable the company to diversify its income sources and the group will enjoy recurrent concession-type earnings from the generation and sale of power under the power purchase agreement upon completion of construction and upon commencement of commercial operations.
Jaks' securities were suspended from trading today (July 6) and will resume trading tomorrow at 9am.
OSK Holdings Bhd has obtained approval from its shareholders for the proposed acquisitions of two related property groups, namely OSK Property Holdings Bhd and PJ Development Holdings Bhd (PJD) today.
The diversified group said the proposed acquisition is to unlock the value in the three listed entities by creating a larger group with stronger financial position and enhanced long-run profitability.
OSK Holdings is acquiring 73% of shares in OSK Property for RM346.4 million, or RM1.95 per OSK Property share. The purchase consideration will be satisfied via the issuance of 177.64 million new shares, at RM1.95 each for the purchase.
OSK Holdings is also acquiring 31.6% of PJD for RM223.64 million or RM1.56 per share. The deal is to be satisfied via the issuance of 114.68 million new OSK Holdings shares at an issue price of RM1.95 per share.
Upon completion, OSK Holdings will make a voluntary takeover offer, involving acquisition of the rest of 310.46 million PJD shares not owned by OSK at RM1.56 per PJD shares. The whole deal is targeted to be completed by early September.
Speaking to reporters after the company annual general meeting today, OSK Holdings group managing director and chief executive officer (CEO) Tan Sri Ong Leong Huat said the group will launch projects worth RM1 billion in gross development value in Gohtong Jaya and Kuantan in Pahang, Cheras and Cyberjaya at the Central Region, within the next twelve months.
MMC Corp Bhd has appointed former Petroliam Nasional Bhd (Petronas) president and CEO Tan Sri Shamsul Azhar Abbas as its independent and non-executive chairman, effective July 16, to replace Tan Sri Syed Abdul Jabbar Syed Hassan.
In a filing with Bursa Malaysia today, MMC Corp (fundamental: 0.4; valuation: 1.4) said Shamsul, 63, has also been appointed as chairman of the nomination and remuneration committee, effective the same date.  
Pentamaster Corp Bhd CEO Chuah Chong Ewe bought 3.997 million shares, or a 2.99% equity stake in the company from Tan Boon Teik, a director of major subsidiary of Pentamaster through off-market trade at 72 sen apiece.
In a filing to the Bursa Malaysia today, Pentamaster said Chuah acquired the bulk of shares through off-market trade. Upon acquisition of the shares, he currently own 6.66 million shares representing 4.99% in the company.
Tan who sold the bulk of share to Chuah today will cease to be the substantial shareholder of Pentamaster (fundamental: 2.1; valuation: 0.5) upon the completion of the disposal.
After the disposal, Tan directly owned 4.29 million shares representing 3.22% equity and indirectly held 44,250 shares or a 0.03% stake in the company. Tan, 51, was the CEO of the company until Feb 16, according to Pentamaster's website.
The company is involved in designing, developing and manufacturing standard and non-standard automated equipment for the semiconductor industry.
Meanwhile, Public Bank Bhd will be collaborating with Saitama Resona Bank Ltd and Kinki Osaka Bank Ltd in Japan to jointly develop business opportunities for their mutual benefit.
In a statement, Public Bank (fundamental: 2.8; valuation: 1.8) said it has signed a memorandum of understanding (MoU) today with Saitama Resona Bank and Kinki Osaka Bank respectively to establish the collaboration, which will promote and strengthen cooperation between the respective banks.
The business collaborations with Saitama Resona Bank and Kinki Osaka Bank will further facilitate Public Bank's customers to benefit from the potential and established franchise in Saitama Resona Bank's home market, Saitama Prefecture, and Kinki Osaka Bank's home market at the Osaka Prefecture.
Saitama Resona Bank and Kinki Osaka Bank are wholly-owned subsidiaries of Resona Holdings, Inc, which also owns Resona Bank Ltd, the fourth largest banking group in Japan.
Saitama Resona Bank has 127 branches in total, with 126 of those in Saitama Prefecture, north of Tokyo, while Kinki Osaka Bank, on the other hand, has 122 branches in Osaka Prefecture.
Public Bank said the collaboration will allow the banks to leverage upon their respective strengths and expertise and enable them and their respective affiliates to establish and promote to their respective customers appropriate banking products and services in Malaysia and Japan.
This would include cross border banking transactions and services, cross border trade settlements, remittance clearance services, credit verification and referrals, and offshore banking service.
ACE-market listed Oriented Media Group Bhd announced today the company is officially venturing into China's Internet market to provide digital or online media consultancy services.
In a statement, Oriented Media (fundamental: 1.2; valuation: 0) said the company will be able to provide consultancy services for the e-commerce trading platform that involves research and development as well as operating services of online sportswear businesses in the near future.
Currently, the company is principally involved in the development of online games, educational web applications, mobile applications and digital media consulting services.
The China Internet operations will be undertaken by Fujian Accsoft Technology Development Co Ltd (FATD), a wholly-owned subsidiary of Oriented Media Holdings Ltd, a Hong Kong-incorporated company that is wholly-owned by Oriented Media.
FATD has received approval from the Chinese government for its set-up in the republic.
(Note: The Edge Research's fundamental score reflects a company's profitability and balance sheet strength, calculated based on historical numbers. The valuation score determines if a stock is attractively valued or not, also based on historical numbers. A score of 3 suggests strong fundamentals and attractive valuations.)