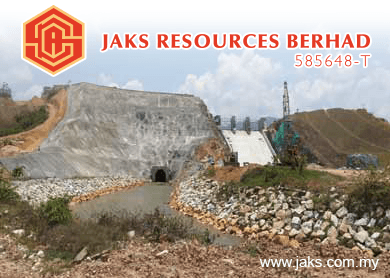 Jaks Resources Bhd
(Aug 18, 79.5 sen)
Initiate buy with a target price (TP) of RM1.20: The key catalyst of Jaks Resources Bhd hinges on achieving financial closure for the Vietnam independent power producer (IPP) project by Oct 31.
While this project has been delayed for a long time, the entry of China Power Engineering Consulting Group (CPECC) suggests that it may finally take off. We initiate coverage with a "buy" rating contingent upon Jaks successfully unlocking value in the Vietnam IPP project and monetising its mall.
We gather that CPECC was roped in quickly to enable Jaks to meet the financial closure deadline. CPECC has a strong track record and wide industry experience, which suggests that Jaks may have found a credible new joint venture (JV) partner, subject to fulfilling the conditions precedent under the JV agreement.
Vietnam is a fast-growing economy in which the industrial sector has been one of the key drivers of growing energy consumption, and has opened up opportunities for foreign investors to invest in power plants. Jaks is among only three players to have obtained the investment certificate for building an IPP, for which the management expects an internal rate of return in the mid-teens range.
With the award of the non-technical engineering, procurement and construction portion of the Vietnam project worth US$454.5 million (RM1.87 billion), the group's outstanding construction work order book will expand significantly from about RM700 million to RM2.44 billion. Over the years, Jaks has actively expanded its construction business to win road infrastructure and water-related infrastructure projects.
Revised net asset value (RNAV) valuation suggests that the Vietnam IPP is the crucial driver. We derive the TP based on a 40% discount to our RNAV valuation of RM2. We believe the discount is appropriate to account for any uncertainty leading up to the financial closure on the Vietnam project.
However, should there be any hiccups to the Vietnam project (given the long history of this project) if CPECC does not move ahead with the JV, we estimate that the RNAV of Jaks would be 70 sen.
The key downside risk lies in a potential delay or inability to secure financial closure for the Vietnam project, as it is a significant component of Jaks' valuation. Other risks include delay in monetising the shopping mall and slower-than-expected property sales. — Affin Hwang Capital, Aug 18
This article first appeared in digitaledge Daily, on August 19, 2015.