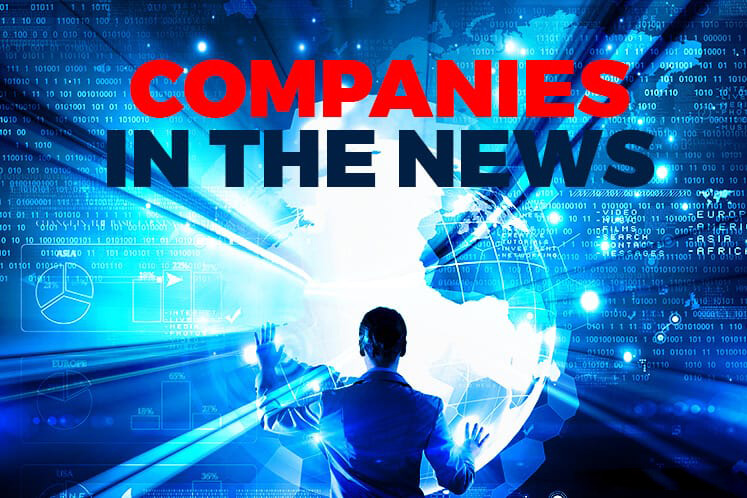 KUALA LUMPUR (June 21): Based on corporate announcements and news flow today, companies in focus on Friday (June 22) may include the following: Jag Bhd, Berjaya Food Bhd, Sapura Energy Bhd, XOX Bhd, Aeon Credit Service (M) Bhd and Multi-Usage Holdings Bhd.
JAG Bhd has proposed a private placement to raise up to RM14.41 million to fund its property development project in Klang.
The proposed placement entails an issuance of up to 192.18 million new shares, representing up to about 10% of its enlarged issued and paid-up share capital, at an indicative price of 7.5 sen per share.
Berjaya Food Bhd returned to the black in the final quarter of its financial year 2018 with a net profit of RM837,000 against a net loss of RM3.37 million in the same quarter a year ago, as revenue improved with more Starbucks cafes in operation during the quarter.
In the three months that ended April 30, 2018 (4QFY18), revenue grew 6% to RM160 million from RM151.42 million, driven by contribution from the new cafes as well as same-store sales growth in the country.
BFood declared a fourth interim dividend of one sen per share, to be paid on July 28, bringing the total dividend declared for FY18 to 4 sen per share, up 14% from the 3.5 sen per share it declared for FY17.
Berjaya Food wrapped up its FY18 with a net profit of RM1.14 million, a steep 90% lower than the RM11.44 million it recorded in FY17 — despite 6% growth in revenue to RM639.6 million from RM605.44 million — due to the exceptional loss arising from the sale of PT Boga, which lowered its pre-tax profit to RM19.4 million from RM24.32 million.
Leading oil and gas services provider Sapura Energy Bhd has bagged nine new contracts worth approximately RM1.8 billion, bringing its accumulative contract wins to-date to RM4.5 billion for the group.
The combined value of the contracts represent a three-fold jump or an increase of nearly 250% compared to the value achieved in the corresponding period of the previous year, between February to June 2017, the group said.
Through its wholly-owned subsidiaries, the group will be executing a series of diverse jobs across the upstream value chain in Malaysia, Australia, India and Mexico.
XOX Bhd's wholly-owned subsidiary XOX Media Sdn Bhd has entered into a joint venture agreement (JVA) with Yayasan Nahdlatul Ulama, EH Integrated Systems Sdn Bhd and PT Nusantara Digital Telekomunikasi to provide telecommunication services in Indonesia.
The group said the new joint venture company — PT Nusantara Mobile Telecommunication — will engage in business activities related to telecommunications and telecommunication products and services, the provision of mobile application services (Voopee), and e-wallet services in Indonesia.
XOX Media will take up a 40% stake in PT Nusantara Mobile Telecommunication, Yayasan 20%, EH Integrated 15% and PT Nusantara Digital the remaining 25%.
Aeon Credit Service (M) Bhd has maintained its position that the company is not liable to pay the additional RM96.82 million of income taxes slapped on the company by the Inland Revenue Board (IRB).
"We have always maintained that we are not wrong, and that is the correct position. This is in consultation with our tax agents, auditors and solicitors. We are taking on the grounds of principle that we are not liable for those taxes," its chairman Ng Eng Kiat told reporters after the company's annual general meeting here today.
Ng — appointed in May in replacement of the late chairman Datuk Abdullah Mohd Yusof — said the court hearing on the legal matter has been deferred to July, and an appeal to the Special Commissioners of Income Tax has been filed.
Multi-Usage Holdings Bhd's external auditor Messrs Baker Tilly Monteiro Heng (Baker Tilly), has announced its resignation as the company auditor "due to disagreement in fixing audit fees."
Except for the disagreement in fixing the audit fees, Multi-Usage said it is not aware of any other matters that need to be brought to the attention of the shareholders, adding the departure of the auditor came with immediate effect.
"Further announcement relating to appointment of new auditor would be made by the company in due course," Multi-Usage added.