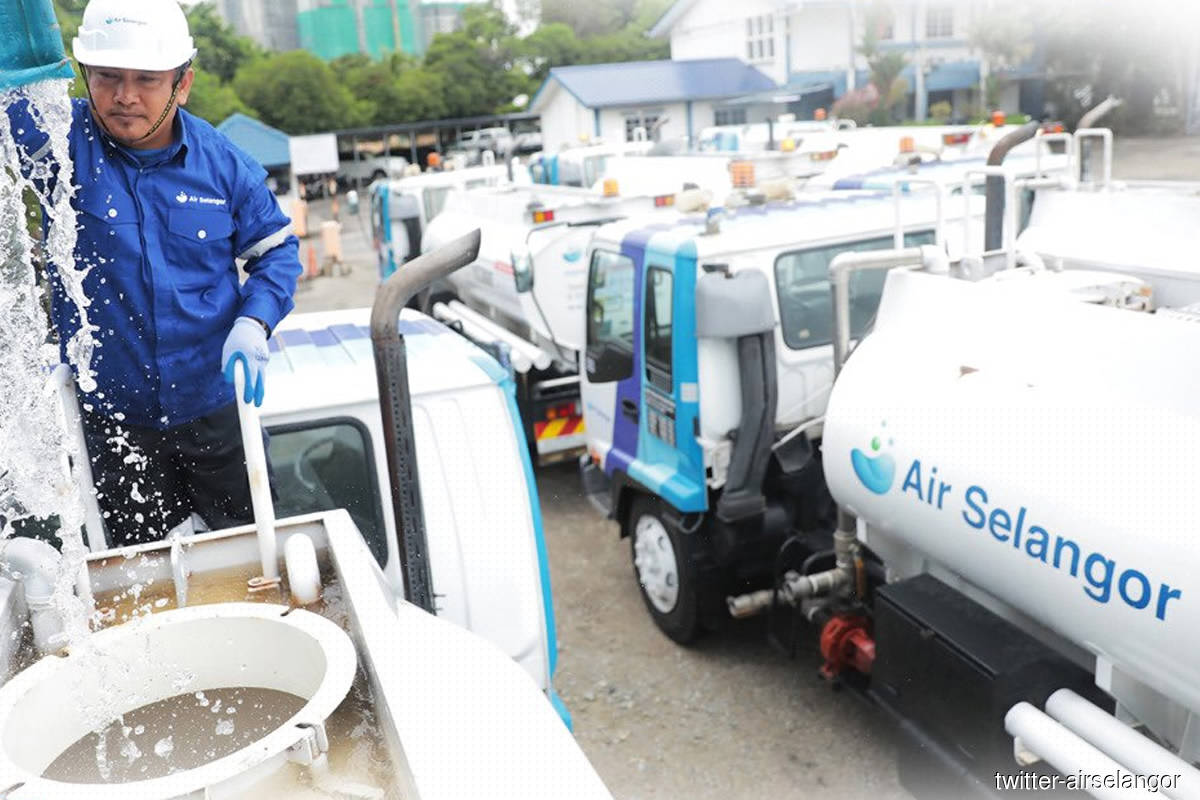 KUALA LUMPUR (March 16): Pengurusan Air Selangor Sdn Bhd (Air Selangor) and Indah Water Konsortium Sdn Bhd (IWK) today signed an agreement to collaborate on a sustainable water recycling initiative through a special purpose vehicle, Central Water Reclamation Sdn Bhd.
Air Selangor will hold a 60% stake in Central Water, while IWK will own the remaining 40% interest.
Through this cooperation, the bio-effluent treated by IWK at its wastewater treatment plants will be supplied to Central Water's treatment plant for further treatment.
Central Water's treatment plant will produce non-potable treated water, which will then be distributed by Air Selangor through a dedicated pipe network to industrial consumers in Selangor, Kuala Lumpur and Putrajaya for use in industrial processes and non-food crop agricultural applications.
IWK chief executive officer (CEO) Narendran Maniam said the investment in its first project whereby it will operate a reclaimed water treatment plan in Setia Alam, Selangor is worth about RM15 million.
He said the plant is capable of producing up to 7.5 litres of non-potable treated water per day (MLD).
"This project involves an existing plant complete with a pipe network.
"Central Water is expected to take over and commence operations of its first water reclamation treatment plant in Setia Alam by the second quarter of 2021," he said in a press conference at the signing ceremony held virtually here.  
Narendran also said that Air Selangor and IWK had agreed to immediately explore at least two other collaboration opportunities in respect of IWK treatment plants at Pantai 2, Kuala Lumpur and Section 23, Shah Alam, which are expected to be implemented in early 2022.
"This joint venture is for the long term to reduce problems relating to potable water.
"This is an industrial-grade water that goes through technology of ultra filtration and reverse osmosis. It is pure, demineralised water capable of assisting industrial production in the Klang Valley," he said. 
Meanwhile, Air Selangor CEO Suhaimi Kamaralzaman said parties interested to explore potential reclaimed water supply for non-potable applications may contact Air Selangor to discuss the suitability and feasibility of their locations and premises.
The collaboration, supported by the Ministry of Environment and Water and the National Water Services Commission (SPAN), was also witnessed by Minister Datuk Seri Tuan Ibrahim Tuan Man and Selangor Menteri Besar Datuk Seri Amirudin Shari.
This collaboration between Air Selangor and IWK will optimise the nation's available water resources while protecting the environment, and highlight long-term commitment of both entities to sustainable development of Malaysia's water industry, and support the Malaysian government's target to recycle 33% of the nation's treated effluent by 2030 under the Green Technology Master Plan 2017-2030.