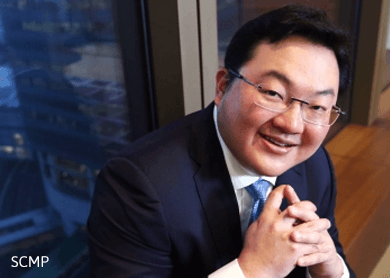 (March 12): A well-connected Malaysian caught in the cross-hairs of an investigation into troubled Malaysian state-owned investment company, 1MDB, linked to Prime Minister Najib Abdul Razak, has been residing in Hong Kong for the past five years and has come out to deny any wrongdoing in an exclusive interview with the South China Morning Post.
Low Taek Jho, chief executive officer of Jynwel Capital, a Hong Kong investment advisory company, has denied all allegations of money laundering and fraud against him, claiming they are politically motivated, in a saga that analysts say could erupt into potentially Malaysia's biggest financial scandal since the 1990s.
"I feel I'm a victim of the cross-fire of Malaysian politics, which is getting more polarised. I'm a target," Low told the Post from his office in Hong Kong.
"Business decisions by 1MDB are ultimately decided and approved in accordance to their corporate governance framework, which is the management, board and shareholder. So why politicise and try to blame it all on me when I have no decision-making authority?" he said.
"If the Malaysian authorities ask me to assist with their investigations, I'm happy to cooperate. I've nothing to hide. I believe in the rule of law. As of today, I'm not under investigation. I've never done anything illegal," Low said.
The main opposition alliance, Pakatan Rakyat, has called on the Malaysian authorities to investigate Low for suspected money laundering in the acquisition of a Malaysian firm, UBG, using funds from 1MDB. Malaysia's National Audit Department has begun an investigation into 1MDB, following a cabinet directive last week, Malaysian Auditor-General Tan Sri Ambrin Buang confirmed to media.
Malaysian Prime Minister Najib Razak is also Malaysia's finance minister and chairman of the board of advisers of 1MDB. Photo: Xinhua "This is potentially the biggest financial scandal in Malaysian history," said a Malaysian analyst, citing the state-owned firm's huge debts.
1MDB, which comes under Malaysia's Ministry of Finance, has 42 billion Ringgit (HK$87.8 billion) of debt. In February, 1MDB bonds effectively declined to junk status, when investors demanded a 441 basis point premium over similar securities.
"Some leading Malaysian financial institutions will not touch 1MDB with a long pole. Some officials at leading Malaysian financial institutions have expressed their reservations about 1MDB in private," the analyst said.
Najib, who is also Malaysia's finance minister and chairman of the board of advisers of 1MDB, said there will be no cover-up if any person is found to have committed fraud related to 1MDB, reported Singapore's The Straits Times on March 9. Chang Zhenming, chairman and president of Citic Group, a major Chinese state-owned enterprise listed in Hong Kong, is also an advisor to 1MDB, according to 1MDB's website.
Whistleblower website Sarawak Report alleged that Low orchestrated a joint venture between 1MDB and PetroSaudi International, a Saudi Arabian company, to siphon off US$700 million (HK5.4 billion) from 1MDB. Both Low and PetroSaudi International denied the allegation.
The website also claimed that Low was the mastermind behind 1MDB, although he has no official position in the company.
In his interview with the Post, Low denied he was the mastermind of 1MDB, saying: "I'm not hired by 1MDB and I don't get paid any fees by 1MDB. If someone in 1MDB asked me for my views informally, I will give my views like any other Malaysian."
Low's spokesperson confirmed that up till mid-May 2009, he helped to set up Terengganu Investment Authority (TIA), along with institutions like Goldman Sachs, McKinsey Consulting and Boston Consulting Group. TIA, which was initially controlled by the Malaysian state Terengganu, later became 1MDB after June 2009, which was controlled by the Malaysian Ministry of Finance.
In 2010, Low moved from Malaysia to Hong Kong. He established Jynwel Capital in Hong Kong on 19 November 2010, according to Hong Kong corporate records.
Jynwel Capital, a Hong Kong-registered company, is wholly owned by a British Virgin Islands company by the same name, according to Hong Kong corporate records. Hong Kong corporate records show Jynwel Capital's paid-up capital increased from HK$189.26 million in November 2011 to HK$390.89 million in November 2014.
During the interview, Low admitted to living the high life in the past in New York and other global cities but that he was more circumspect about hitting the spotlight these days, after advice from his elders.
He also said he made his own money early on in his investing career and his father and grandfather - from Guangdong - made their own fortune. Low studied in the elite school Harrow in England and later obtained a Bachelor's degree in economics from the prestigious Wharton business school in University of Pennsylvania in the United States.
Read more here