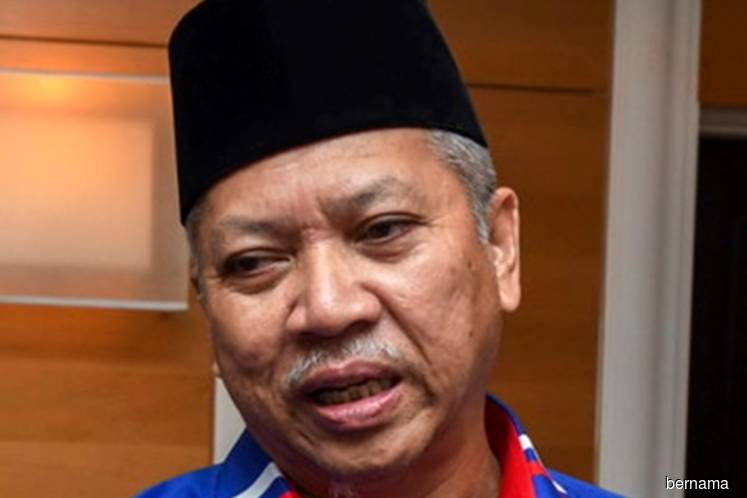 KUALA LUMPUR (Dec 3): MCA's proposal for Barisan Nasional to be dissolved has put other coalition members in an 'awkward' position, said Umno secretary-general Tan Sri Annuar Musa.
This, Annuar said, is because MCA has remained a senior member in the now-opposition coalition, and has not formally exited BN.
"It will be easier if MCA exits [BN]. We can make a decision [on BN's future direction] without consulting MCA. I am sure we have many other options [aside from dissolution].
"But if we want to continue as we are, knowing very well that one of our senior partners (MCA) does not agree... That puts everyone in an awkward position," Annuar said.
He was commenting on a statement by MCA president Datuk Seri Wee Ka Siong proposing that BN be dissolved, and that the Chinese-based party intends to leave the coalition.
Annuar said the dissolution of BN is "not an urgent matter" presently, as the process will not bring back the public's votes to member parties. 
"Umno's priority right now is to strengthen the party itself, then only think about the coalition. Individual parties have to reinvent themselves [as well]," he said. "It is not the dissolution that is important. Where are we going? Dissolution will not solve the question of how do we move forward. You are not going to win the [next] election just by dissolving [BN]."
BN has been struggling to stay united, following its surprise defeat in the 14th general election in May — its first electoral loss at the national level since it was first formed. MCA and Umno, alongside MIC, are the three founding members of BN, which was previously named Alliance during the pre-independence days.
The three parties have traditionally made decisions based on consensus agreement. Barisan had 13 component parties when it went into GE14, but that has come down to only four — Umno, MCA, MIC and myPPP. MIC leadership has voiced its intention to keep BN alive. 
On Umno's courting of Islamist party PAS, Annuar said, "There is no idea of working together with Pas in terms of becoming a single party [being thrown around]. We are just working on issues of common interests."
He cited the warming up of former Umno strongman and current Prime Minister Tun Dr Mahathir Mohamad with long-time nemesis DAP as an example. "Umno must think of how to work with [others, including] DAP. We should not have a mentality to block [cooperation]," he said.
"Malaysian politics is pragmatic... if Tun Mahathir can work with DAP, we also can work with DAP," he said.