This article first appeared in The Edge Malaysia Weekly, on September 16, 2019 - September 22, 2019.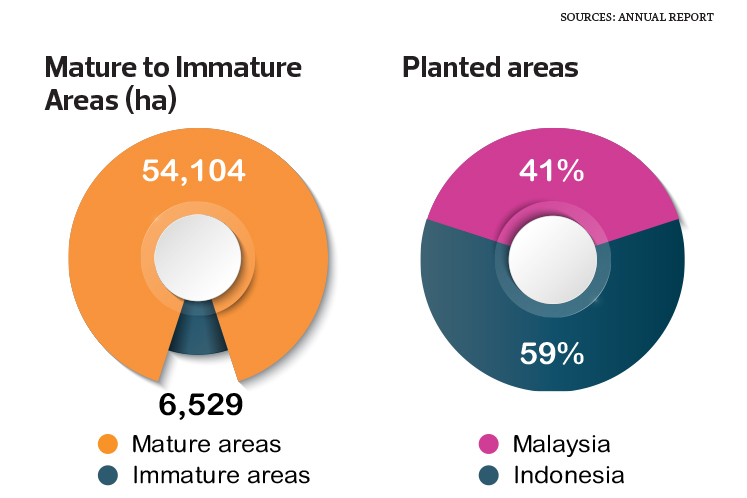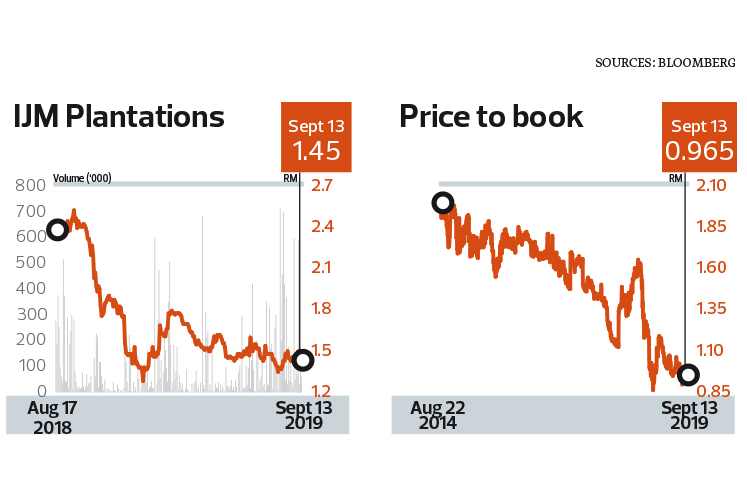 AT one time price to book (P/B) currently, IJM Plantations Bhd is looking attractive to its peers who are looking for a mergers and acquisitions (M&A) candidate.
The plantation group, in which IJM Corp Bhd holds a 56.2% stake, is trading below the average P/B of 1.4 times of other plantation stocks that have a market capitalisation above RM1 billion.
At its close of RM1.45 last Friday, IJM Plantations' P/B stood at 0.97 times, below its five-year P/B average of 1.53 times. Its five-year high — in September 2009 — was at 2.03 times while its five-year low of 0.86 times was seen at end-2018.
IJM Plantations' share price has been on a downward trend since early 2016, dropping from RM3.50 to below RM1.50, no thanks mainly to the soft crude palm oil (CPO) prices.
In August last year, there was news that IOI Corp Bhd and Hap Seng Plantation Bhd were eyeing IJM Plantation. Its market capitalisation was at RM2 billion then versus RM1.3 billion currently, which translates into a discount of over 35%.
Some quarters say the price is even more appealing now. That said, is IJM Plantations an attractive prospect that IJM Corp can marry off soon?
"It is rare to find a decent-sized estate that will be a meaningful addition to a larger plantation company's portfolio. For IJM Plantations, aside from its size, it is also the locations [of its estates] and some parts of its estates are newly replanted," says CGS-CIMB Research head of research Ivy Ng, who covers the plantation sector.
"It is unclear if a suitor will have the appetite to take over IJM Plantations' entire portfolio as it has land in Malaysia and Indonesia and not everyone wants exposure to both markets. Plantation companies usually like to acquire assets that are close to their existing estates.
So, it will be interesting to see how a deal will be structured and how it will impact the price," she adds.
Ng also points out that there is a moratorium on new planting. "If a plantation company wants to look at expansion, it might not be able to do so in Malaysia because of the lack of available land. Our minister [Minister of Primary Industries Teresa Kok] has indicated the plan to essentially restrict new planting.
From this perspective, if a plantation company wants to expand, believes in the growth of this industry and wants to acquire a decent-sized estate portfolio, IJM Plantations' portfolio could represent an opportunity."
Another analyst points out that, as with most M&A exercises, it all boils down to price and valuation.
"Everything has a price. If it's a deal that makes sense for the buyer and seller, why not? More often than not, it is down to the price and what future value-add the acquisition can bring."
What IJM Plantations can bring to the table is its 73,061ha of land, out of which 60,633ha are planted and 1,765ha are plantable reserves (as at March 31, 2019).
"It also depends on the age profile of the crops and whether it will add value to the portfolio of the larger plantation company," says the analyst.
Out of the 60,633ha of plantation land, 35,852ha are in Indonesia and the remaining in Malaysia.
About 52% of the estates in Indonesia are planted with mature young plants of four to seven years old while 38% have mature prime trees between 8 and 20 years old. The remaining 10% have immature plants of one to three years old.
As for the estates in Malaysia, some 70% have mature prime crops of between eight and 20 years old while 6% have mature crops that are above 20 years old. Thirteen per cent have mature young crops and 11%, immature crops.
This means the Malaysian operation's prime mature area remains at 70% while the Indonesian operation's increased to 38% from 15% in March 31, 2018.
The group's fresh fruit bunches (FFB) production for the 2019 financial year increased 5% as larger areas in Indonesia attained maturity and moved towards prime age profile.
Its Indonesian operations performed better, seeing a more than 15% growth to end FY2019 with 533,893mt of FFB versus a decline of 6% to 442,502mt in Malaysia due to crops being removed for replanting and ageing oil palm trees, particularly in the Sugut region, which was by the lagged effects of the prolonged dry weather in 2015/2016.
In terms of yield, IJM Plantations saw its average yield improve 3% to 18.1 mt per hectare compared with 17.5 mt per hectare in FY2018.
However, from an earnings perspective, IJM Plantations has been loss-making. It posted a net loss of RM44 million in FY2019 compared with a net profit of RM23.7 million a year earlier. Revenue declined 16% to RM630.9 million.
Reasons for the dismal results include significantly lower commodity prices for CPO and CPKO (crude palm kernel oil) as well as the continued weakening of the rupiah against the US dollar, resulting in a net unrealised foreign exchange loss of RM25.79 million on US dollar-denominated borrowings.
For its latest first-quarter results ended June 30, 2019, IJM Plantations narrowed its losses to RM4.7 million from a net loss of RM19.5 million a year earlier. This was due to the stronger rupiah against the US dollar.
Ng expects CPO prices to be supported at the current levels. "Palm oil stock levels have come down and China and India are buying more. As such, prices could trend higher because of the current weather conditions." She expects the average CPO price to be at RM2,100 this year.
CPO prices have improved from the one-year low of RM1,997 seen in July to RM2,183 last Friday.
Data shows that Malaysia's palm oil inventory in August dropped 10% year on year to 2.2 million metric tons, marking the first year-on-year decline since July 2017.
Export demand grew at a faster pace than production, mainly due to strong demand growth from India.