This article first appeared in Personal Wealth, The Edge Malaysia Weekly, on December 31, 2018 - January 06, 2019.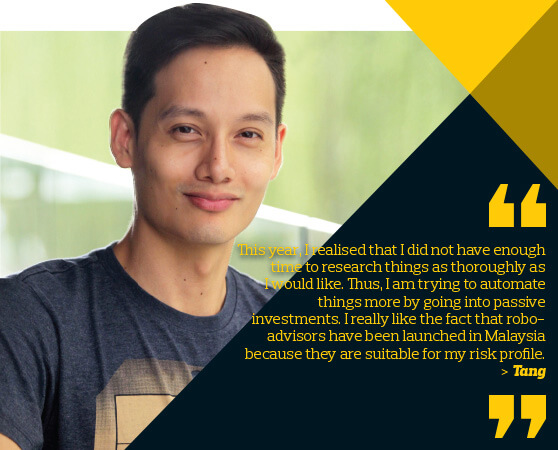 Aaron Tang, owner of personal finance blog Mr Stingy, believes that life is all about making things count. This has shaped his views on wealth and led him to make somewhat unconventional choices thus far.
For instance, he broke his 10-year bond with Petroliam Nasional Bhd (Petronas) after graduating from Universiti Teknologi Petronas in 2006. Two years into his working life, he decided to quit his job because he wanted to challenge himself and get out of his comfort zone. This inevitably meant that he had to pay off his RM58,000 education loan.
Tang joined Weatherford, an international oilfield services company, where he took a 16% pay cut. He eventually became the regional product line manager. He worked there for seven years before taking another pay cut, this time a whopping 50% to join social enterprise Leaderonomics and pursue his passion of empowering youth leaders.
"We (millennials) have all grown up with the advice that you advance your career in one job until you retire, but we do not necessarily believe it. I think our generation is more about 'We are only young once. Let's do it while we are young.'"
His popular blog — where he writes on a variety of topics, including money, time, career and relationships — gets 30,000 views on average a month.
The 34-year-old currently works as marketing and community lead for Malaysia at Luno, a cryptocurrency company headquartered in London. He is driven by his belief that cryptocurrencies will change the world by making transactions cheaper, more accessible and democratic.
Tang's unconventional views come from his experience of dealing with financial issues, such as having to pay a huge debt for breaking his bond, and from his voracious reading. He believes that the shortcut to success is within the reach of millennials due to the accessibility of information, which is an advantage he is eagerly tapping.
"A century ago, you only knew what your village elders told you. Today, you can have viewpoints from everywhere in the world because of the internet. I am not saying that I took a shortcut to success, but I have understood the thinking and teachings of people by reading. If I had to learn all this myself, it would have taken me 60 years to go through it all," says Tang.
He mentions Mr Money Mustache, a blog written by a US-based writer who adheres to the principles of achieving financial independence and retiring early, as an example of reading material that has influenced his views. One blog post, titled "The shockingly simple math behind early retirement", is lodged in his memory.
"Up until then, I had never thought about retirement in terms of maths. I thought about it as a concept. When you are 60, you retire. It means having enough money to fund your life, which can be distilled down to maths. If you calculate it well, you could retire at 35 or 40. That made me look at money as rationally as possible," says Tang.
With that perspective, he can figure out exactly how much he needs to save to live a comfortable life and from thereon, free himself to pursue his hobbies and do meaningful work. "My goal is to have a meaningful life, have enough time for friends and loved ones, and do meaningful work. My financial goal would be to get to a point where financial freedom means I work because I like the job, not because I need the money," he says.
Learning financial lessons
Chasing one's dreams, however, is easier said than done. After quitting the Petronas job, Tang was saddled with a student loan, which he settled by taking advantage of various interest-free credit card payment plans. It was an ordeal he detailed in his blog.
"I think it really forced me to look at money in a very number-centric way. At the end of the day, I was faced with something I needed to pay and there was a number attached to it. So, it forced me to look at it rationally and strip away all my beliefs. I have this number, I need to pay it back, how am I going to do it? From there, I worked out creative ways to save money and solve the problem," says Tang.
This took discipline. In his mid-twenties, he came up with a monthly budget for his expenses and investments. He also avoided getting into heavy debt.
"I would not say I am a true minimalist, but I try to keep my overheads relatively low so that it allows me the flexibility to do whatever I want with my career. If I lived in a mansion or bought a BMW back in my oil and gas days, I would not have this flexibility because I would be burdened with debt and financial commitments," says Tang.
"When you have more that you are able to save, it gives you more flexibility in life. I say that recognising that a lot of people are struggling and not everyone is privileged to have this flexibility. But I think that as much as possible, minimise your expenses so you can have that flexibility."
Chasing dreams aside, he acknowledges that financial stability is something that must take priority in life. If a person has to support a family and repay debts, career flexibility may not be an option.
"The difference is, where do you draw the line? This is a race that you can keep running forever. RM2 million is enough for some, but not enough for others," says Tang.
"I figured that I need a certain amount to be comfortable. And once I get to that level, I want to focus on finding things that make me not only happy but also make my life meaningful. Once you have that level of financial stability, you would have enough time to explore your interests. As for me, I can write my blog and do stuff on the internet."
Taking inspiration from Mr Money Mustache, Tang calculated what he needed his net worth to be to achieve financial freedom. He arrived at the number by taking the amount of money he spends monthly and multiplying it by 12 months, and then by 25.
"That is how much money you would need to retire on if your lifestyle remains the same. The reason for 25 is that is the chunk of money needed. If you get interest on that, it is enough to cover your yearly expenses without touching your principal," says Tang.
He is only halfway through his goal, he adds. "If I reach my number today, I will probably still keep my day job because I enjoy it and believe it is meaningful. But who knows, maybe somewhere down the road, I want to write books full-time."
Tang emphasises that his parents played a huge role in shaping who he is today. "My parents were not rich when I broke my bond. It is not like they had the money to help me pay off the loan, but I appreciate them because one, they knew that I would work or do whatever it takes to pay it off myself and two, they were willing to help me if I got into a situation where I needed help," he says.
When Tang joined Luno, he had to explain to his parents what cryptocurrencies were. "My parents were obviously concerned because it has a bad reputation — perhaps unfairly so — and it is very new. My dad was initially quite sceptical and said even the CEO of JPMorgan labelled bitcoin as a fraud. But over time, I explained and talked to them about it. My dad is actually a huge bitcoin supporter now. He fully supported my decision by the time I switched jobs to join Luno," he says.
Most of Tang's investments are in the Employees Provident Fund, followed by Amanah Saham Wawasan 2020 units, bond funds, insurance-linked unit trusts and real estate investment trusts. The Amanah Saham units were a gift from his mother 22 years ago. Up to 80% of his portfolio is in low-risk investments.
"Over the past few years, I have learnt that to seek better returns, sometimes more risk needs to be taken. Hence, I have a portion (20%) of risky investments now, for instance, cryptocurrencies and peer-to-peer lending," he says.
"This year, specifically, I realised that I did not have enough time to research things as thoroughly as I would like. Thus, I am trying to automate things more by going into passive investments. I really like the fact that robo-advisors have been launched in Malaysia because they are suitable for my risk profile."
Cryptocurrencies are the future
A recent report by public relations and consultancy firm Edelman, entitled "Millennials with Money", showed how 25% of the millennials it surveyed use or hold cryptocurrencies. Some 74% of them believe that disruptive technological innovations such as blockchain make the global financial system more secure.
Likewise, Tang's belief in cryptocurrencies stems from its disruptive nature. For the first time, it enables two parties who do not know each other to transact without having to rely on a third party, he says.
"These are my personal views and not of my employer. Personally, I think the cryptocurrency world has a bad reputation because there are a lot of bad parties out there. In a very idealistic way, I feel that it needs more responsible people. If everyone in it are scammers, the industry will not develop into something positive," he adds.
Cryptocurrency prices have fallen steeply recently following a phenomenal rise earlier in the year.
Tang says cryptocurrencies are where the internet was two decades ago, when there was much uncertainty about the new technology. "Now, due to the internet and cryptography, it is like democracy. You can rely on each other. You have a way to make that transfer of value between two people who do not know each other. And you do not need a trusted third party," he adds.
For the next generation, his advice is to be humble and keep learning. "I personally went through this stage when I thought I knew everything. That probably stunted my development for a while, until I realised that the way to go through life is to keep learning and questioning things. If you do that, you will always get better with your money, relationships and career because you keep improving yourself. And be nice to your parents!" he says.