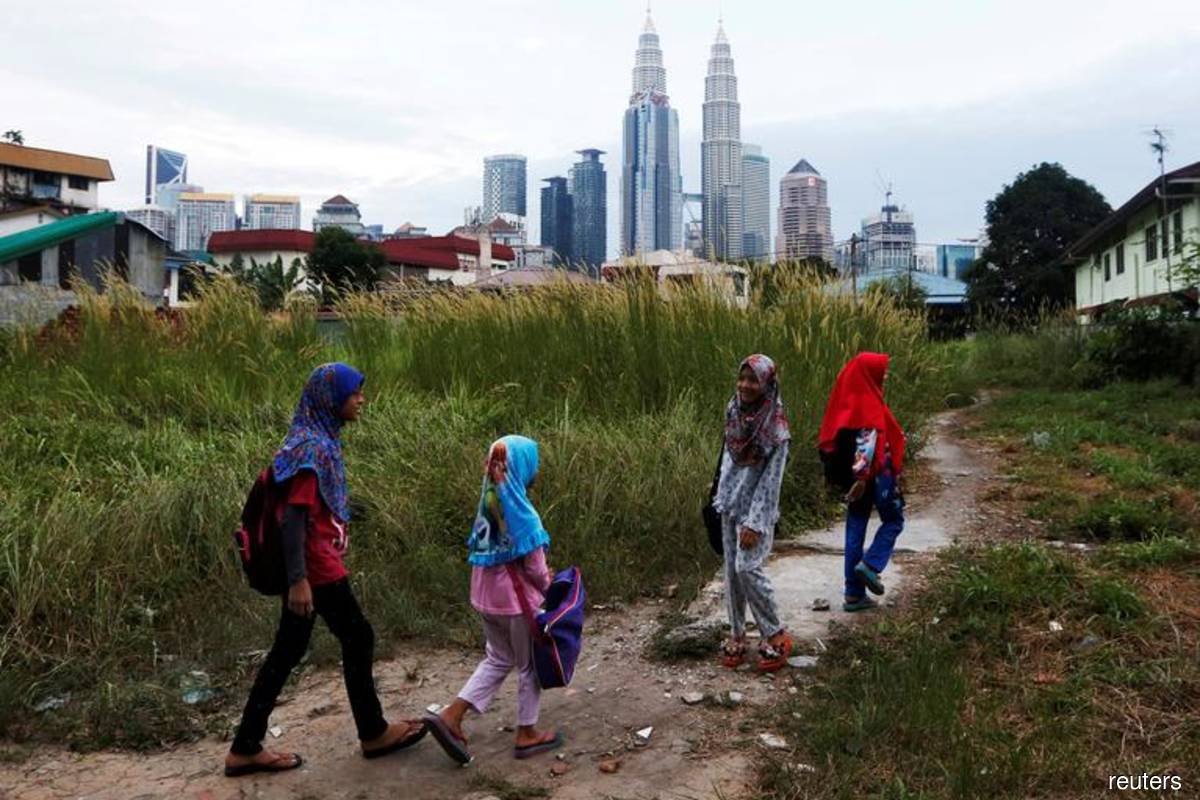 KUALA LUMPUR (Nov 1): Malaysia can afford to give the urban poor more money to tide them through the Covid-19 pandemic and lift them out of absolute poverty, said the economic advisor to former prime minister Tun Dr Mahathir Mohamed.
"On average, we have to top up RM900 per month per poor family to get them out of absolute poverty in Kuala Lumpur," DM Analytics managing director Muhammed Abdul Khalid tells The Edge, citing findings from a survey commissioned by two United Nations (UN) agencies to gauge the impact of Covid-19 on the families at the Kuala Lumpur City Hall (DBKL) Projek Perumahan Rakyat (PPR) low-cost flats.
Absolute poverty in the community remains high, with 50% households and 52% children living below the absolute poverty line in September, up from 44% and 45% in 2019, according to the "Families on the edge" report (Part 2) by United Nations Children's Fund (UNICEF) and United Nations Population Fund (UNFPA), based on a study conducted in partnership with Malaysia-based public policy research outfit, DM Analytics.
While the absolute poverty figures showed an improvement from 61% and 60% in May this year — when the economy had just gone through the movement control order (MCO) that lasted from March 18 to May 3 — they had not taken into account the reimplementation of the conditional movement control order (CMCO) in the Klang Valley from Oct 14.
"We must continue to aid them, as they are the most vulnerable and most impacted from the crisis. It is never a bad idea to help the poor by giving them cash. It is good for the economy because they spend it — RM1 in the hands of the poor is better than RM1 in the hands of the rich. Some people assume that these households will use the cash on wasteful things. This is not true. The bulk of their spending is on food, transport, housing, and on their children," Muhammed said.
According to him, there are 249 families with average household income of RM1,343 per month among those surveyed.
Relative poverty rates were even higher at 97%, with all (100%) of households with disabilities living in relative poverty (compared with 46% that are absolutely poor).
Relative poverty is generally defined as those living with less than half of the country's median income, which stood at RM5,873 (RM6,561 urban, RM3,828 rural) for Malaysia in 2019. This was the figure used by researchers rather than the RM10,549 median household income threshold for Kuala Lumpur (484,300 households), which is the highest in the whole country.
Giving RM900 a month would certainly be of great help, since 68% of the PPR folks were found to be without savings in September (71% among female heads of households and 93% among households headed by persons with disabilities).
Even among those with savings, the average savings was only RM1,124 — and as little as RM74 for households headed by persons with disabilities and RM342 among female heads of households.
A total of 500 heads of households in 16 of the 56 PPR flats in Kuala Lumpur were interviewed between Sept 1 and Oct 7 for the socio-economic portion of the survey that is designed to reflect 61,713 households in low-cost flats in Kuala Lumpur (with 4.36% margin of error at 95% confidence level), while 50 households were interviewed between Sept 1 and Sept 22 for the general well-being portion. The 500 households surveyed had 5.7 members each on average and 2,832 members in total, 41% or 1,155 of which were children (2.3 children per household on average).
In July, Malaysia revised its poverty line income (PLI) for the first time in 15 years to RM2,208, from a PLI of RM980 per month in 2005. 
That raised the country's absolute poverty rate to 5.6% (405,441 households) in 2019, compared with 7.6% (525,743 households) in 2016, based on the updated methodology. The figure would have been 0.4% in 2019 versus 0.6% in 2016, based on the old methodology. Data in the 2019 Household Income and Basic Amenities Survey Report, however, were collected before the Covid-19 pandemic hit the lives and livelihoods of many Malaysians.
Using those 405,441 households as a guide, the government would need RM4.4 billion to give each family RM900 a month to lift them out of absolute poverty — that's roughly 0.3% of GDP, our back-of-the-envelope calculations show.
On Sept 23, the government announced another round of one-off cash aid totaling RM7 billion, dubbed Bantuan Prihatin Nasional 2.0 (BPN 2.0), where RM1,000 each are reportedly given to 3.7 million B40 households, RM500 to 3.8 million single people in B40, RM600 to nearly 1.4 million M40 households, and RM300 to 1.7 million singles in the M40 group. This was to be paid in two installments, the first at the end of October and the second in January 2021. The B40, for instance, were paid RM700 in October and will be getting RM300 in January.
 
On March 27, cash transfers totaling RM9.24 billion under Bantuan Prihatin Nasional (BPN) gave RM1,600 to those with a monthly household income of RM4,000 or below, RM1,000 for household income of RM4,001 to RM8,000, RM800 for singles earning RM2,000 or below, and RM500 for singles earning RM2,001 to RM4,000 per month.
Among the PPR folks surveyed, however, only 54% of households earning below RM4,000 and 51% of those earning above RM4,000 were recipients of the Bantuan Sara HIdup (BSH), according to the report, which mentioned the need to improve coverage for aid but did not specifically say why so many did not receive the cash transfer. Researchers, however, noted that many did not know about the aid available.
Researchers also found that 18% of the PPR folks with disabilities were not registered with the Social Welfare Department (JKM).
"We haven't figured out why they are not registered with JKM. However, this question will be included in the next round of survey [which will begin in the third week of December]," Muhammed said.
According to him, out of the 18% of persons with disabilities who are not registered with JKM, 6.3% received BSH, none received BPN, 12.5% received zakat and 18.8% received other assistance from JKM.
Read also:
Aid needed urgently for urban poor's recovery from COVID-19
Budget 2021, 12MP need to lift children of the urban poor out of poverty
Many low-income PPR folk don't know what aid is available — UN study 
PPR folks want income-generating breaks but still need aid — UN study
PPR folks not rich, though 11% earned over RM5,000 pre-Covid-19 — UN study
Some PPR folks paying higher rents than DBKL rate — UN study