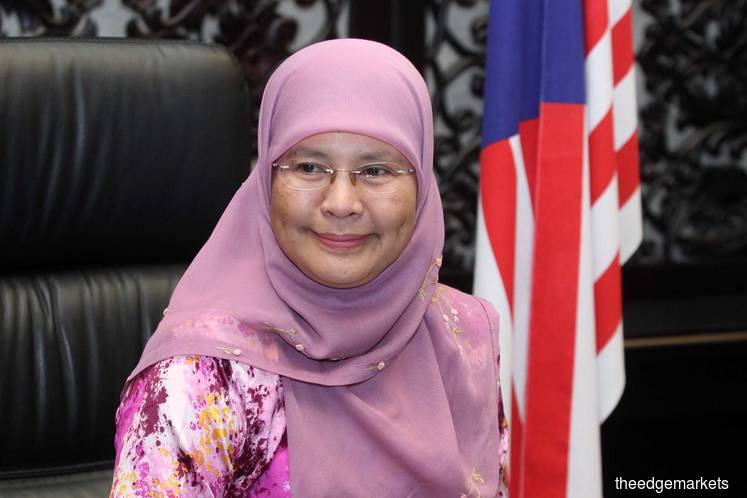 PUTRAJAYA (May 6): Newly minted Chief Justice (CJ) Datuk Tengku Maimun Tuan Mat attributes her ascension to the top position in the judiciary to fate.
Being among the youngest CJs to be appointed, she does not see her post as a form of privilege but one that comes with a heavy responsibility to, among others, restore public confidence in the judiciary.
"I did not ask for this post but I consider it as fate. As a Muslim I feel that there is no feeling of angst among my fellow brother or sister judges on being appointed to the post (bypassing other senior judges)," she said.
"I also feel that being the first lady to be appointed is not a gender thing or issue.
"This position comes with a heavy responsibility," she added in her first interview with the media after receiving her instrument of office from the Yang di-Pertuan Agong Sultan Abdullah on Monday.
She was asked about her promotion as the new CJ when she was just appointed to the Federal Court late last year and had bypassed other Federal Court judges who had been there longer to become the top judicial officer.
Tengku Maimun added that independence, integrity, and good and sound knowledge of the law are traits of a good judge and they will continue to be encouraged.
She also pledged to continue the good work of her predecessor Tan Sri Richard Malanjum whereby decisions would be decided collectively among the three senior judges, namely Court of Appeal president Tan Sri Ahmad Ma'arop, Chief Judge of Malaya Tan Sri Zaharah Ibrahim and Chief Judge of Sabah and Sarawak Datuk David Wong Dak Wah.
The new CJ was also asked about Court of Appeal judge Justice Datuk Hamid Sultan Abu Backer's controversial affidavit which contained several allegations of judicial impropriety, to which Tengku Maimun said that it was a matter of perception and not a fact.
She explained that some of the perception is caused by the social media and that it was not necessary the truth.
"Hence, the media should report things correctly especially in judgments. That is why the court prepares a press release about a judgment to make sure that what is reported is correct and not just lifted from the judgment," she said.
Justice Tengku Maimun was also asked about the proposed Royal Commission of Inquiry on the judiciary that was decided by the Government. This she said that since it is the Government's decision, then let it be with the Government.