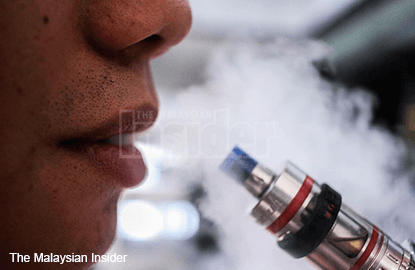 (Dec 2): All sale of vape products including equipment and liquids in Johor is officially banned beginning next year, the state government said today.
The Star Online reported that the decision was made during the state executive councillors' meeting at Bangunan Dato Jaafar Muhammad in Kota Iskandar earlier today.
Johor Local Government and Housing executive chairman Datuk Latiff Bandi was quoted as saying all local councils statewide would be given a directive concerning the matter.
"There will be no more selling of flavour liquids and mods in Johor anymore.
"From the local councils' record, there are 120 registered vape premises in Johor and we advise them to close their shops before January 2, as we will take action against stubborn sellers," he was reported saying.
On Sunday, it was reported that the sultan of Johor had issued a decree prohibiting the sale of vaporisers and fluids in the state.
In response, the Malaysian E-Vaporizers and Tobacco Alternative Association (Mevta) said it wanted a chance to clear negative misconceptions on vaping before the authorities implemented a blanket ban on the entire industry.
The group also said it respected the royal decree by Sultan Ibrahim Sultan Iskandar but wanted to seek an audience with the palace to explain its side of the story and to discuss the matter with the relevant authorities.
"Mevta has always respected the laws of this country, whether at state or federal level, and is always open for all forms of cooperation, dialogue and consultation with authoritative bodies, be it with the istana, federal or state governments," the group said in a statement released on Facebook on Sunday.
Mevta said it would support its members in Johor as well as in other states while waiting for the Health Ministry to sort out the legislation to regulate the new industry, which offers an alternative to tobacco smoking.
Health Minister Datuk Seri Dr S. Subramaniam had said the government would consider banning the use of electronic cigarettes to prevent adverse health effects on consumers. – The Malaysian Insider