This article first appeared in Digital Edge, The Edge Malaysia Weekly, on June 13, 2022 - June 19, 2022.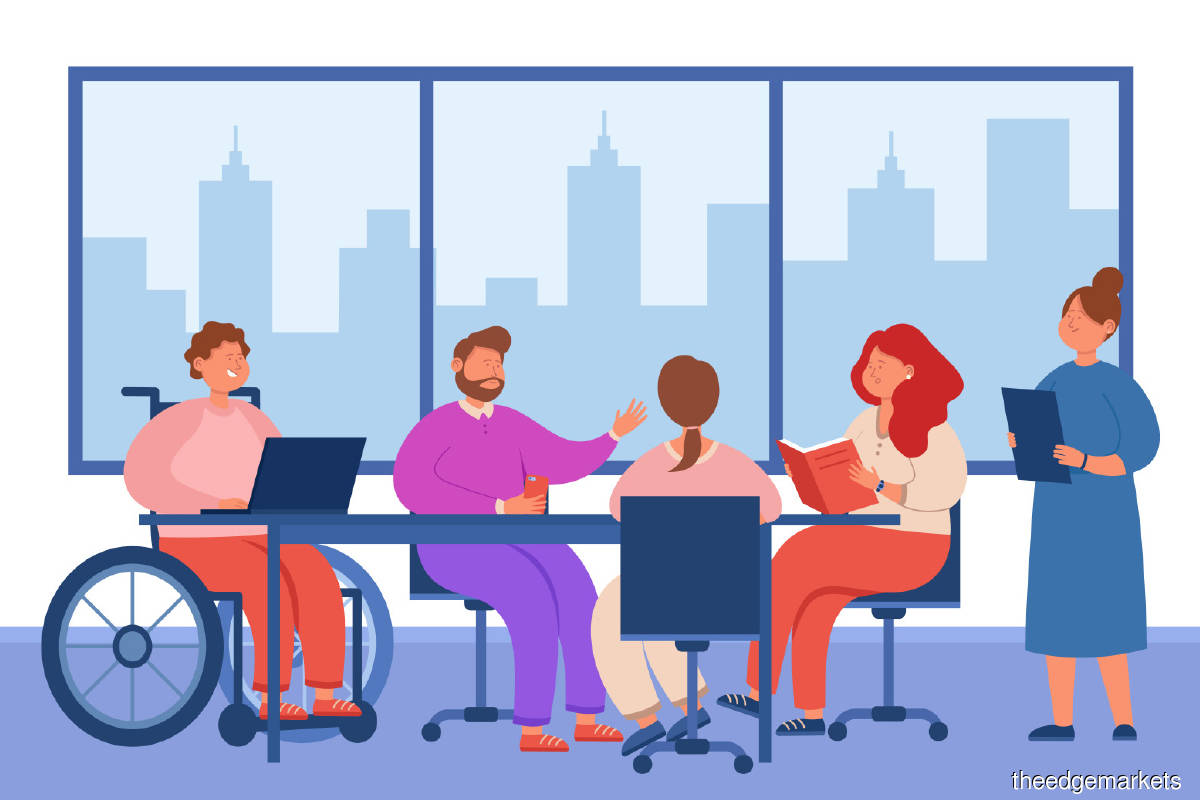 Seeking and securing employment is always a hassle. For persons with disabilities, the challenge is greater when regular recruitment platforms are not very accessible or are too complicated to navigate.
This prompted the Make It Right Movement (MIRM), a corporate social responsibility initiative by Brickfields Asia College, to establish its own recruitment platform — Special Jobs — which serves as an affiliate of the higher learning institution's JobsBAC portal.
Tailored specifically for unemployed graduates with disabilities, Special Jobs makes it easy for them to access the portal and upload their curriculum vitae (CV), says MIRM CEO and head of community development Brian Lariche.
Special Jobs was created in 2018 with the aim of connecting employers to jobseekers living with disabilities by securing the right talent at no cost, as well as to promote inclusive employment.
All the jobseekers need to do is upload their CVs, and the MIRM team will try to get companies to notice them, says Lariche. Currently, the platform has about 600 users and 80 active jobseekers. But there are only 10 jobs available right now. Job listings have reduced drastically since the Covid-19 pandemic struck.
Despite the drop in job listings, MIRM continues to work on capacity building for its target community by providing an immersion programme to acclimatise people with disabilities to the work environment. Classes are held every Tuesday and Thursday.
Through the immersion programme, groups of eight to 10 jobseekers — who usually fall under one of seven categories of disabilities, namely, hearing, visual, speech, physical, learning, mental and multiple disabilities — are taught the fundamentals of Microsoft Office, primarily for them to be able to write their CVs and key in data. While the lessons they learn and the tasks they perform may appear mundane to some, these are often reassuring to people living with disabilities, says Lariche.
"These jobs give them a sense of calm because they can control it [using Microsoft Word and Excel]. When you are intellectually challenged, you feel that you are not in control of everything. So, when you can do something [independently], you feel that you are in control and you don't  have behavioural issues, because there is stability. That is what we are doing with the immersion programme," he adds.
Prior to the pandemic, companies like McDonald's, Petroliam Nasional Bhd (Petronas) and Digi Telecommunications worked with MIRM to hire PWDs in their workplace.
Now that the physical distancing restrictions have been lifted, MIRM is looking to relaunch Special Jobs and work with the human resources departments of companies on standard operating procedures and the facilities needed to have persons with disabilities in their organisation, says Lariche.
Although the initiatives of the Department of Social Welfare and other governmental agencies have increased the awareness and visibility of persons with disabilities, there is still a general unpreparedness when it comes to working with people who have disabilities.
Stepping out of one's comfort zone is difficult, hence many of those with disabilities are not prepared to work. On the other hand, the lack of awareness among able-bodied people in a work setting is also a challenge.
Raising sexual awareness is one of the biggest issues MIRM faces, says Lariche. A large number of PWDs receive minimal education on sexuality and may even display sexual behaviours that are often misunderstood by others.
"So, for people who don't understand this, not that it is any fault of theirs — we go to separate schools and are raised in separate environments, and most people have not learnt how to live with those who are different from us — [certain behaviours sometimes] come across as sexual. But they aren't aware of what they are doing," he explains.
To prevent such blunders, it is important that employers conduct training for their existing staff. "If your team has eight people, they should be given a short briefing. For example, a person with Asperger's has been hired and will be joining the team next month. [The existing staff] need to be aware of what Asperger's is and what to expect. If the new hire looks at you in a way that makes you feel uncomfortable, and you have the right to feel uncomfortable, all you need to do is tell your superiors and let them handle it," says Lariche.
Going forward, MIRM hopes to curate more programmes and workshops on public awareness, employability and entrepreneurship for persons with disabilities.