This article first appeared in The Edge Financial Daily, on June 11, 2019.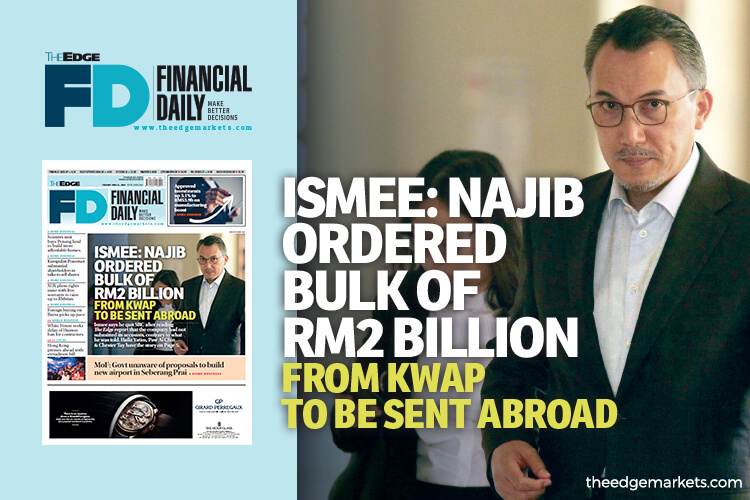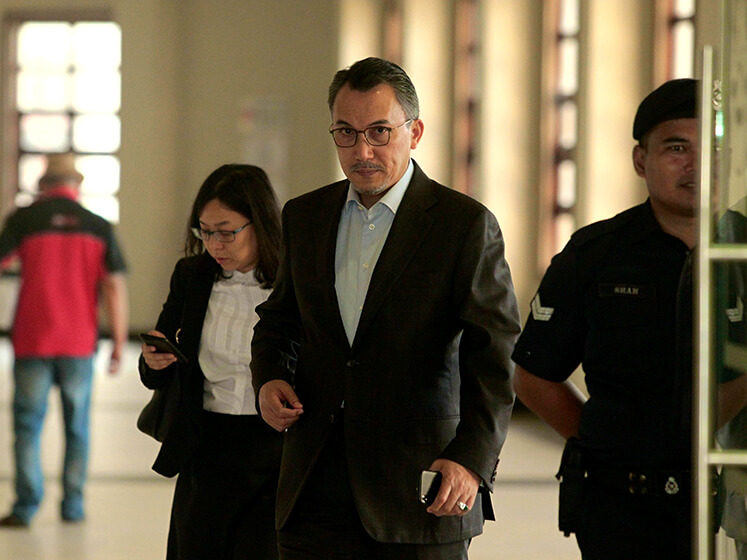 Prosecution witness No 39: Former Lembaga Tabung Haji CEO, 1MDB director and SRC chairman Ismee (centre). Photos by Suhaimi Yusuf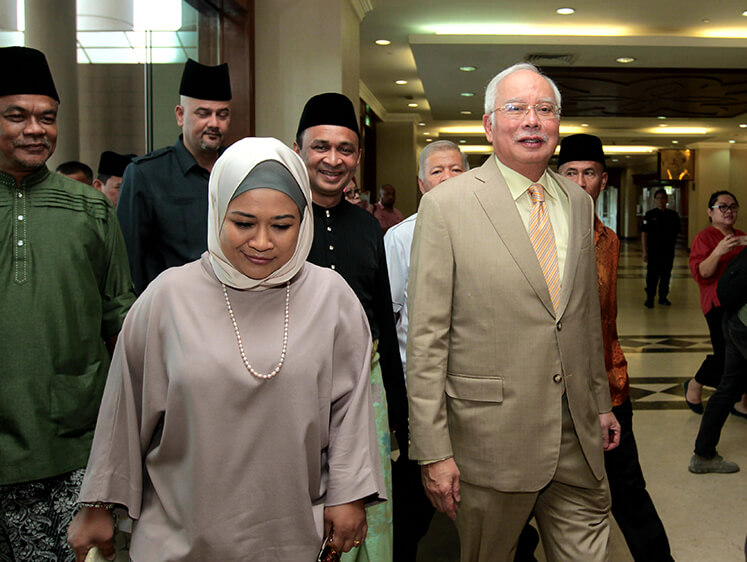 Najib (right) on his way to the courtroom.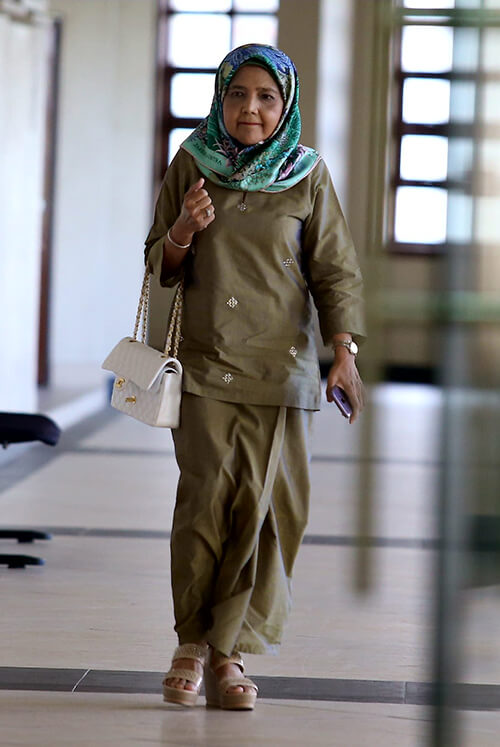 Prosecution witness No 38: Ex-KWAP CEO Azian.
KUALA LUMPUR: Former SRC International Sdn Bhd chairman Tan Sri Ismee Ismail said Datuk Seri Najib Razak had ordered the company to transfer most of the funds obtained from the first RM2 billion loan from Retirement Fund (Incorporated) (KWAP) abroad.
In court yesterday, he said Najib made the directive, through SRC managing director and director Nik Faisal Ariff Kamil, to move RM1.5 billion to BSI Bank in Switzerland.
Meanwhile, another RM300 million was moved to Bank Julius Baer & Co Ltd in Hong Kong.
"The remaining RM200 million was retained locally for SRC's operational expenses," said Ismee, who was the prosecution's 39th witness.
Ismee said the decision to transfer the funds was related to Nik Faisal alone in his meeting with Najib on Sept 7, 2011.
The decision was conveyed by Nik Faisal to the SRC board on Sept 13, 2011 in the second board meeting that year.
Ismee was asked to produce the minutes of the Nik Faisal and Najib meeting, which he produced a copy that was handed to him by Nik Faisal.
The production of the document led to defence lawyer, Harvinderjit Singh, decrying it as a fake document which should not be marked or admitted as evidence.
This is despite Deputy Public Prosecutor (DPP) Datuk Ishak Mohd Yusoff continuously pointing out that portions of the minutes detailing the meeting with Najib were also in the SRC minutes dated Sept 13, 2011.
After the afternoon break yesterday, submissions were held on the issue by lawyer appointed prosecutor Datuk V Sithambaram and lawyers Harvinderjit Singh, Datuk Yusof Zainal Abiden and Tan Sri Muhammad Shafee Abdullah.
In the end, presiding Justice Mohd Nazlan Mohd Ghazali retained the marking of the minutes between Najib and Nik Faisal as identification and not as evidence.
Ismee further testified that he went to Switzerland in early 2014 to inquire with BSI on whether the RM1.5 billion was still there and he was assured by a "very senior personnel" that the money was still there despite it not being used in Aabar Investments.
"In the first SRC board meeting in 2014, the board requested that the money be brought back," he said.
However, subsequently he resigned from the board and as SRC chairman effective Aug 15, 2014 — after tendering his resignation in May.
Corporate governance issues drove Ismee to quit
Ismee testified that corporate governance issues at the company had driven him to resign.
He said he was appointed in 2011 by virtue of him being a director of 1Malaysia Development Bhd (1MDB) since 2009.
He decided to tender his resignation on May 6, 2014 and it was made official on Aug 15, 2014.
"Between May and August 2014, I was no longer involved in SRC's management. I resigned as I did not agree with the management of the company helmed by its chief executive officer (CEO) Nik Faisal Ariff Kamil, especially with its accounts and finances," he said.
"Most of the actions in SRC were [taken] by Nik Faisal as SRC CEO. Nik Faisal would table the working paper to the board of directors to decide and would take the follow-up action for each project to be conducted by SRC," the witness added.
For SRC, Ismee — who is the first witness from SRC to testify in court — said all decisions by the board would require the advice of the adviser emeritus of the company — who is Datuk Seri Najib Razak — and that if there were any decisions to be brought to Najib's attention it would be through Nik Faisal.
"Nik Faisal is 'the link' between the SRC board and Najib," he said, adding that only Nik Faisal would relay any discussions or decisions made about the company to the ex-premier.
"I have raised the issue of SRC governance before regarding daily operations in SRC. Nik Faisal would respond to me by saying that the matter has been discussed and agreed with the government. In my opinion, 'the government' referred by Nik Faisal refers to Najib," he said to questions from DPP Ishak.
The witness added that he knew Najib, the then prime minister, had the power to appoint him as an SRC director and conversely, sack him.
"I realised that Najib has the sole power to 'hire and fire' any SRC board members," he added.
SRC 2013 audited accounts not submitted
Ismee elaborated that he was motivated to quit by the fact that he and several members of the board were misled by the company to believe that the audited accounts for 2013 had been submitted to the Companies Commission of Malaysia when, in fact, they were not.
"I discovered that the accounts had yet to be submitted through a report that appeared in The Edge sometime in early 2014. I took this responsibility and made the decision to resign," he said, adding that he has been replaced by Datuk Che Abdullah @ Rashidi Che Omar.
Ismee also added that while he was appointed to SRC in 2011, he had overseen the company obtaining two loans of RM2 billion each from KWAP in August 2011 and March 2012.
He said the loans were obtained by SRC after the company had managed to secure a government guarantee.
"Out of the RM4 billion loan, a total of approximately RM40 million was used to purchase property which was later sold to a subsidiary of SRC named Gandingan Mentari Sdn Bhd," the witness said.
Azian: Najib is my 'ultimate boss'
Earlier, KWAP former CEO Datuk Azian Mohd Noh explained that Najib, former prime minister and finance minister, was her "ultimate boss" and hence had influence over KWAP's decision to approve loans to SRC.
She said the word compulsion was used in reference to SRC's RM3.95 billion loan application letter dated June 3, 2011, which contained a note supporting SRC's loan.
The note was not a legal notation compelling the fund to lend money to SRC.
Azian, however, testified that she cannot say that the note had no influence as the annotation in the letter came from Najib, who was also responsible for KWAP.
"The letter came from my ultimate boss (Najib) and I cannot deny that there was any influence," she said on being re-examined by DPP Ishak.