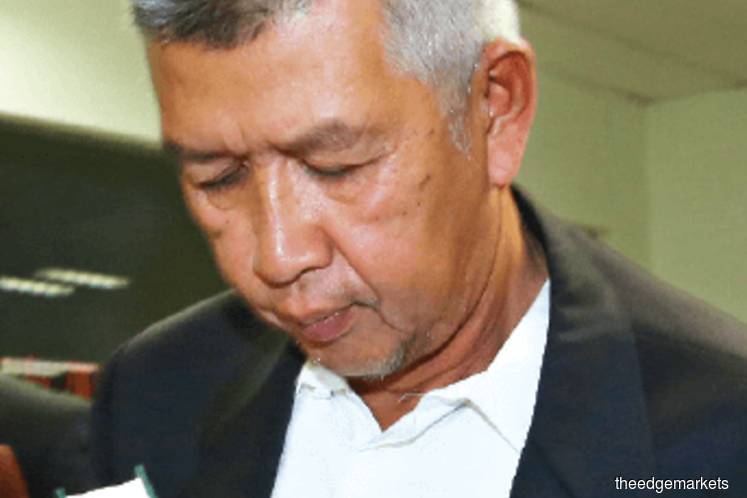 KUALA LUMPUR (May 18): Earlier this month, the High Court recorded a consent judgment between the Securities Commission Malaysia and businessman Datuk Ishak Ismail, requiring him to pay a fine just shy of RM20 million to the market regulator.
The settlement, on charges of insider trading and making false or misleading statements concerning the affairs of publicly-traded Kenmark Industrial Company (M) Bhd in June 2010, has been a long drawn out affair.
Ishak, previously the largest shareholder in Kenmark (a computer workstation manufacturer which ceased operation and fell into the cash strapped Practice Note 17 status) was charged with giving misleading statements likely to induce others to buy shares in the financially stressed company.
Under the three insider trading charges, he was accused of selling  58.69 million Kenmark shares in June 2010, and of making a misleading statement between June 4 and 5, 2010, that was published in The Star newspaper on June 5, 2010.
He is reported to have said at that time that Kenmark "is a good company".
"I checked and there is nothing wrong with the company. There is a misunderstanding," he was quoted as saying, when asked as to why he bought into the company at a time when its share price had tumbled.
While his comments were positive on Kenmark, Ishak allegedly had possession of information that two of Kenmark's clients had gone bankrupt, and EON Bank Bhd (since merged with Hong Leong Bank Bhd) did not agree to uplift the receivership of Kenmark as at June 8, 2010.
Kenmark's share price was already on a downward spiral on news the company's managing director and major shareholder James Hwang was not contactable.
Ishak took up a 32.26% stake or 57.69 million shares, and the company's stock dived from 84 sen in early May 2010 to 26 sen on June 4 — the day Ishak made his comment on Kenmark.
By June 15, Ishak ceased to be substantial shareholder in Kenmark, and is said to have made gains of more than RM6 million.  
Subsequently, the stock tumbled to barely 6.5 sen two months later, Bloomberg data shows.
According to the charge sheet, Ishak's statement was likely to have induced others to buy Kenmark shares, when he ought reasonably to have known that the statement was misleading in a material particular.
In 2010, the SC had obtained an order from the High Court to freeze RM4.8 million of the proceeds of the impugned trades by Ishak.
This is not the first time Ishak has been charged for violating securities law.
On July 24, 1999, Ishak, who was then a director of Idris Hydraulic (M) Bhd (IHMB), was charged for falsely disclosing in IHMB's proposal to the SC, claiming he did not hold any shares in KFC Holdings.
The information submitted was related to IHMB's proposed acquisition of KFC's assets. Ishak pleaded guilty and was convicted on Aug 23, 2001 of the offence of submitting false statement to the SC and was fined RM400,000 in default six months imprisonment.
In another case related to IHMB, Ishak as a director then was charged on June 28, 2002 for abetting IHMB in misutilising RM50 million of  proceeds raised from the disposal of Kewangan Bersatu Bhd.
The amount was used for purposes other than those approved by the regulator. Ishak was compounded RM400,000 for the offence. As a result of the compound, the charge was withdrawn.
Ishak was a key figure in the shareholder tussle to garner control of KFC Holdings Bhd in the 1990s.