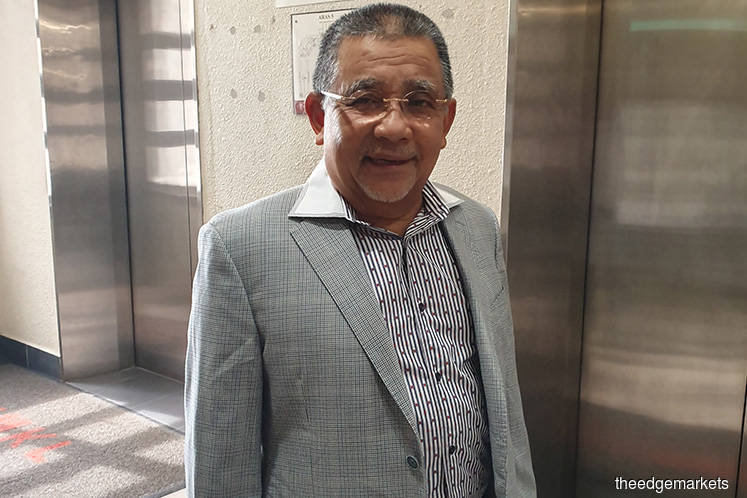 KUALA LUMPUR (April 11): The trial involving former Federal Land Development Authority (Felda) chairman Tan Sri Mohd Isa Abdul Samad (pictured), who is facing a count of criminal breach of trust (CBT) and nine graft charges for receiving a bribe totalling RM3.09 million with regard to the purchase of a Kuching Hotel, will begin on Oct 7.
High Court judge Justice Mohd Nazlan Mohd Ghazali fixed 13 days for the trial after being told by Deputy Public Prosecutor Allan Suman Pillai that the prosecution would be calling in 30 witnesses for the trial.
"The court fixes Oct 7 to 9 and Oct 14 to 25 as trial dates. The court also fixed May 13 for case management," Justice Nazlan said.
Earlier, Mohd Isa had the 10 charges read before him again before Justice Nazlan where his plea was taken.
The former Felda chairperson and former Umno vice president claimed trial to all the charges.
He is charged with a CBT charge and nine graft charges involving RM3.09 million, with regard to Felda's purchase of the Merdeka Palace Hotel & Suites in Kuching, by Felda Investment Corp Sdn Bhd (FIC Sdn Bhd).
On the first charge, Mohd Isa is alleged to have approved the hotel purchase for RM160 million without Felda's board of directors' approval. He is charged with committing the offence at Menara Felda here on April 29, 2014.
The charge is framed under Section 409 of the Penal Code that carries a maximum jail term of 20 years, whipping and fine.
For the corruption charges, he was charged with dishonestly receiving cash as gratification for himself, totalling RM3.09 million, from Ikhwan Zaidel, a board member of Gegasan Abadi Properties Sdn Bhd, through one Muhammad Zahid Md Arip, for helping to approve the hotel's purchase by FIC Sdn Bhd, for RM160 million.
For the graft charge under Section 16 of the Malaysian Anti-Corruption Commission Act 2009, Mohd Isa stands to face a maximum of 20 years jail and a fine amounting to five times the amount of bribe he received.
Muhammad Zahid was Mohd Isa's former special officer and is now working as an aide to Prime Minister Tun Dr Mahathir Mohamad.
Mohd Isa was represented by lawyers Ridha Abdah Subri and Lavinia Kumaraendran.