This article first appeared in Enterprise, The Edge Malaysia Weekly, on December 30, 2019 - January 05, 2020.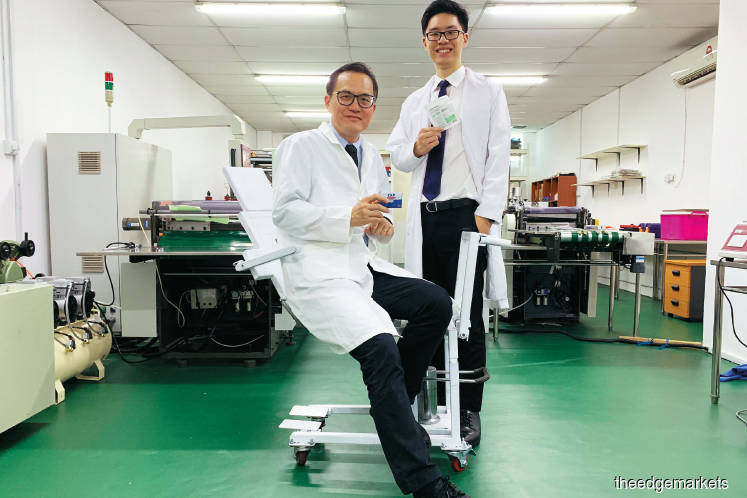 Sector: Medical devices
Addressable market: RM2.2 billion condom and wound dressing market
Intellectual property status: One patent, with eight patents pending
Product description and USP: Twin Catalyst designs state-of-the-art medical products such as leading edge condoms and wound dressings that address a variety of problems not taken into account by conventional products.
Currently exporting: No
Industry challenges: Raising funds and lengthy and expensive clinical trials
Dr John Tang, an obstetrician and gynaecologist, invented a female condom because he was sick of listening to the same litany of complaints from his patients — everything from unwanted pregnancies to sexually transmitted diseases, even when they were technically "protecting" themselves with condoms and birth control.
He looked at the prophylactics in the market and decided that each one was wanting. Take the male condom. He found the design principle flawed because it is put on something that changes in size dramatically. And the moment a man loses his erection, the condom slips off easily.
Also, it does not cover enough area. Dr Tang points out that many infections such as herpes simplex and genital warts occur at the base of the penis and the condom does not protect women from these. Also, for the woman, the male condom only protects the inside of her vagina. Her vulva and labia remain vulnerable.
Being a doctor, and familiar with the complaints he was addressing, Dr Tang designed a female condom made of a thin polyurethane film (the kind of plastic used for intravenous drips and wound dressing) and lines the vagina and lower abdomen.
His Wondaleaf condom worked so well and addressed so many of the issues he had come up against as a doctor that he was able to get a written recommendation from Royal College of Obstetricians and Gynaecologists president Dr Arulkumaran Sabaratnam, which said, "Based on my opinion, having considerable knowledge about the subject of contraception and sexually transmitted infections, Wondaleaf may be the ideal contraception that can revolutionise sexual and reproductive health."
Dr Tang points out that 50% of all pregnancies are unintended and 50% of all human death are caused by abortion. In addition, there are 500 million new cases of sexually transmitted diseases a year.
According to studies in the US, 80% of men and 70% of women have more than one sexual partner in their lifetime, he says. And the world consumes 20 billion condoms a year.
Although Dr Tang was busy doing clinical trials and promoting his female condom, there was no stopping him once the inventing bug bit him. He invented a male timing and erection independent (TAIE) condom — now called Wondaleaf TAIE — which covers the area from the penis to the buttocks. "It will not come off. It does not matter whether the man is having an erection or not," he says.
Dr Tang wants to keep inventing new medical products so he has brought in his son Louis, a lawyer who had practised in Sydney, Australia, for the past three years, to take care of the legal stuff. "His job is to invent new stuff and my job is to make sure it complies with ISO and all the regulations related to medical devices," quips Louis.
Since Dr Tang was last interviewed, he has received RM3 million in grants from the Cradle Fund and the then Ministry of Science, Technology and Innovation (now known as the Ministry of Energy, Science, Technology, Environment and Climate Change). He has used the money for clinical trials and further R&D.
Now Dr Tang is looking to secure a commercialisation grant from the Malaysian Technology Development Corporation (MTDC), which last year sponsored his company — Twin Catalyst Sdn Bhd — to attend Medica, one of the world's leading medical conferences, in Dusseldorf, Germany.
"We were one of 10 companies chosen to go there. We learnt a lot and came up with the idea of adhesive wound dressing because the participants asked us about circumcision dressing," he says.
As a medical doctor, Dr Tang knew that men have to go about in a sarong and cannot take a shower for one to two weeks after a circumcision. "But if you put on our Wondaleaf wound dressing, you can take a shower immediately after the circumcision. Now, all the Malay general practitioners in town are using Wondaleaf for circumcision," he says.
"We presented recently at the Asian Urology Conference (held in Kuala Lumpur in August)and the response was great. So, we are definitely moving in the direction of wound dressings."
Louis cuts in, "On top of that, we are ISO-certified and we are now in the management of medical devices for Class C and Class A. So, we can start selling in Malaysia. Class C is for condoms and Class A is for wound dressings. Our products have already been approved by the Malaysian authorities."
He adds that the company went into wound dressings because there is a much bigger market for this than for condoms. "Basically, in Malaysia and many developed countries, there are ageing populations and they suffer from chronic wounds. Also, more people are getting diabetes these days. So, diabetic wounds are on the rise."
Dr Tang points out, "It is not just circumcision wounds that we are talking about. In Southeast Asia alone, we are talking about 120 million pieces [of wound dressings] a year."
He estimates a total market of RM2.2 billion year for condoms and wound dressing. "We believe we will be in most of the world's major economies 11 years from now. And we will be lucky if we secure 20% of this market in that time, which is about RM400 million."
Dr Tang says the company is sending out applications to various medical device authorities such as the National Agency of Drug and Food Control in Indonesia and the Pharmaceutical Medical Devices Authority in China. "We are looking at the European, US, Chinese, Indonesian and Thai markets immediately. We are looking to register the product in these countries as Class B and Class C devices. This will take five to six months to register, depending on the country. We intend to do so simultaneously rather than market by market. That is why MTDC's funding is important to us."
The idea is to put a layer of skin over the wound, says Dr Tang. "It is still breathable, but it is impermeable to water as well as bacteria and viruses. If the wound has a lot of discharge, you can just cut off the tip, let the fluid drain out and reseal it. So, you are talking about one dressing until the wound heals."
He compares this with what is currently being used for wound dressings. "Whenever your wound is soaked with discharge, you have to change the whole thing. So, it becomes very expensive. Whereas with this, the discharge can be drained out and you just need a tissue to soak it up, without having to change the dressing. It is a whole new concept," he says.
Other than using it as a dressing for circumcision, it can be used to dress umbilical cords, waterproof PICC lines, prevent contamination from faeces during operations and childbirth, during the application of topical medications and even as menstrual bags.
Dr Tang points out that umbilical cords need to be kept dry and clean, but they can get dirty quite easily with contamination from faeces, urine and vomit. "By covering it up, you can actually prevent this."
He says the wound dressing can also be used to waterproof the PICC line, that is, the central line used for chemotherapy, antibiotics and nutrition. "Those lines are big and difficult to waterproof. But by having a pouch, we are able to waterproof them for the first time. So, we are very excited about this."
As a gynaecologist, Dr Tang has been present at childbirths where the mother spontaneously defecated when the baby was born. "We needed to change our gloves and clean the area. It was very messy. So, we are using this pouch to stick on the anus to prevent faeces from contaminating the operation field," he says.
As for the application of topical medications, because of the pouch inside the wound dressing, you can insert any medication you want into it such as iodine, steroids or even herbal medicine, he adds. You can put it in there so that the medicine works on the wound.
Also, it saves on medicine because unlike gauze, which soaks up most of the medication, the medicine remains within the film for the duration. "So, we just put one drop of iodine on the wound and seal it up. And it takes a shorter time to heal," says Dr Tang.
He says the company is exploring the possibility of using the film-like dressing as an innovation for the conventional sanitary napkin. "We are working on ways to make it stick more tightly so that women can use it when they are menstruating, go to the toilet to empty themselves and seal it up again. They could wear it until the day is over and then change it."
Dr Tang says some hospitals are already using the product, even on fingers, which are notoriously difficult to dress. He adds that the St Vincent's group in Sydney is very keen on the wound dressing, but he has not registered the product in Australia yet. "Once we register, we will let them try it out. There is nothing like it in the world."