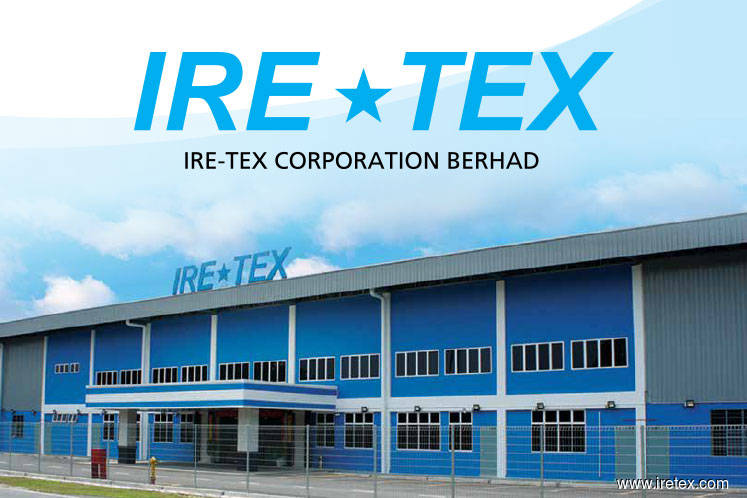 KUALA LUMPUR (Nov 6): Ire-Tex Corp Bhd has slipped into Practice Note 17 (PN 17) status after its external auditors Nexia SSY PLT expressed a disclaimer of opinion on the group's financial statements for the financial year ended June 30, 2019 (FY19), in its annual report issued on Oct 31.
According to a bourse filing today, the classification is immediate as the Main Market-listed packaging company had failed to announce to the exchange upon triggering the criteria, that is, its auditors had expressed an adverse or disclaimer opinion in the company's latest audited financial statements, on an immediate basis. This is in accordance with Paragraph 4.1(a) of PN17 of the Main Market listing requirements.
Bursa Securities said it will continue to monitor the progress of Ire-Tex in respect of its compliance with the listing requirements.
In a separate statement, Bursa said as at Nov 6, there were a total of 21 companies under PN17 including Ire-Tex, which represented 2.3% of the total number of 927 companies listed on the exchange.
For the 18 months ended June 30, 2019, Ire-Tex posted a net profit of RM10.03 million on revenue of RM16.05 million. There was no comparative figure available for the period as the company had changed its financial year ended from Dec 31 to June 30.
In Ire-Tex's Annual Report FY19, Nexia SSY, who was appointed auditor of the group on June 28, said the basis for the disclaimer arose from six areas.
One is that it was unable to obtain sufficient appropriate audit evidence to determine whether the opening balances as of Jan 1, 2018 for the following do not contain material misstatement:
(a) The accuracy and existence of other payables, accruals and deposits received balances as at Jan 1, 2018 of the group and of the company amounting to RM1.94 million and RM1.81 million respectively;
(b) The nature and classification of certain consolidation adjustments brought forward in relation to accumulated losses and revaluation reserves respectively;
(c) The nature and classification of certain consolidation adjustments brought forward in relation to the deconsolidation of the subsidiaries disposed during FY19.
"Accordingly, we were unable to determine whether any adjustments might have been necessary in respect of the financial performance, cash flows and financial position of the company for FY19," said Nexia SSY.
The auditor also questioned the disposal of 10 subsidiaries by Ire-Tex, noting that the financial statements disclosure of the gain of RM13.19 million arising from deconsolidation of the former subsidiaries was materially misstated as it has not accounted for the assumption of all the liabilities of the disposed subsidiaries.
"In view of the unavailability of the consolidation adjustments brought forward in the opening balances and as we were unable to obtain appropriate audit evidence and information as to the determination of the amounts relating to the deconsolidation, we are unable to ascertain that the consolidated group financial statements do not contain material misstatements," said Nexia SSY.
It also were unable to obtain sufficient documentary evidence pertaining to current year's transactions including:
(a) Uneliminated intercompany transactions of RM877,488 expensed off in income statement;
(b) Reversal of the provision for impairment on property, plant and equipment totaling RM5 million;
(c) Reversal of accruals totaling RM1.49 million;
(d) Settlement of debt by way of contra arrangement against the motor vehicle of a subsidiary amounting to RM138,564;
(e) Expenses totaling RM762,848;
(f) Additions of property, plant and equipment during the financial period totaling RM576,707;
(g) Sales of RM2,250,000 and its related cost of sales of RM2 million;
(h) Assignment of debt totaling RM1.15 million from a disposed subsidiary Ire-Tax (Malaysia) Sdn Bhd to a wholly-owned unit Ire-Tex Packaging Sdn Bhd.
Nexia SSY also noted that the group has numerous material litigations that are ongoing and of which their eventual outcome and financial impact on the group is uncertain. "We are unable to obtain appropriate audit evidence as to the amount of liabilities and/or contingent liabilities accruing to the company and/or the group as at June 30, 2019." 
Additionally, the auditor said the group's financial statements has disclosed current assets of RM1.08 million and current liabilities of RM7.37 million, resulting in net current liabilities of RM6.29 million, indicating a material uncertainty as regards the ability of Ire-Tex to continue as a going concern.
Trading in the shares of Ire-Tex was halted from 9am to 10am today. At 10.30am, Ire-Tex's share price was up 5.55% or 0.5 sen at 8.5 sen, valuing it at RM17.56 million.