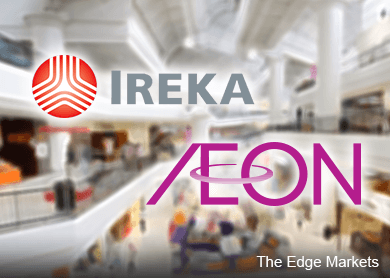 KUALA LUMPUR(Dec 26): Ireka Corp Bhd has signed a construction agreement with AEON Co (M) Bhd to build a shopping centre and a car park on a 20.88 acre-site located in Senawang, Negeri Sembilan, in a deal valued at RM203.14 million.
In two separate filings with Bursa Malaysia today, Ireka said its wholly-owned subsidiary Ireka Engineering & Construction Sdn Bhd would first enter into a sale and purchase agreement (SPA) with landowner Ong Poh Lan, to acquire 21.52 acres of  land in Senawang for RM21.87 million.
From this, 20.88 acres will be allocated for the construction of the shopping centre.
Concurrent with the proposed acquisition, Ireka Engineering will enter into a separate SPA with AEON Co for the disposal of 20.88 acres of the land for RM53.66 million, after obtaining necessary approvals from relevant authorities to allow for the construction and operation of a shopping centre, upon terms and conditions as stated in the SPA.
Based on the RM21.87 million land acquisition cost  and expected development cost to fulfill Ireka Engineering's obligations under the AEON SPA, the expected gross profit from the proposed disposal is about RM6.8 million.
In addition, Ireka's earnings are expected to benefit positively from the execution of construction works under the construction agreement.
The proposed land disposal is expected to contribute positively to Ireka's earnings for its financial year ending March 31, 2017.
Ireka share price, which were traded at a price of RM1.02 at the beginning of this year, closed at 60 sen on Dec 24, giving it a market capitalisation of RM102.5 million. The stock was not traded today.