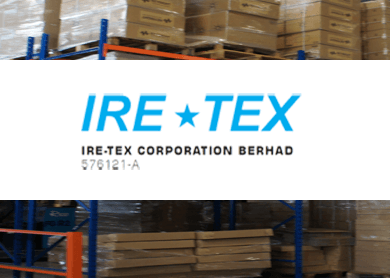 KULIM: Corrugated packaging services provider Ire-Tex Corp Bhd, which slipped into the red in its financial year ended Dec 31, 2014 (FY14), is mulling the divestment of its non-core businesses, such as light-emitting diode (LED) manufacturing, which it once regarded as a game changer.
"We hoped it could be a game changer for us but it is not performing now. So it is better for us to chop it off," group managing director Datuk Donald Yap Tatt Keat told pressmen yesterday.
"We will review them (non-core businesses) in our board meeting this Friday and decide whether to stop them or not," he added.
Yap said Ire-Tex's current strategy is to focus on its core business — packaging — and increase the group's cost-efficiency.
Ire-Tex slipped into the red in FY14 with a net loss of RM6.15 million from a net profit of RM1.02 million in FY13. As at Dec 31, 2014, it had cash and bank balances of RM11.61 million.
The group's executive director Dr Jim Lai Chee Chuen said the group's FY15 accounts should see a steady top line, but declined to provide any guidance on net profit.
"It is hard for us to comment on the bottom line now, but we believe cash flow should be in a better shape in FY15," he said.
Meanwhile, the group will be appointing an international adviser to probe into related-party transactions that invoked its auditor's qualified opinion on the group's financial statement for FY14.
"We will be announcing the name of the international adviser we are going to appoint after our board meeting this Friday, to investigate the transactions involved," said Lai.
Ire-Tex (fundamental: 0.85; valuation: 1.7) had, on May 5, announced that its external auditor Messrs UHY had expressed a qualified opinion on the group's FY14 accounts.
Lai said the auditor's concern was mainly on the recoverability of money spent through its wholly-owned subsidiary, Zoomic Automation (M) Sdn Bhd.
Ire-Tex had previously spent RM16.5 million to purchase machinery from Zoomic, but subsequently terminated purchases worth some RM5 million, which put its net spending on the machinery at RM11.5 million.
"Zoomic was not able to deliver [the machines Ire-Tex ordered], so they subcontracted our order to Sanjung AMS Sdn Bhd. We were only notified by Sanjung that they had received the proceeds from Zoomic in April. That is why the transaction still showed uncertainties as to whether we can recover the value of the money we spent," Lai explained.
"In fact, Sanjung has came to the board to present what they can offer, and their track record. We are working closely with them," he added.
Ire-Tex closed up 1.5 sen or 4.92% to 32 sen yesterday, giving it a market capitalisation of RM40.2 million.
This article first appeared in The Edge Financial Daily, on May 27, 2015.