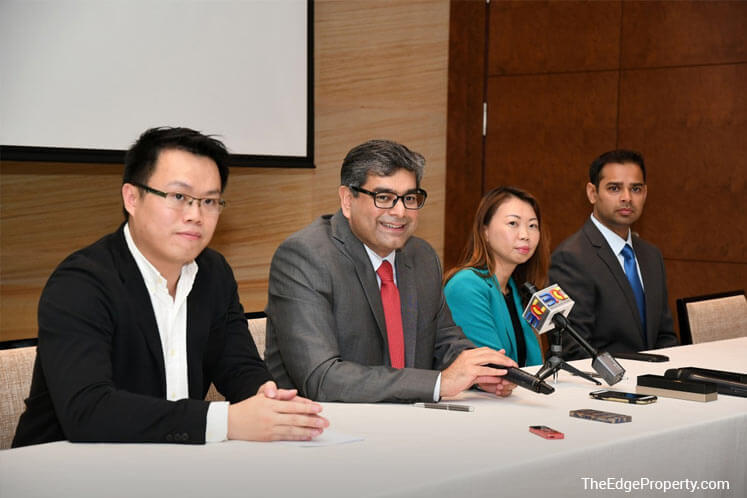 KUALA LUMPUR (June 8): IQI Holdings Sdn Bhd, a subsidiary of a Dubai-based international real estate investment company, has entered into a purchase agreement with Exsim Development Sdn Bhd to acquire 33,000 sq ft of office space valued at RM30 million at the soon-to-be launched Millerz Square project located at Old Klang Road, Kuala Lumpur.
IQI chief executive officer Kashif Ansari said the 3-floor office space in the mixed development will become IQI's Asia-Pacific command centre housing its Malaysia office and regional training centre.
"IQI entered the Asia market in 2012, with Malaysia as its base of operations before expanding into Indonesia, Thailand, Vietnam and the Philippines. The 33,000 sq ft command centre will mark a new milestone for the company and differentiate us from market norms," he told reporters after a signing ceremony today.
Millerz Square is the first mixed development by Exsim, comprising one strata office tower with 336-unit office suites and four blocks of serviced apartments offering 1,633 units.
The office tower will be named Exsim Tower. Exsim Group will be occupying a total of 100,000 sq ft in the tower.
Exsim's head of marketing and corporate communications Michelle Siew said the project will be launched in the third quarter this year (3Q17) and will take 48 months to complete. Currently, IQI is its first pre-booking purchaser of Millerz Square.
"Millerz Square has an estimated gross development value of RM1.8 billion. The project is currently in the planning stage," she added.
Meanwhile, IQI Holdings' subsidiary MyKey Global Sdn Bhd also inked a partnership agreement with Exsim Development to manage the 300-unit Expressionz Professional Suites at Jalan Tun Razak, Kuala Lumpur.
The serviced suites will be rented out as short-stay accommodation for tourists and business travellers. MyKey will provide hospitality management service to unit owners who opt for a leaseback scheme from Exsim.
MyKey managing director Dave Chong said the short-stay service will be open to the public in 3Q2018, once Expressionz is completed in 2Q2018.
"Moving forward, MyKey will be adding an additional 500 suites from Exsim's developments into our inventory. We aim to position ourselves as an innovative leader in the short-term serviced accommodation sector," he noted.