This article first appeared in Capital, The Edge Malaysia Weekly, on December 30, 2019 - January 05, 2020.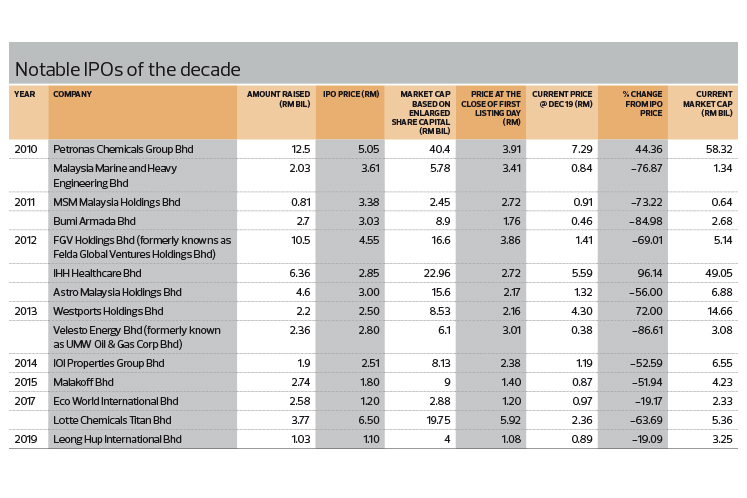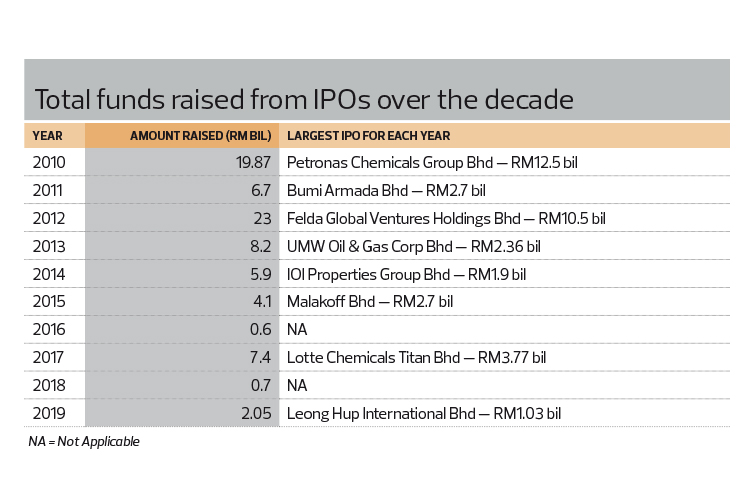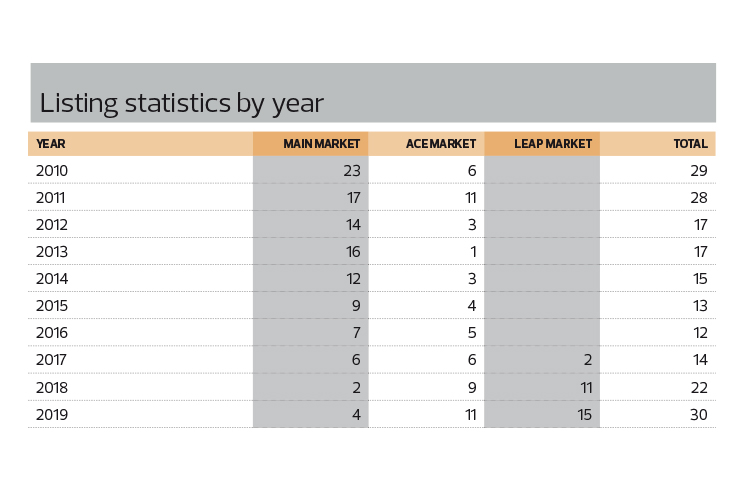 THE past decade saw the debut of 196 initial public offerings (IPOs) on Bursa Malaysia, translating into 19 new listings per year on average.
The IPO market kicked off the 2010s on a high note, notching up the highest yearly listing volume of 29 in 2010. But 2012 took the crown with the highest value of IPOs at RM23 billion, thanks to the behemoth listings of Felda Global Ventures Holdings Bhd (FGV), IHH Healthcare Bhd and Astro Malaysia Holdings Bhd.
Their combined size made up 90% of IPO value for that year at RM21.5 billion. In fact, the value of FGV's IPO was the second largest in the world at RM10.5 billion (US$3.1 billion) in 2012, after social media giant Facebook Inc's US$16 billion.
The listings of more China-based companies on Bursa, such as K-Star Sports Ltd and Maxwell International Holdings Bhd, in the first half of the decade also helped boost the IPO market.
The first China-based company to list on the exchange was Xingquan International Sports Holdings Ltd. Its debut in 2009 was followed by 10 other China-based companies in the last decade. But many would say the entry of these foreign entities was nothing to cheer about as they often found themselves in the limelight for the wrong reasons.
Of the 11 listed China-based manufacturers, three — Xingquan, China Stationery Ltd and Maxwell — have been suspended from trading. They were found by the Securities Commission Malaysia to have furnished the exchange with false or misleading financial statements. Additionally, the remaining eight are trading below their IPO prices.
The number of IPOs and capital raised tapered off from 2011, so much so that only 12 companies went public in 2016.
It was not until the introduction of the Leading Entrepreneur Accelerator Platform (LEAP) Market — a platform for small and medium enterprises to raise capital — in 2017 that the number of IPOs on the broader market rebounded. LEAP Market listings rose from 2 in 2017 to 11 last year, raising the total number of new listings on Bursa to 22. There were 30 IPOs in 2019.
However, IPO activity on the Main Market and ACE Market was subdued for most of the decade.
Furthermore, more companies seem to have fallen off the stock exchange during the decade. According to Bursa statistics, it had 929 members in 2019 compared with 957 in 2010.
Similarly, the number of companies listed on the Main Market had shrunk from 844 in 2010 to 772 in 2019.
How companies have fared since their listing
While FGV was the biggest IPO in the country in 2012, Petronas Chemicals Group Bhd's (PetChem) listing in 2010 was the largest for the decade, raising a whopping RM12.5 billion.
Interestingly, PetChem is one of three billion-ringgit listings of the decade that have seen their shares trend above the IPO price. The stock was priced at RM5.05 apiece and based on its closing price of RM7.29 on Dec 19, it had risen 44%, giving the company a market capitalisation of RM58.2 billion.
The other two billion-ringgit IPOs are IHH Healthcare and Westports Holdings Bhd. As at Dec 19, the former had risen 96% to RM5.59 (market capitalisation of RM49.05 billion) from its IPO price and the latter by 72% to RM4.30 (market capitalisation of RM14.66 billion).
The same cannot be said of the rest of the IPOs that raised more than RM1 billion in the last decade. FGV was listed at RM4.55 apiece in 2012 but was trading at RM1.41 as at Dec 19, down 70% from its IPO price. This saw the company's market capitalisation dwindle to RM5.14 billion.
The loss-making planter's problems are well documented, many of them stemming from its contentious acquisition of plantation companies, although its losses narrowed to RM262.41 million in its third quarter ended Sept 30, 2019.
With the lacklustre performance of these large listings and weak activity since 2013, a question that is often asked is, have companies and investors lost interest in IPOs?
However, many attribute the tepid scene to the valuation expectations of companies as opposed to what the market is willing to value them at.
Companies expect high valuations of their listings but investors seem to think otherwise, especially in the domestic market where businesses tend to be conventional as opposed to the tech firms and unicorns of the West that are involved in cutting-edge technology.
A case in point is the much-awaited IPO of QSR Brands (M) Holdings Bhd. After much brouhaha in 2018 about its comeback to Bursa, the IPO has been postponed indefinitely as key potential investors have deemed its valuation as too high.
Moreover, IPOs are no longer seen as the only means for companies to raise large amounts of money. In the last decade, private equity (PE) has become an increasingly appealing route for companies to raise capital.
This, experts say, has caused a delay in companies going to market.
Evidence of this is seen in the many companies that have managed to continuously receive large sums of private funding without having to debut on the public market.
An example close to home is Grab, which started off as an e-hailing app but has now expanded its range of services to include digital payments, micro-lending and food delivery. To date, Grab has managed to secure more than US$9 billion in funding from PE firms since it was formed in 2012.
Part of this attraction for business owners is that it allows management to focus on growing the business as opposed to having to deal with the many investor relations matters that listed companies are subject to. The cost of securing funds via PE firms is also lower than taking the listing route.
Nevertheless, the IPO market remains an attractive option for PE firms themselves to exit a company.
In its latest report "Capital Markets in 2030", PwC notes that PE is proving to be a major source of listing as the PE firms exit. As PE's scale grows, the public market is functioning as an important exit route for owners, be it on domestic or leading international exchanges, it adds.
With this in mind, IPO activity in the coming decade could prove to be more vibrant than in the last 10 years.