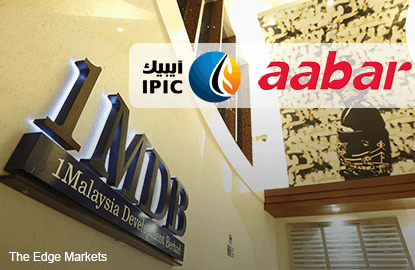 This article first appeared in The Edge Financial Daily, on April 12, 2016.
KUALA LUMPUR: Abu Dhabi's sovereign wealth fund International Petroleum Investment Co (IPIC) and its subsidiary Aabar Investments PJS (Aabar) have denied ownership of British Virgin Islands company Aabar Investments PJS Ltd (Aabar BVI) to whom 1Malaysia Development Bhd (1MDB) paid billions of ringgit in 2012.
"Both IPIC and Aabar confirmed that Aabar BVI was not an entity within either corporate group. Further, both IPIC and Aabar confirmed that neither has received any payments from Aabar BVI nor has IPIC or Aabar assumed any liabilities on behalf of Aabar BVI," the two companies said in a joint statement on the London Stock Exchange yesterday.
The confirmation, they said, is reflected in the audited financial statements of the IPIC Group.
"IPIC Group accounts are prepared in accordance with International Financial Reporting Standards (IFRS) and, for the relevant periods, have been audited by Ernst & Young.
"Additionally, the Abu Dhabi Accountability Authority reviews the IPIC Group accounts in each year as well as the audit of such accounts," they said.
IPIC and Aabar said publicly available records showed that Aabar BVI was incorporated in the British Virgin Islands and was wound up and dissolved in June 2015. The Public Accounts Committee (PAC), in its report on its investigation into 1MDB tabled in parliament last week, said the fund sent a total of US$3.5 billion to Aabar BVI.
It said the board of directors did not approve the payment of US$1.4 billion — from a privately placed bond that Goldman Sachs raised in 2012 — as a security deposit to BVI company in May that year.
1MDB made further payments of US$855 million, US$993 million and US$295 million as security deposits and other guarantees for the bond to Aabar BVI, said PAC. The committee noted that 1MDB has not provided any proof that Aabar BVI is related to IPIC and Aabar.
In a statement yesterday, 1MDB said IPIC and Aabar's claim that they were not aware of payments made by 1MDB to Aabar BVI was "surprising". It said the payments to Aabar BVI have been recorded in 1MDB's audited financial statements dated March 31, 2013 and March 31, 2014.
"Further, the amounts paid have been subject of much commentary, starting from 2013 right up to the present. Accordingly, 1MDB finds it curious that IPIC and Aabar have waited until April 2016 to issue such a statement," said 1MDB.
The fund said its records show evidence of the ownership of Aabar BVI and of each payment made, pursuant to legal agreements negotiated with IPIC managing director Khadem al-Qubaisi, who is also chairman of Aabar, and/or with Aabar chief executive officer Mohamed Badawy al-Husseiny.
"It is, therefore, a surprising claim that neither IPIC nor Aabar have knowledge of, nor have benefited from, payments made by 1MDB to Aabar BVI," said 1MDB.