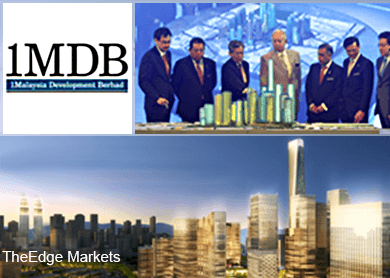 KUALA LUMPUR (May 29): International Petroleum Investment Co (IPIC) and its subsidiary Aabar Investments PJS will be forking out US$1 billion for 1Malaysia Development Bhd (1MDB) to settle its US$975 million syndicated loan from a consortium led by Deutsche Bank AG, said Second Finance Minister Datuk Seri Ahmad Husni Hanadzlah today.
The payment is part of a larger agreement 1MDB, which is wholly-owned by the Ministry of Finance (MoF), has entered with IPIC and Aabar, that Ahmad Husni said will "include further measures to comprehensively address the various financial asset and liability transactions between the parties, further details of which will be announced in due course".
The consideration for the US$1 billion payment was not disclosed.
However, IPIC and Aabar will pay the money by June 4, allowing 1MDB to settle the US$975 million loan and interest due, ahead of the August deadline.
Recall that the Deutsche Bank-led consortium had reportedly demanded early settlement of the loan from 1MDB after it was learnt that the security of the loan – US$1.103 billion held in BSI Bank Ltd in Singapore – was being held in US dollar-denominated units, instead of cash.
The units are owned by Brazen Sky Ltd, 1MDB's wholly-owned unit registered in Hong Kong, and invested by little known Bridge Partners into six unlisted open-ended funds.
Note that 1MDB in September last year had taken the US$975 million syndicated loan to pay IPIC and Aabar an estimated US$1 billion to terminate a 10-year option Aabar had.
The option would have entitled Aabar to subscribe up to 49% in any future listing of 1MDB's power assets.
In his statement today, Ahmad Husni also said that he had presented to the Cabinet this morning the plan for the rationalisation of 1MDB.
"As has already been achieved with Edra Global Energy Bhd, this will see TRX (Tun Razak Exchange) and Bandar Malaysia established as standalone companies, with full autonomy and accountability for their operational and financial performance," he said, noting that the MoF will remain as a key shareholder in TRX and Bandar Malaysia.
The MoF also plans to raise equity through third party investors, for capital expenditure and to reduce 1MDB's debt, he said, pointing to the US$1 billion payment from IPIC and Aabar.