This article first appeared in Enterprise, The Edge Malaysia Weekly, on May 13, 2019 - May 19, 2019.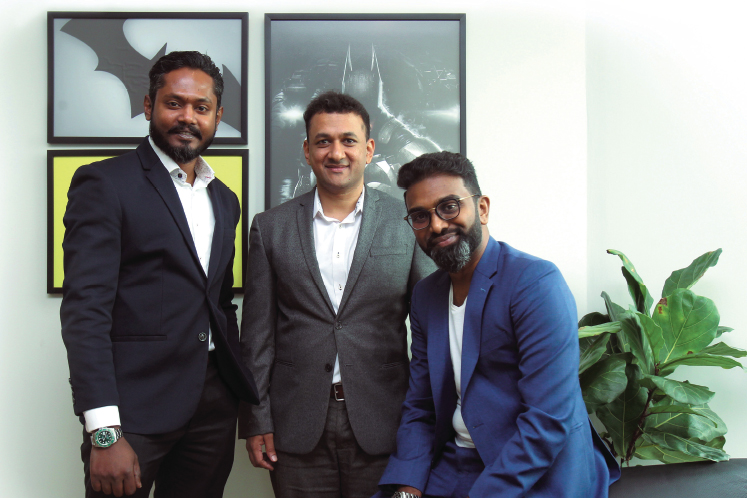 From left: Balasubramaniam, Navindra and Stalin

When Stalin Vijaya Kamaraj and two of his close friends came up with the idea of wireless connections for automated teller machines (ATMs) in 2008, they were very much ahead of the curve. Back then, the Internet of Things (IoT) was not yet a buzzword in Malaysia and machines were still connected using wires.
Stalin was a network delivery manager at EDS Group, a US-based provider of managed IT services. He had observed that there were many problems with a wired network and ATMs were also frequently affected by cable theft.
"We were responsible for a bank's 4,000 ATMs, including those placed in shopping centres and petrol stations. Everything had to be wired up, so it was expensive," says Stalin.
"When a wire breaks, troubleshooting to get the ATM working again could take up to three days. My team was handling that. The engineers had to go to the site. So did Telekom Malaysia (TM) and the machine vendor."
His best friend, Balasubramaniam Manikam, was a network analyst and engineer at France-based telecommunications technological services company Volubill. He was travelling to various countries to deploy 3G networks, which were just emerging at the time. He would later join EDS.
"Bala told us that 3G was coming to a point where it would be widely deployed and it could possibly be used as an alternative mode of connectivity, as opposed to a wired network. At the time, you had to wire up anything that you wanted to connect. Wireless connectivity was not yet a thing," says Stalin.
That insight spurred Stalin, Bala and Navindra Sivaratnam, another friend who was working at EDS, to set up N'osairis Technology Solutions Sdn Bhd in 2008. The trio spent the next two years researching the kind of technology and devices they would need to create a wireless network. They also kept their day jobs at EDS, which was acquired by HP Enterprise Services in 2009.
"We worked during the day and did our homework in the kitchen of our bachelor house, where five of us lived, at night. There were sheets of paper, with our business plans on them, all over the kitchen," says Stalin.
They only quit their jobs at end-2010 when they managed to raise funds from private investors.
How did they come up with that rather unusual name for the company? Stalin says it is a combination of "N" — the algebraic expression of a yet unknown number (therefore signifying potential) — and Osiris, the Egyptian goddess of harvest.
The three friends, who met when they were studying at Universiti Teknologi Malaysia, did not go into business for the money. "Our parents are blue-collar workers and nothing was served to us on a silver platter. We thought we had done well to enter university with our SPM results and work at multinational corporations. But then what? We wanted to see how much we could push the limits and what we could achieve," says Stalin.
They have come a long way since. Over the past decade, they have established wireless connections for ATM networks, retailers and utilities as well as transport and oil and gas players. The company has clients in Malaysia, Singapore, Indonesia, Vietnam and the Philippines.
N'osairis is a 64%-owned subsidiary of Bursa Malaysia-listed SMRT Holdings Bhd. According to SMRT's 2016 annual report, N'osairis achieved 400% revenue growth from 2013 to 2016, with profit before tax rising from RM209,000 in 2013 to RM3.11 million in 2016. It chalked up a net profit of RM4.8 million in 2017.
Despite their success, the founders did not rest on their laurels. In 2014, they started offering IoT-managed services when the technology emerged as the next wave of innovation.
"When wireless technology became widely accessible, everybody started connecting things via wireless networks. This naturally gave birth to the IoT era, where you have the liberty to fit a sensor anywhere [to collect data] and analyse it for smarter decision-making or automation," says Stalin.
This led to the birth of the low-power wide-area network (LPWAN), where you are not limited to the use of cellular connectivity for sensor connectivity, he adds. LPWAN providers include LoRa, Sigfox and NB-IoT (narrowband IoT)
"LPWAN is a more efficient method of getting sensors connected as it only needs low traffic and there is no need for a SIM card. The cellular wireless era that we were working on naturally evolved into machine-to-machine connectivity and then, IoT," says Stalin.
The development of big data analytics has completed the IoT ecosystem, he adds. "That is where you put together all the information collected and analyse it to come up with functional intelligence, which makes sense of the multitude of data that the sensor detects."
Staying on top of innovations
Being ahead of the curve required a lot of effort on their part to convince others of their capabilities. This was especially difficult as N'osairis was just a start-up. Back in 2010, technology start-ups did not receive as much attention in Malaysia as they do now, says Stalin.
Their first pitch on providing ATMs with wireless connection was made to Bank Negara Malaysia. They subsequently approached several local banks. The first one to give them the opportunity to test their technology was Bank Simpanan Nasional.
"At the time, we were using a circuit switched data over voice technology called Symstream — which uses the same channel we use to make voice calls — to send data traffic, rather than 3G. In October 2010, the first ATM in Malaysia went wireless," says Stalin.
"But the joke was that we thought we were going to get a big contract and become millionaires. Then, the reality hit us. They told us that they could not award a contract to a new company that would have the responsibility of managing hundreds of ATMs. What would happen if we went bust?"  
They were disappointed, but they took the bank's advice to partner TM to gain some credibility in the eyes of clients. So, they made a pitch to the telecommunications company about the potential of 3G connectivity and how it was an emerging technology evolution that would come to Malaysia.
TM proceeded to launch an open tender for the project, pitting N'osairis against a listed company and Celcom. Stalin was concerned about competing against these seasoned players, which were also starting to pay attention to the potential of 3G networks. So, he turned to the best and most affordable adviser in the market — Google.
"We googled the best ways to win a tender. One of the suggestions was that your tender cover had to be a striking colour so people would reach out to it first. So, we chose a super striking orange," says Stalin.
"Another observation was that if it was a technology tender, people would find it very hard to understand. We knew that it was very new technology we were talking about. The suggestion on Google was to create a summary of the proposal in a five-minute video to go along with the tender."
He enlisted the help of an old friend, who had dropped out of engineering school due to his love of animation, by contacting him through Friendster.
"Everyone gave us accolades because of the video. We did not just show the technology connecting ATMs. We showed what other things a wireless environment would be able to connect, such as traffic lights, smart meters and substations. Today, we have all of these. But it was just a vision back then," says Stalin.
They won the tender. Together with TM, N'osairis built wireless connections for the ATMs of most of the local banks. They also connected traffic lights for entities such as Kuala Lumpur City Hall (DBKL), which were clients of TM. The company's partnership with TM only ended in November 2017 when it wanted to expand its services independently.  
But technology evolutions tend to happen quickly. By 2014, talk of secure wireless connectivity and machine-to-machine connectivity began to emerge. At a conference Stalin attended in Singapore, people were beginning to discuss big data and IoT. This made a lot of sense to him as he was already neck deep in developing wireless connectivity solutions.
"Basically, IoT involves sensors, connectivity and business intelligence. The sensor captures data that is sent across through connectivity and goes into the business intelligence component. These three components working hand-in-hand forms the concept called IoT," says Stalin.
Upon further observation, he realised that the IoT ecosystem was fragmented, hindering its adoption. The sensor manufacturers were pushing their own products to clients, who had to look for their own connectivity solutions. They would have to get these from telcos or those operating on unlicensed spectrum such as Sigfox and LoRa. They may also have to get business intelligence software from another provider.
This was the gap N'osairis wanted to address. "We could forge partnerships with the best sensor, connectivity and business intelligence providers and offer service delivery and operational excellence across the three components," says Stalin.
This starts by providing consultation services to clients to determine their digitalisation goals and find the technologies to help them achieve those outcomes. Then, it will work with any solution or sensor provider who can meet the needs of its clients. The company will also manage the IoT services with a service level guarantee for a monthly fee.
"Once we identify the sensor you need, we decide what connectivity medium suits you. It may not be 3G, 4G or LPWAN. It may be just RFID," says Stalin.
"For example, one of our leads in agriculture has huge plantations, around 500,000ha. But they do not know if their labourers actually go to work. How do you find out whether the labourers cover the 10 areas they are supposed to each day?"  
This can be done by installing a tracker on the workers and Bluetooth or RFID readers around the plantation, which can track the movement of the workers.
The cost of its managed IoT service depends on the type of sensor, connectivity and business intelligence system that is deployed. It will be in the form of a monthly fee that includes the cost of the sensor, monitoring services and service level guarantee. According to Stalin, this can range from RM300 to RM500 a month.
N'osairis currently has 10 to 12 clients for its managed IoT services, most of which are big corporations in the retail, oil and gas and utility industries. These are the areas the company is focusing on.
"For instance, one of the utility companies wanted to use IoT to monitor their substations. They used SCADA to manage the substations. But the system could not use IoT because it uses a legacy protocol, or an older language. So, they could not use the latest networks such as 3G, 4G or LPWAN. We went in, fixed the devices and wrote an embedded code that converts the old language into a new one," says Stalin.
N'osairis will focus on IoT applications for smart buildings next. This means installing sensors that will notify the operations team whenever something in the building is not functioning. Stalin says he is not ready to go into IoT for manufacturing companies yet as that will require a larger sales team.
Going forward, he is excited about the potential of artificial intelligence (AI), machine learning and blockchain in IoT. He recently hired an expert in machine learning to see how this technology could be added to its managed services.
"For IoT, there is another innovation called edge processing. This means the sensors do not send all the information it collects to the business intelligence system to make a decision. The box holding the sensor itself will have edge processing so it can make decisions such as turning on a fan when the temperature is too high. This is how you can automate the process by using a small processor that does AI," says Stalin.
Educating companies on digitalisation
In the last two or three years, many companies have expressed interest in the Internet of Things (IoT). They are keen to use IoT and digitalisation to lower their operating expenses, generate new revenue and improve their existing operations, says N'osairis Technology Solutions Sdn Bhd CEO Stalin Vijaya Kamaraj.
But there are also companies that want to jump on the bandwagon just to follow the trend.
"The first hurdle is for companies to understand what digital transformation can do for them. They need to understand their own business and what they need because not every business needs IoT," says Stalin.
"Before you identify or analyse what IoT can do for you, identify what technology or digitalisation can do for you. IoT is just a subset of digitalisation."
For example, one of his clients in Indonesia, who is in the agriculture sector, came to him and said they wanted a LoRa network and sensors. "I asked them, 'Leaving tech aside, what do you want to achieve?' They told us that fertiliser was their second biggest cost. They said they wanted a sensor that could determine which fertiliser a particular area needed and when it may rain in a particular location," he says.
At the time, there were no sensors that could detect all the elements — nitrogen, phosphorus, potassium and magnesium — yet. That meant Stalin would not know if LoRa was the best connectivity solution for them, since some sensors are only built for certain networks.
"It has been almost a year now and we have been looking for the sensors. There are some available that are close to what they want. It is really hard to achieve and that is why no one has done it yet," he says.
"Usually, you have to take a sample of water from the soil, send it to a lab and get the response three days later. How can you shorten that period? That is the type of R&D we do by talking to tech players that have done sensors to see if we can fit them into LoRa [or other networks]."
That is why N'osairis provides consultation to its clients first. "Some businesses are already doing well, so do they need a digital transformation? If so, for what? Is it to drive revenue, bring down operating expenditure or improve the customer experience? I think a lot of digital transformation initiatives fail when they jump straight into it just because the entire world is doing it," says Stalin.
Malaysian businesses can do this successfully because the infrastructure to support IoT is sufficient, he points out. There are players such as Xperanti Sdn Bhd, which is the exclusive partner of the LPWAN Sigfox network in Malaysia, and Maxis, which offers NB-IoT.
"Our connectivity and infrastructure is good. Infrastructure is an issue in some countries, where there is a lot of red tape. The only thing lacking in Malaysia is awareness among small and medium enterprises (SMEs). The reach to SMEs is lacking and they have to know whether they need digital transformation," says Stalin.