This article first appeared in City & Country, The Edge Malaysia Weekly, on December 30, 2019 - January 05, 2020.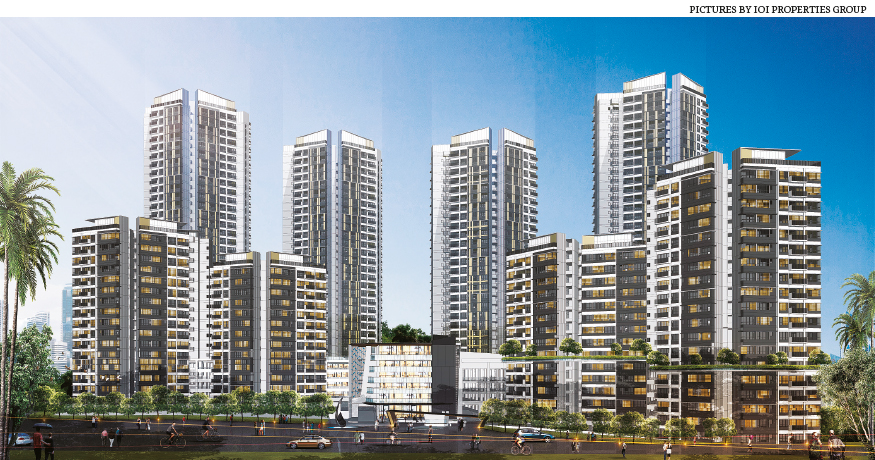 An artist's impression of Gems Residences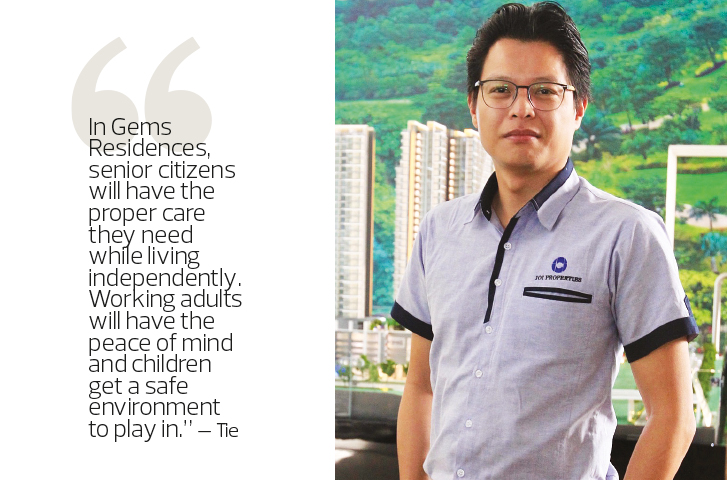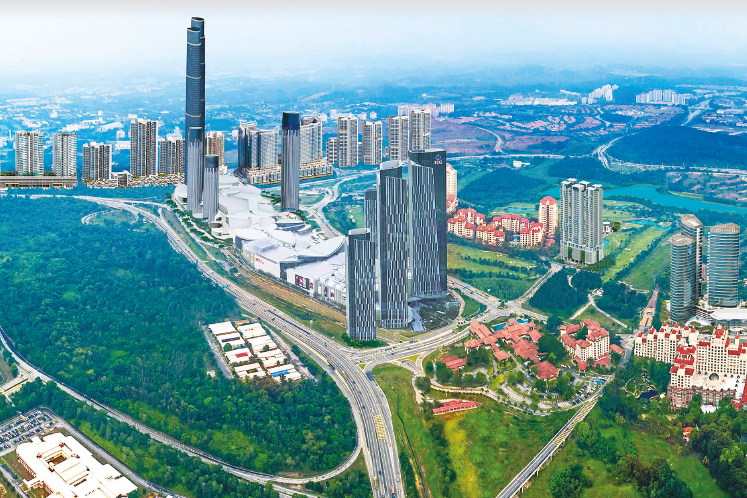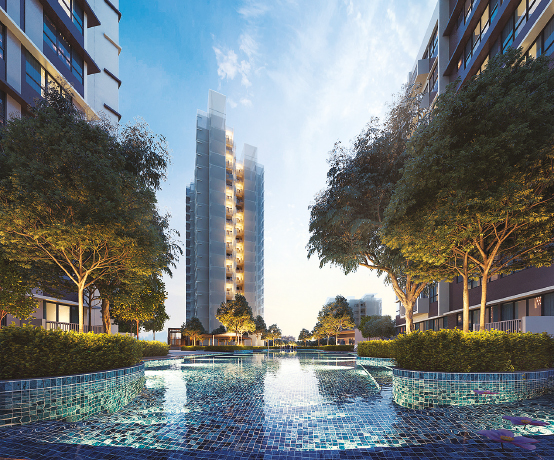 An artist's impression of the swimming pool
Recognising the need for a development that is suitable for all generations and centred on physical and mental wellness, IOI Properties Group Bhd is launching Gems Residences in IOI Resort City, Putrajaya.
Occupying a 9.65-acre parcel, the RM500 million development will comprise four low-rise blocks and four high-rise towers with 676 units in total. Priced at an average of RM600 psf, the units will have built-ups of 1,206 to 1,690 sq ft. The maintenance fee will be about 45 sen psf.
The development will be launched in two phases. Phase 1, comprising 334 units in two of the 16-storey low-rises and two of the 32-storey high-rises, will be officially launched in the first quarter of next year and is currently open for registration.
Ranging from 2 bedrooms and 2 bathrooms to 4 bedrooms with 1 utility room and 4+1 bathrooms, the units will each come with kitchen cabinets, wardrobes in all the bedrooms, a panic button in the master bedroom and instant hot water heaters.
According to IOI Properties chief sales and marketing officer Jason Tie, 57 of the residences in Phase 1 are designed for senior citizens. Known as assisted-living units, they will have additional features such as a panic button in the master bathroom, grab bars and wheelchair ramps.
Some units will come with a storage area in the car park that will be located next to the respective units' allocated parking bays, while some will have direct access to an environment deck — part of the facility area — and the car park.
A minimum of two parking bays will be allocated to each unit.
Generally, each floor will have four units and will be serviced by two lifts, says Tie. Each lift will have two doors — on the left and on the right — that will open directly to the units.
"Imagine a conventional unit — there is usually a grille before the main door and a space for your shoes. Now, you can replace the grille with the lift door. No one will be able to enter your unit as it is key-card controlled," Tie explains.
He says the development is for all generations. "The home will 'age' with you. It is designed to be flexible in configuration. You will be able to easily remove or put up a wall when needed as you progress to different stages of your life."
The storage area in the car park can also be taken down and used as a parking space, or combined with the existing parking bays to become larger lots.
Purchasers will be given flooring options and they can choose between tiles and laminated timber, the latter of which provides a further option of either warm or cool colours. "When a purchaser requests a certain type of flooring, we will show them the units with that option, in different built-ups, types, towers and levels," says Tie.
Construction has already reached the podium level and has started in some of the units, he reveals. The low-rises are being built using the precast construction method. The entire development is slated to be completed in 2023.
Answering the needs of modern society
Tie says Gems Residences is aimed at solving the problems faced by modern society. The digital lifestyle, paired with the environment that we live in today, has resulted in health issues caused by a lack of exercise and socialising, work stress and pollution.
"We have many modern health risks that we are exposed to and which we may not realise," he adds.
The problems that senior citizens are facing today include living in an unfriendly environment, social isolation, having limited savings and the fear of ending up in a nursing home. "They want to enjoy their golden years with dignity and independence, both financially and physically," says Tie.
Working adults have a hectic schedule, having to juggle work, spending time with their children and taking care of their elderly parents. The commute between the workplace and the home can be quite long due to traffic congestion.
Children are often not allowed to freely roam outside due to safety reasons. This has resulted in them being kept indoors most of the time and their entertainment comes from digital gadgets.
Gems Residences is designed to address these issues through the proactive support of the physical and mental wellness of its future residents, and the incorporation of a wellness ecosystem, says Tie.
Surrounded by the eight towers will be a 2,000 sq ft, 5-storey clubhouse. On the fifth floor will be the environment deck where facilities such as two swimming pools, a tree house, a barbecue area and a children's playground will be located.
The clubhouse will have facilities such as a communal lounge for residents to gather and socialise over a cup of coffee or to play card games as well as a gym and a function hall. There will also be a wellness concierge desk manned by trained medical professionals. It is envisioned to be a one-stop centre to assist residents in any way.
Health screening will be provided to residents, who will be able to have their vitals checked on a daily basis. "Prevention is better than cure. With the early health screening and tracking of vitals, we hope to encourage the early detection of any health issues. Trained medical professionals will analyse the report results and provide medical advice," says Tie.
Moreover, every unit will be entitled to a free physiotherapy session quarterly. "Anyone living in the unit can go for the session. If you need more physiotherapy sessions due to a serious injury or post-surgery rehabilitation, it can be done there as well with extra charges," Tie explains.
He adds that physiotherapy will be provided because the developer wants the residents to be mobile and live a pain-free live.
Meanwhile, medical professionals will be on standby to attend to any medical emergencies, even if the working adults are not around. "They just need to make a phone call and someone will go up to the unit to attend to the emergency. The panic button in the unit is connected to the clubhouse and it can be used to call for help as well. The most important thing here is that working adults will have peace of mind," says Tie.
IOI Properties is looking into organising trips for the residents. "There will be chauffeur-driven grocery trips weekly. Social trips will be organised based on the interest of the residents. All they need to do is to sign up and get on the bus. We will arrange the rest," Tie adds.
The developer hopes to encourage social interaction through the trips as well as the communal lounge and facilities provided in the clubhouse.
For senior residents, IOI Properties is in talks with Universiti Putra Malaysia for a programme called University of the Third Age, which will offer skill courses to those aged 65 and above.
As part of the wellness ecosystem, the developer is looking to provide artificial intelligence (AI) assistance in the units. This will be optional as it will be an extra cost for purchasers, says Tie.
The developer is in talks with vendors to program and design a robot assistant for people who need it, he says, especially for those who are not at home most of the time. As long as the WiFi is working, the robot, which will be voice-activated, will be able to do their bidding, he explains, adding that they could get the robot to go to a specific place in the house, follow someone around the home or search for someone.
"It is still in the early development stage and we will get it ready in time. We are delivering Gems Residences in 2023 and between now and then, there will be new technology. We want to deliver something that matches the progress of society and technological advancements," says Tie.
Another AI feature will be the passive infrared sensor (PIR). "We are looking to install PIR sensors in the units to help detect abnormalities. They will alert you if there is any movement or a lack of it that is out of the normal routine," he adds.
"In Gems Residences, senior citizens will have the proper care they need while being able to live independently. Working adults will have peace of mind and children will get a safe environment to play in," he concludes.
The progression of IOI Resort City
Occupying a 788-acre tract in Putrajaya, IOI Resort City by IOI Properties Group Bhd is a township that focuses on resort living.
Anchoring the township is the IOI City Mall and the 18-hole championship golf course at Palm Garden Golf Club. The township also has residential developments, hotels and office towers.
According to chief sales and marketing officer Jason Tie, the developer is currently expanding IOI City Mall. Phase 2, which is expected to be completed by the end of 2021, will add 1.2 million sq ft of net lettable area (NLA).
Combined with Phase 1, the mall will have an NLA of three million sq ft, he adds, making it one of the biggest in the southern region.
It is currently 98% occupied and the retailers "are doing very well and it is often filled with activities", says Tie.
"IOI City Mall is the only regional mall in this part of the Klang Valley and we have a good catchment from Kajang, Seri Kembangan and Nilai. Our tenant mix is right for these areas and we have good accessibility as well."
Three of the hotels are completed and in operation and one, which is located in the second phase of the mall, is under construction.
The upcoming hotel is Moxy Hotel, a brand under the Marriott. Tie reveals that the brand is designed for the digital generation. "There will be a self-check-in lobby area and a lot of space for people to hang out. Instead of a check-in counter, there will be a bar. The rooms will be hip and minimalistic."
He says the four-star Palm Garden Hotel was recently refurbished and its occupancy rate is 90%. Five-star hotels Marriott Putrajaya and Le Meridien Putrajaya are doing well too, with an occupancy rate of 80% each. Marriott Putrajaya was refurbished last year.
"Our hotels' occupants include conference, corporate and leisure groups. We also get a lot of people on staycations who come from our catchment areas. They usually stay for the weekend and relax by going to the mall or using the hotel's facilities," says Tie.
There are two office towers, IOI Square and IOI City Towers, which offer Grade A offices. Tie says the occupancy rate is still low but the developer hopes to improve on that in the coming years.
"We still have a lot of available space but we are seeing more tenants coming in. They include the Railway Assets Corporation, which is the owner of all Keretapi Tanah Melayu Bhd assets, and the Department of Statistics Malaysia. More companies are looking at the larger floor plate that we offer, which is 16,000 sq ft per floor," he adds.
Daehan Rehabilitation Services, a medical centre that provides integrated healthcare services specialising in neurological disorders and other chronic illnesses, is also one of IOI Square's tenants.
Other than Gems Residences, residential developments in IOI Resort City are Puteri Palma Condominiums, Par 3 Condo & Condo Villa, The Clio Residences, The Clio 2 Residences and Conezion Residences.
The Clio 2 Residences was unveiled in April and is in an advanced stage of construction. Tie says it will be completed by the end of next year or early 2021. The current take-up rate is 80%.
Conezion Residences has a commercial area and tenants there include boutique hotel Sovotel, dental clinics, medical clinics, pharmacies, real estate agencies, travel agencies and food and beverage outlets.
Tie says there are no other projects lined up in IOI Resort City at the moment. "We do have a lot of projects but we are not very aggressive in terms of building new ones due to the market conditions. We want to build something that suits the market like Gems, where there are needs that were not addressed and we are trying to address them."
IOI Resort City is surrounded by amenities such as parks (Putrajaya Wetlands Park), hospitals (Hospital Serdang) and educational institutions (Tanarata International Schools, Universiti Putra Malaysia and SJK(C) Serdang Baru 2).
The township is accessible via the South Klang Valley Expressway, Damansara-Puchong Highway, Maju Expressway, Kajang Dispersal Link Expressway, North-South Expressway and Sungai Besi Expressway.