This article first appeared in The Edge Malaysia Weekly, on June 28, 2021 - July 04, 2021.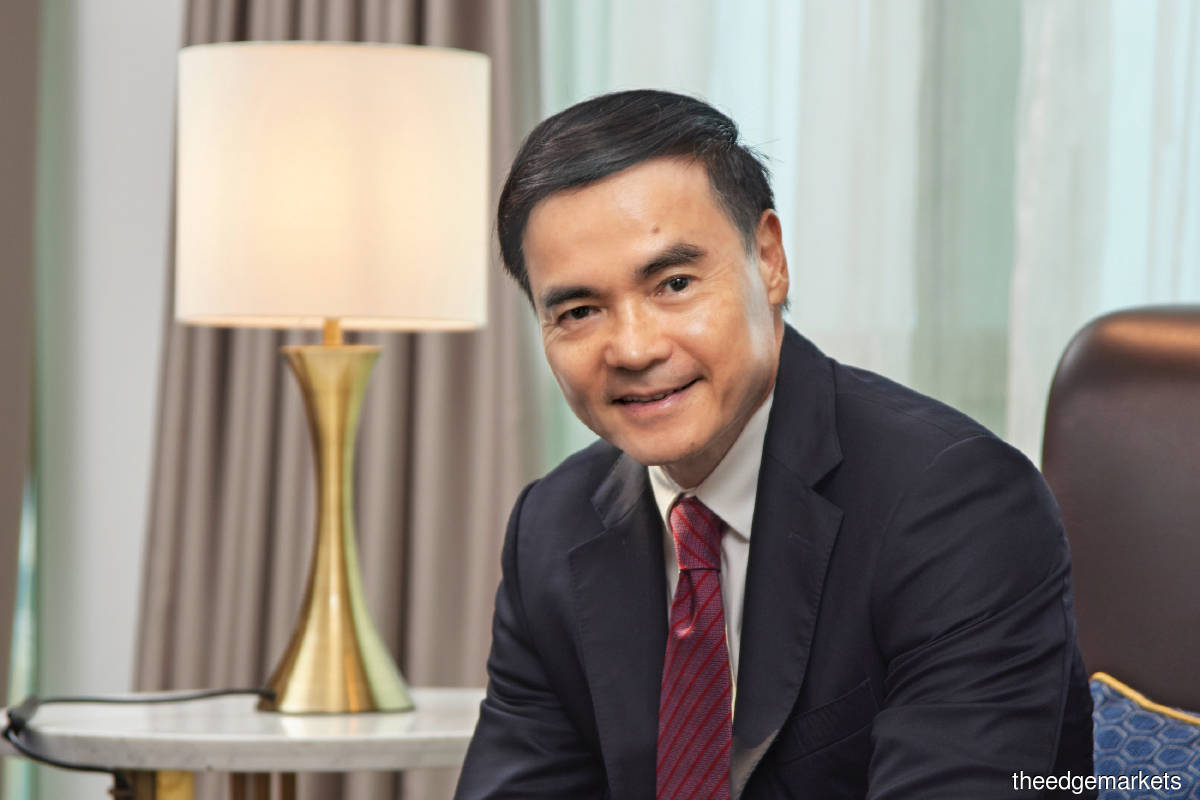 IOI Properties Group Bhd is looking at opportunities overseas for growth amid a slowdown in the property market as the country remains under lockdown. And China is its focus for now.
"[While] the Covid-19 pandemic has, to some extent, affected all three segments of the group, our geographical diversification with operations in Singapore and China has alleviated the impact," IOI Properties CEO Datuk Voon Tin Yow tells The Edge. The group's business consists of three main segments — namely property development, property investment, and hospitality and leisure.
The group has a total land bank of 9,200 acres in Malaysia, Singapore and Xiamen, China. As it currently has little active development land remaining in China and Singapore, Voon says IOI Properties is evaluating potential development land in all key locations in which it has operations.
"We are currently actively looking for suitable land bank to support our expansion activities in China and will primarily focus on the Greater Bay Area and major cities in Fujian Province," he adds.
IOI Properties, in response to Bursa Malaysia's unusual market activity query on Dec 8 last year, said it was in discussions to enter into a preliminary memorandum of understanding with the Administration Bureau for Qianhai Shenzhen-Hong Kong Modern Service Industry Cooperation Zone for potential land-banking activities in Qianhai. However, there has been no update on the matter.
Since the completion of its maiden property project called IOI Park Bay in Jimei, the group has been actively developing its Xiamen projects, namely IOI Palm City, Palm City Mall and IOI Palm International Parkhouse.
According to Voon, the residential development for the mega-scale urban mixed-use development IOI Palm City is nearing the completion of construction. Of the 917 units that were launched, 879 units have been sold, giving it an overall take-up rate of 96%.
The completed IOI Palm City Mall has an occupancy rate of 75%, with business expecting to commence by the end of September.
Construction of IOI International Parkhouse, meanwhile, is ongoing and slated for completion by December 2022. The project features 588 high-rise apartments and garden villas. Its sales launch is divided into two phases — Phase 1 was launched in July 2019, of which 70% of the 200 units have been taken up, while Phase 2, which offers 388 apartments, will be launched in October this year.
Voon says IOI Properties has no plans to have a dual listing, but is open to mergers and acquisitions or joint ventures for expansion.
It is worth noting that the group incorporated wholly-owned units Premier Landmark Ltd in Hong Kong on Jan 5 and Boulevard View Pte Ltd in Singapore on Jan 19. IOI Properties' indirect subsidiary IOI (Xiamen) Business Management Co Ltd incorporated a wholly-owned subsidiary known as Xiamen Palm City Sports Technology Co Ltd in Xiamen on March 18.
In Singapore, construction of the IOI Central Boulevard Towers in the Central Business District had stalled for several months due to Covid-19 infections in migrant workers' dormitories and the country's circuit breaker to curb the spread of the coronavirus in April last year.
"Since the circuit breaker was lifted, construction progress has picked up progressively although uncertainties due to safe management measures imposed by the government and supply crunch of workers continue to weigh on the industry," says Voon.
Sales on track to exceed FY2021 target
Voon says IOI Properties is on track to exceed its sales target for the financial year ending June 30, 2021 (FY2021), of just over RM2 billion.
"[To secure buyers], we have engaged our in-house marketing capabilities, which was developed eight years ago and has since evolved into various customer relations management tools to enable better analysis and reach of prospects. As for buyers' trends, buying interests remain strong across all segments and the main challenge is affordability and financing. We believe IOImyHome package has, to a large extent, managed to address these issues," he adds.
Voon notes that the property development segment, which contributed 83.6% of the group's revenue of RM1.83 billion for the cumulative nine months ended March 31, 2021 (9MFY2021), will continue to drive the group's growth this year.
The group saw its net profit double to RM178.8 million in 3QFY2021 from RM82.4 million a year ago, and increase 4.5% from the previous quarter. Revenue grew 44% year on year to RM579 million and fell 2.1% quarter on quarter.
It attributed the higher revenue and operating profit to the property development segment and higher share of associate's profit arising from a land sale.
On the group's prospects, Voon says it remains positive despite the dampening effects of the implementation of Movement Control Order 3.0 (MCO 3.0) on the recovery of the property investment and hospitality segments in Malaysia, and that its retail and office segments will continue to adopt active and pragmatic tenant-retention strategies to maintain occupancy rates and support its tenants.
As at end-March, the group had given out a total rental relief assistance of RM55 million to its tenants and it is expected to provide additional rental relief of about RM20 million, owing to MCO 3.0.
To navigate stiff competition in the current economic climate, Voon says IOI Properties is doing more R&D and collaborating with partners to explore ways to enhance liveability through provision of both physical amenities and leveraging technology as enablers.
"The group will continue to leverage its digital marketing capabilities, accelerate sales via online marketing platforms, and adopt aggressive sales and marketing strategies to focus on the group's well-sought-after, mid-priced range [of] products."
IOI Properties' hospitality portfolio features a total of 2,106 rooms, of which 1,241 are located in Putrajaya and Puchong. The remaining 865 rooms are located in Xiamen and currently under construction.
Its investment properties, meanwhile, have a total net lettable area (NLA) of 9.6 million sq ft, of which 6.3 million sq ft are in Malaysia.
In a sectoral report on the property market on June 9, AmInvestment Bank Research remained "neutral" on the sector, owing to its high prices and surge in input costs, particularly steel bars, banks' caution in residential property lending and house buyers' inability to qualify for a home loan due to their already-elevated debt service ratios.
The research firm notes that IOI Properties' property segment continues to be supported by its international portfolio, where 61% of the sales were derived from Malaysia, 38% from China and 1% from Singapore.
"[However], the latest lockdown [beginning June 1] has badly hurt sales and property investment segments and could dampen seasonally higher 2H sales. The earnings for companies with exposure in property investment, particularly the retail and hotel business, will be further hit as shopping malls have to be closed except for shops that fall under the essentials category," the research firm says. It has downgraded IOI Properties' stock to a "hold" call from "buy" previously, with a lower fair value of RM1.45, based on a higher realisable net asset value discount of 50% (from 40% previously) to reflect the negative lockdown impact.
Shares in IOI Properties closed at RM1.24 last Friday, giving the company a market capitalisation of RM6.83 billion. Its share price has fallen 21% year to date.