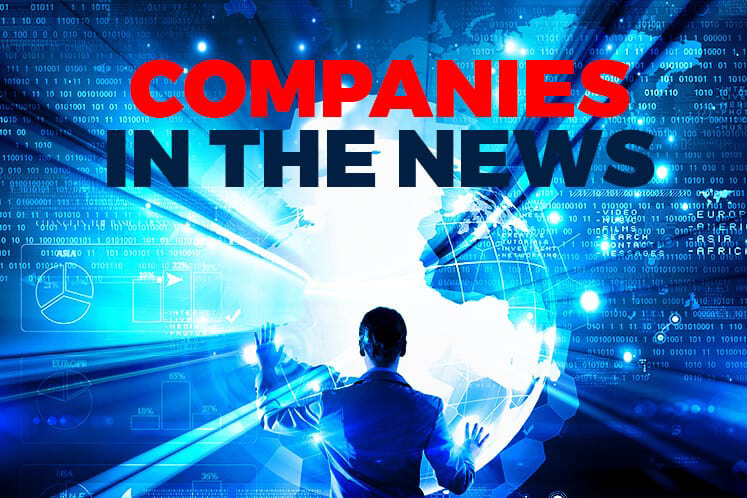 KUALA LUMPUR (July 5): Based on corporate announcements and news flow today, companies in focus on Wednesday (Sept 12) may include: IOI Properties Group Bhd, AirAsia Group Bhd, Bumi Armada Bhd, Country View Bhd, Chemical Company of Malaysia Bhd, Sunsuria Bhd, TDM Bhd, Serba Dinamik Holdings Bhd, TFP Solutions Bhd and Mexter Technology Bhd.
IOI Properties Group Bhd's wholly-owned subsidiary Fortune Premiere Sdn Bhd has issued its third sukuk of RM1.2 billion for capital expenditure, working capital and to refinance existing borrowings.
The sukuk issuance forms part of Fortune Premiere's multi-currency Islamic medium term note programme of up to RM3 billion.
IOI Properties said the RM1.2 billion issuance entails two tranches. The first tranche has an issue size of RM300 million, with a tenure of five years and a profit rate of 4.85% per year, while the second tranche has an issue size of RM900 million, with a tenure of seven years and a profit rate of 5.05% per year.
The Philippine unit of AirAsia Bhd said its planned initial public offering (IPO) might be pushed back to mid-2019, citing high fuel costs and other factors.
The low-cost airline had been seeking to raise up to US$250 million in an IPO this year to fund its expansion programme.
"We are still working on it, but we think it might get delayed till next year," Philippines AirAsia CEO Dexter Comendador told reporters on the sidelines of an industry forum.
Bumi Armada Bhd's Armada Kraken floating production storage and offloading (FPSO) vessel for the Kraken field in the UK's North Sea has been issued with the final acceptance certificate.
The final acceptance was completed in accordance with the requirements set out in the bareboat charter contract dated Dec 20, 2013.
Chief executive officer Leon Harland said the final acceptance is the milestone that the offshore and onshore teams have been working hard for.
"We can gladly state that the final acceptance has now been achieved in accordance with the bareboat charter, and we did so without any major safety incident," he added.
Country View Bhd has accepted banking facilities totalling RM232 million to part-finance the purchase of a 164-acre piece of vacant land in Iskandar Puteri, Johor.
The property developer said the facility was offered to its wholly-owned subsidiary, Country View Resources Sdn Bhd, by RHB Islamic Bank Bhd and MBSB Bank Bhd.
Of the amount, RM217 million would be used to part-finance the RM310 million purchase price of the land.
The remaining RM15 million would be used for preliminary work including earthworks, main access roads, sewerage treatment plant and main drainage.
Chemical Co of Malaysia Bhd (CCM) is selling a piece of vacant industrial land in Seremban, Negeri Sembilan for RM21.5 million, the bulk of which will be used to pare down its borrowings.
It has signed an agreement to sell the leasehold land, measuring 73,705 sq m, to Rock Link Sdn Bhd and the deal is expected to be completed by the first quarter of 2019.  
The land's original cost of investment was RM9.04 million in December 1994, it said, adding that it will use RM20.9 million from total proceeds for its loan repayment while the remaining will be for real property gain tax.
Sunsuria Bhd has teamed up with UK-based Concord College International Ltd to operate an international school in Malaysia.
Concord is a wholly-owned subsidiary and educational charity which runs an independent international school in England.
Sunsuria said the collaboration is expected to benefit the local community within Sunsuria City in the south of Putrajaya as it provides access to quality international education.
"The school with both day and boarding school options is expected to attract and target students from all over Malaysia, and Asean countries," the property developer.
The collaboration, it added, is conditional upon its subsidiary, Sunsuria Education Sdn Bhd, securing approval from the Education Ministry.
Loss-making TDM Bhd will undertake a debt rationalisation exercise that involves the full settlement of the outstanding rupiah notes held by its Indonesian subsidiary, PT Rafi Kamajaya Abadi.
TDM said under the debt rationalisation exercise, the group will utilise a US$105 million (RM434.3 million) credit facility to fully settle the group's outstanding rupiah notes used for TDM's plantation operations in Kalimantan, Indonesia.
Subsequently, TDM will redeem its investment in fixed income securities, of which the proceeds will be used to fully settle the principal portion of the US$105 million Foreign Currency Revolving Credit-i Commodity Murabahah.
TDM added that upon completion of the exercise, the group's total interest-bearing borrowings and gearing will be reduced to RM476.6 million and 0.41 times from RM766.6 million and 0.68 times respectively as at June 30, 2018.
Serba Dinamik Holdings Bhd has entered into an agreement to buy a 25% stake in Dutch company Psicon BV from Liberty Industries BV for €400,000 (RM1.93 million).
It has also proposed to buy the entire stake in Psicon AVV from Frank Koper for US$1.1 million (RM4.56 million).
Both purchases will be carried out through its unit Serba Dinamik International Ltd (SDIL).
Upon completion of the proposed acquisitions, Psicon BV will become a 25%-owned associate of SDIL, whereas Psicon AVV will become a wholly-owned subsidiary of SDIL.
Both Psicon BV and Psicon AVV are focused on rotating equipment performance upgrading, and process module engineering.
TFP Solutions Bhd is pulling out of its Bangladesh solution business joint venture due to "irreconcilable differences and incompatibility" with its partner.
Its wholly-owned subsidiary, TFP Soft Sdn Bhd (formerly known as One Uni Education Sdn Bhd), is selling the 55% stake in TFP Bangladesh to Mohamed Junaeid Aziz for RM7,978.
It has decided "not to venture abroad in solutions business, but to enhance its current business in Malaysia.
Mexter Technology Bhd is exiting the mobile services business due to the current challenging and increasingly saturated mobile services industry, as well as to stem further losses to the group.
In a filing with Bursa Malaysia today, Mexter said it has entered into a sale and purchase of shares agreement (SPA) with its head of mobile division Chan Wai Fong to dispose of its entire 80,000 shares, or a 80% stake, in its loss-making mobile messaging gateway solutions and services unit Mexcomm Sdn Bhd for RM187,727. MexComm has been registering net losses since 2012.
Chan, who is also director and chief operating officer of Mexcomm, is already holding a 20% stake in the company.
Mexter said the proposed disposal is in line with the group's strategic plan to focus and expand its healthcare services segment.
It added that the disposal will also allow the group to channel its resources into the healthcare services business, which are expected to contribute positively to its profitability in long term.
Under the SPA, Chan undertakes that MexComm will repay the RM2.09 million owing to the subsidiaries of Mexter.