This article first appeared in The Edge Financial Daily, on December 9, 2019.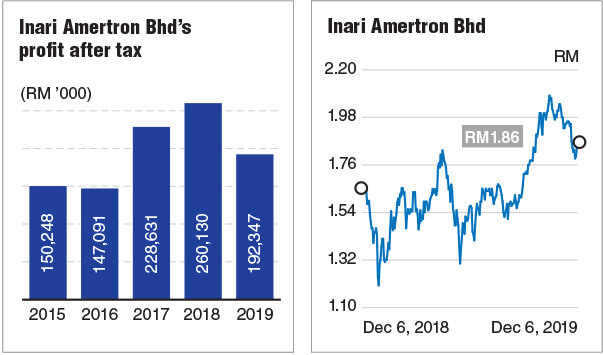 KUALA LUMPUR: Investors eyeing Inari Amertron Bhd would have to be patient if they want to see the same kind of returns that the stock has delivered in the past.
The evolvement and technological advancements of the smartphone over the past few years had helped to boost the earnings of the group, which provides outsourced semiconductor assembly and test services for radio frequency (RF), fibre optic transceivers, optoelectronics and sensors.
This in turn had led to higher returns for its shareholders — with the share price up by almost five times, from 49 sen on Dec 16, 2014 to RM2.43 on Aug 9, 2018.
However, as latest reports from Gartner Inc would tell you, the demand for smartphones has been waning, with global smartphone sales expected to contract by 2.5% this year.
Inari, too, has seen a slowdown in its earnings. For its first financial quarter ended Sept 30, 2019, Inari reported a 20.6% year-on-year decline in net profit to RM47.7 million, which the group said was because of a change in product mix, higher depreciation costs, lower foreign exchange and an increase in taxation compared to the corresponding period.
At its current share price of RM1.86, Inari is trading at 32 times its earnings.
An analyst with a local investment bank told The Edge Financial Daily that investors eyeing Inari would need to stomach its current hefty valuations — at over 30 times price-earnings ratio (PER) — at least till the commercialisation of the fifth-generation (5G) technology in mobile devices takes place.
"In the past, consensus has been overly bullish on the stock and right now, we think the market is pricing in a recovery for Inari that has not even begun.
"However it should be noted that though the long-term outlook for Inari remains promising, patience is needed from investors because it will take time for the commercialisation of 5G technology, which is expected to happen somewhere in the second half of 2020 or even 2021 — to have a serious impact on Inari's earnings," an analyst with a local investment bank told The Edge Financial Daily.
JPMorgan in a Nov 28 note said it is also of the view that the market is packaging lofty expectations for Inari.
"We anticipate RF revenues to grow and find softness in its optoelectronics [segment] to be well understood. However, the stock seems to be pricing in aggressive growth expectations driven by the launch of 5G, and this has underpinned Inari's year-to-date rally [whereby its share price has appreciated by 25%]," the firm said.
JPMorgan has an "underweight" call on Inari, with a TP of RM1.40, which is 25% lower than Inari's closing share price of RM1.86 last Friday. At RM1.86, the company's market capitalisation stood at RM5.9 billion.
AmInvestment Bank Research in its Nov 27 note on Inari reiterated that 5G deployment remains a crucial barometer of Inari's RF segment growth.
"We like Inari for its longer term prospects, arising from its involvement in the production of RF, which will benefit from the transition to 5G and rising content per device, laser devices which will be boosted by increasing biometric and augmented reality applications in smartphones and LED which rides on the increasing demand for high-resolution billboards in shopping malls," the research house said.
AmInvestment Bank Research has a "hold" call on Inari, with a fair value of RM1.76.
Hong Leong Investment Bank Research (HLIB Research) said Inari has guided that its short-term outlook is clouded by geopolitical events including the ongoing US-China trade war.
HLIB Research has a "sell" call on Inari, with a target price (TP) of RM1.39, as the firm believes that its share price has run ahead of its fundamentals.
"This is the fifth consecutive quarterly earnings disappointments [from Inari] and RF demand may falter into early 2020. Besides that, the threat of its RF product being substituted is a major risk. Thus, we opine that its huge valuation premium against its peers is not justifiable," the research house said.
However, there are some who are more sanguine about Inari's prospects. Affin Hwang Capital for one has a "buy" call on Inari with a TP of RM2.14, indicating an upside of 15% to its close last Friday.
"We maintain our 'buy' rating with a higher target price of RM2.14 based on a higher target PER multiple of 24 times ... as we take into account the improved investor sentiment and appetite for the sector.
"The higher PER multiple is justified by the likely stronger earnings growth profile ahead, fuelled by the 5G technology transition," the firm said in a note.
From the perspective of a fund manager, Areca Capital chief executive officer Danny Wong Teck Meng said high valuations for semiconductor players are justifiable as they need to be at the forefront in terms of innovation.
"It is different compared to say, those who provide test equipment and precision cleaning who are not so impacted by things like the trade war, as testers for the semi-conductor industry are always needed whether in times of high or low volumes.
"But for semiconductor players, innovation is the name of the game as they need to invest in research and development to meet the requirements of suppliers and [to stay ahead of competition], hence their higher PER is justifiable," said Wong.
Other tech stocks such as Unisem (M) Bhd and Globetronics Technology Bhd are a trading at 39 times and 27 times their earnings, respectively, according to Bloomberg.