This article first appeared in The Edge Malaysia Weekly, on June 3, 2019 - June 09, 2019.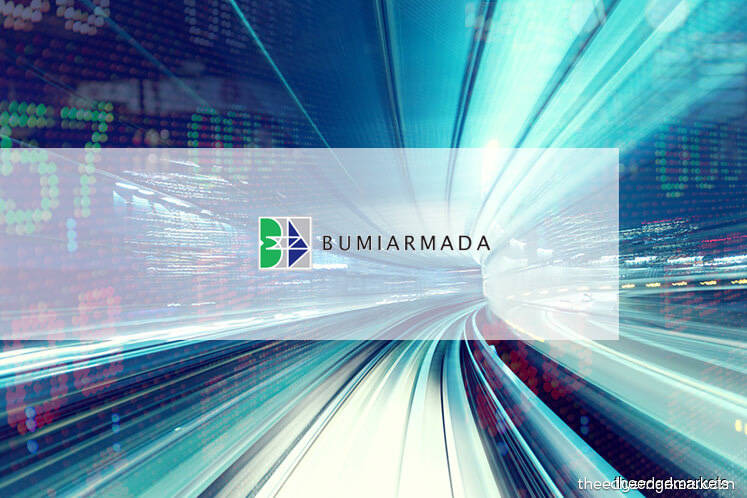 THERE seems to be a hint of optimism about Bumi Armada Bhd after the offshore services provider announced markedly better financial results for the first quarter of its financial year ending Dec 31, 2019 (1QFY2019).
However, its share price moved up only a sen from the closing price of 18.5 sen on May 24 to 19.5 sen on May 27. Since then, the counter has been trading within a tight band of 19 sen to 21 sen per share.
Why are investors still sceptical about Bumi Armada after it reported a jump in earnings? In 1QFY2019, the group's net profit rose 28.5% year on year to RM62.2 million.
"It is all about earnings sustainability. Bumi Armada has yet to show that it has the ability to grow its earnings organically," says an analyst with an international bank who covers the counter.
"Revenue from its offshore marine service (OMS) business dropped by half in the first quarter and it might have to dispose of more vessels, which are lying idle due to a lack of jobs."
Despite having two business segments, Bumi Armada's profitability had only been propped up by its floating production and off-loading (FPO) business. The OMS business has been bleeding red ink since the quarter ended March 31, 2018, when it reported a segmental loss of RM38.6 million.
"Investors should look at the performance of the OMS business before making a decision whether to invest in Bumi Armada or not," says another analyst with a foreign investment bank's research outfit.
"Our 'sell' call still stands because of the lack of direction from the OMS business. The subsea vessels are still out of jobs. The management initially targeted for the vessels to start contributing in the second half of this year. This has been pushed back to the second quarter of 2020," the analyst tells The Edge.
To recap, in 1QFY2019, Bumi Armada's OMS business — comprising offshore support vessels (OSVs) and subsea vessels — reported a 52.8% drop in revenue due to the completion of the LukOil project in the Caspian Sea last December.
The segment is still in the red in 1QFY2019, with a loss before interest and tax of RM25.35 million — its sixth consecutive quarter of losses.
Kong Ho Meng, an analyst with UOB Kay Hian who covers the counter, says in a May 28 report that the OMS business remains a drag on the group's earnings before interest, taxes, depreciation and amortisation.
"Despite the relief from loan refinancing, OMS deterioration is still a key drag on the group. Positively, the group is shedding loss-making assets with four OSVs being sold in 1QFY2019 (remainder: 39 vessels)," he adds.
Nevertheless, Bumi Armada is seeing some positive signs in the offshore oil and gas sector, with the OMS business potentially benefiting as more offshore O&G activity will result in improvements in utilisation, higher charter rates and better pricing on asset disposals, the group says when asked about the outlook for the sector as well as the impact on the group.
As at the end of May, Brent crude oil price had risen 23% to US$66.22 per barrel. However, the jury is still out on whether the rally was due to higher demand from firm economic development globally or news of trade tensions and economic sanctions.
While the FPO business is still making money, Bumi Armada is grappling with several operational and corporate issues regarding its vessels. The most notable ones are the Armada Kraken and Armada Claire.
The FPO business reported a 7.56% drop in revenue to RM425.57 million in 1QFY2019 due to lower revenue from the Armada TGT FPSO vessel. The FPO segment's profit fell 11% y-o-y to RM253.73 million in the quarter.
Armada Kraken, which is currently employed by EnQuest — a UK-based O&G exploration and production company — has been facing technical issues that led to the floating production, storage and offloading (FPSO) vessel being underutilised by its client.
The vessel had many system issues towards the end of 2018, when it only operated on one train, with average production rate of only 63% through 2018. However, this situation is slowly being overcome, with Armada Kraken back on two-train operations by March.
This has boosted gross production to 33,000 barrels per day in March, up from 23,000 bpd in January and February, and within EnQuest's target production of between 30,000 and 35,000 bpd for the year.
The issues plaguing Armada Kraken led to speculation that the vessel has several design flaws and that the design of the system is not well thought out to operate in the harsh conditions of the North Sea. This was, however, denied by a Bumi Armada spokesperson.
Instead, the spokesperson tells The Edge that Armada Kraken is a unique unit, producing heavy oil using huge volumes of processed and heated water in the North Sea. This means that it is complex, with numerous modules that need to act together seamlessly in an extremely harsh operating environment, in order for the system to work efficiently.
"Unfortunately, not all the modules have been working seamlessly and, therefore, there have been some issues with the system," explains the spokesperson.
Of the 15 analysts who cover the counter, five are calling for a "buy" while seven are calling for "hold". The rest have a "sell" recommendation on the stock. UOB Kay Hian has a target price of 16 sen per share on the stock; Macquarie, 13 sen; and Kenanga Investment Bank, 18 sen.
Another analyst, who spoke on condition of anonymity, says it is the operational track record of Bumi Armada that made investors sceptical about investing in the group's securities, despite the better first-quarter financial results.
"Many investors have been burnt [before]. It was a legal case involving one of Bumi Armada's vessels. While that was no fault of Bumi Armada, one issue after another seems to be plaguing it," says the analyst.
Bumi Armada closed at 20 sen last Friday, giving it a market capitalisation of RM1.18 billion.