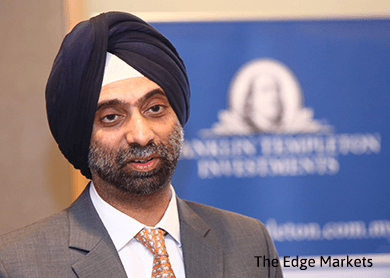 KUALA LUMPUR: Malaysian investors are seen to be more cautious and conservative in their investment strategies this year, according to the latest survey from Franklin Templeton Investments.
Franklin Templeton Asset Management (Malaysia) Sdn Bhd country head Sandeep Singh said this wariness is reflected in the results of the Franklin Templeton Global Investor Sentiment Survey (GISS) Malaysia, which found that 39% of local investors expect the stock market to fall in 2015, compared with 32% in 2014.
Sandeep said another 31% believe the stock market will rise, while 30% expect it to remain flat.
Moreover, 71% of local investors said they will be adopting a more conservative investment strategy in 2015, compared with 61% in the previous year, while 25% of respondents will be taking a more aggressive stance, lower than last year's 33%.
Respondents cited reasons such as inflation (53%), falling oil prices (42%) and the state of the local economy (40%) as their main matters of concern.
"As Malaysian investors' sentiment on the local stock market has turned more cautious, this could be one of the reasons more are looking outside their home country. Asia remains the preferred investment destination, followed by the United States — the latter is gaining remarkable traction this year," he told a media briefing yesterday.
Sandeep said 72% of respondents are choosing the US dollar in 2015, compared with 52% last year.
The survey showed that only 19% of local investors expect Malaysia to register the best equity market performance in 2015. In comparison, 74% of Americans expect the US to deliver the best performance.
Meanwhile, 31% of local respondents expect the Asian region to offer the best equity investment opportunities in 2015, while 22% pick the US and Canada.
He added that Malaysian investors are also becoming more mature, evident from the longer time frame for investors to evaluate the success of an investment, with 83% of respondents expecting returns in six months to five years' time, while a mere 7% evaluate their investments after less than six months.
"It is encouraging to see the growing sophistication among local investors. More investors are looking to diversify away from their home-country market; they understand the importance of risk management, and are also relatively patient," Sandeep said.
The Franklin Templeton GISS is a barometer of a country's perception of investing and expectations for 2015 and beyond, polling over 11,608 investors across the globe, including 500 Malaysians.
This article first appeared in The Edge Financial Daily, on June 17, 2015.