This article first appeared in The Edge Malaysia Weekly, on March 9, 2020 - March 15, 2020.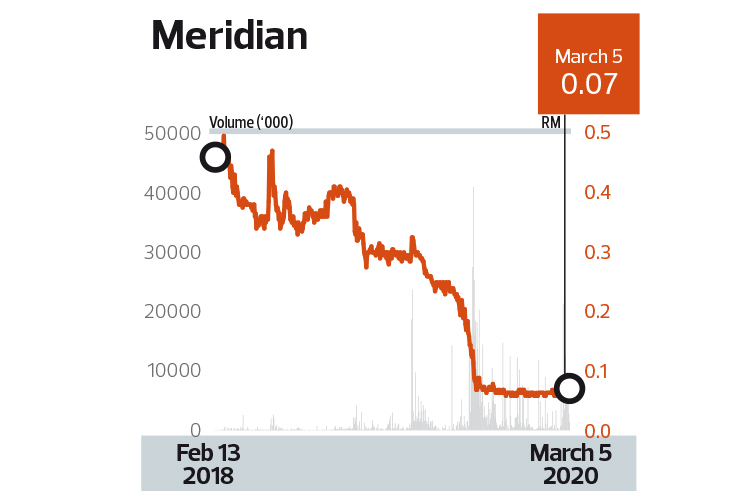 Click / Tap image to enlarge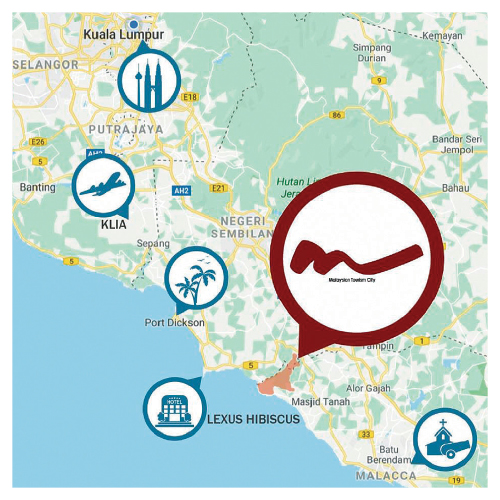 Many wonder if Malaysia Tourism City — the only major development in Meridian's portfolio — can single-handedly revitalise the group
IN June 2018, when M101 Group founder and CEO Datuk Seth Yap Ting Hau emerged as a major shareholder in Meda Inc Bhd — now known as Meridian Bhd — with 25.5% equity interest, the expectation was that the lawyer turned developer would give the loss-making property firm a new lease of life.
Fast-forward to 2020 and investor hopes have dimmed while its recent financial footing is raising a red flag.
In fact, Meridian has continued to post losses — since its financial year ended Dec 31, 2014 (FY2014). There is also little to show in terms of share price performance in the last 20 months.
This has certainly raised eyebrows among the investing fraternity, given that Meridian is supposed to develop the highly anticipated Malaysia Tourism City (MTC) on its 622-acre tract in Kuala Linggi, Melaka.
The group plans to build the world's first Hasbro water theme park in MTC, which is to be an iconic branded attraction at the heart of the master plan. Hasbro is the world's largest toymaker.
Although the MTC project is expected to be Meridian's main revenue and profit contributor in the coming years, investors appear to have lost patience with the company.
The stock is down 85% from its peak of 47 sen recorded on June 19, 2018. It closed at seven sen last Thursday, giving the company a market capitalisation of just RM40.6 million.
The group narrowed its net loss by 37% to RM14.78 million in its just-ended FY2019 from RM23.33 million in the previous year. Still, its net loss for the two financial years is significantly higher than that posted in FY2016 and FY2017 of RM6.7 million and RM8.8 million respectively.
Corporate observers now wonder whether MTC — the only major development in Meridian's portfolio — can single-handedly revitalise the group.
"At the moment, [Yap] is banking on MTC. I think Meridian will be in a financially tight spot unless he derives value from the Kuala Linggi land. But to me, a PLC (public-listed company) shouldn't bank on just one project. You must have contingency plans," a source close to the company tells The Edge.
Yap, 40, privately owns M101 Group, whose portfolio boasts three major property projects: the completed M101 Dang Wangi, which has a gross development value of RM130 million; M101 Bukit Bintang, with an estimated GDV of RM365 million; and M101 Skywheel, whose estimated GDV is RM2.2 billion.
It has not gone unnoticed that M101 has been collaborating with world-renowned brands to drive its property tourism business. M101 Skywheel — the company's flagship development — is a 78-storey building that will feature the world's highest shopping experience with its sky mall and 220m-tall Ferris wheel. It also offers designer suites by Studio FA Porsche and the first Planet Hollywood Suites in Asia.
M101 also plans to build a first-of-its-kind Monopoly Mansion — a Monopoly-themed five-star boutique hotel — at M101 Bukit Bintang in Jalan Baba, Kuala Lumpur.
Still, if investors are hoping that Yap will inject his private assets into the listed Meridian, they would be disappointed because he had told The Edge in April last year that he had no plans to do so. Rather, Meridian intends to prioritise the development of its Kuala Linggi land.
The source close to the company says Yap may have "miscalculated a few things" when he took over Meda Inc in 2018. "I think he didn't expect that running a PLC would be much more complicated than running a private company. Yes, Meridian owns some assets but it has no major ongoing projects, so it continues to bleed. Hopefully, within the shortest period of time, he will inject assets into the group and even launch new projects."
The source goes on to say that although Yap remains confident of turning Meridian around, it is time to shorten the learning curve. "Perhaps he is still young. He is a newcomer to the corporate world. I believe he had made his money from other projects. He is a smart guy. But then again, managing a PLC is very different from running a private company. As a PLC, you are subject to queries from the shareholders and stakeholders. You are under a lot of pressure to deliver results."
Another source tells The Edge that Yap is enthusiastic about MTC but Meridian is still waiting for the financing to kick-start the project. "I am not sure how keen the banks are about lending money to Meridian. But if you asked me, I have seen many other PLCs that have been facing bigger problems than Meridian's. He should be able to pull it off.
"To control a listed company and undertake a project of this size at his age is nothing but ambitious. But [being in] the corporate world and [being a] property developer are two different games. Hopefully, he can adapt and learn fast."