This article first appeared in The Edge Malaysia Weekly, on November 25, 2019 - December 01, 2019.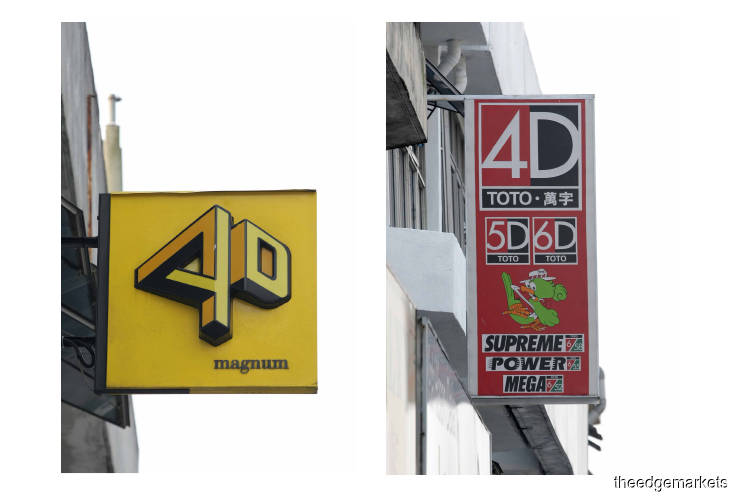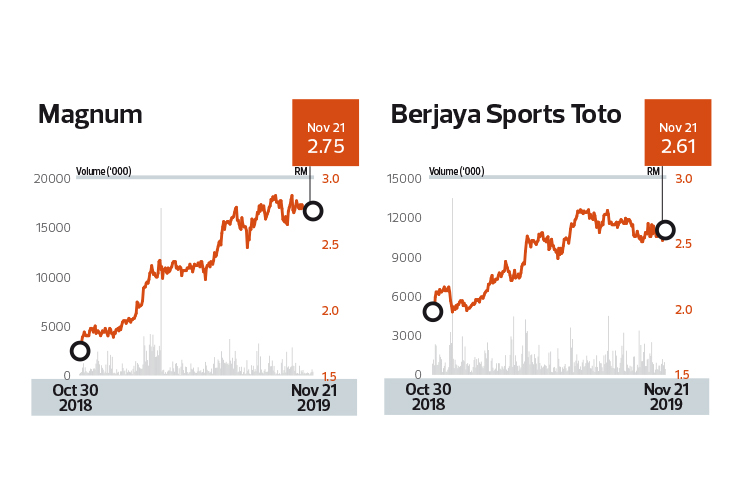 BURSA Malaysia-listed number forecast operators (NFOs) have been inching their way up the charts this year as investor interest returns to the counters, which have been languishing in the doldrums in the last few years.
Over a one-year period, Magnum Bhd has climbed 48.3%, moving from RM1.85 to RM2.75 at last Thursday's close. More moderate has been the advance of Berjaya Sports Toto Bhd (BToto), whose share price has risen 21.19% over the same period to RM2.61 from RM2.15.
Analysts attribute the renewed interest in NFOs to better ticket sales, which have led to improved earnings this year. However, it was the stepping up of enforcement against illegal gaming activities that helped boost ticket sales.
Maybank Investment Bank Research notes in a Nov 20 report on Magnum that more active enforcement against illegal NFOs started in the third quarter of last year.
That legal NFOs have been hard hit by the illegal betting market in Malaysia for the past decade or so is underscored by claims that the black market is at least 1.5 times the size of the legal industry. Illegal betting has also moved with the times, growing in sophistication and shifting onto online betting channels as a means to expand its reach and to steer clear of enforcement efforts.
"Dividends aside, I believe the interest in NFOs is because ticket sales have been good this year and this translates into higher earnings for them. I would say the higher ticket sales are a result of effective clampdown on illegal betting activities, which is starting to take effect," observes an analyst who did not want to be named.
"This is in the government's interest because clamping down on illegal betting activities will lead to increased ticket sales of the legal NFOs, and this will mean [higher] tax revenue for the country."
TA Securities Research notes in a Nov 20 report on BToto that stiffer penalties introduced in Budget 2020 against illegal gamblers will serve as a deterrent to punters from approaching illegal gambling outfits.
"In our opinion, the stern penalties introduced in Budget 2020 against illegal gamblers, which comprise a higher minimum mandatory penalty of RM100,000 and a minimum mandatory jail sentence of six months, could effectively curb black market activities in the NFO industry in Malaysia. We believe the penalties are heavy enough to stop gamblers from taking unnecessary risks for additional prizes," says the research house.
As of now, many seem to agree that the outlook of the legal NFO industry is better than what it was before with more focused enforcement.
In fact, AllianceDBS Research notes in its Nov 20 report that there could be room for NFOs to grow their earnings if the authorities are successful in reducing illegal NFO activities, given that the illegal market is estimated to be about two times the legal market.
The enthusiasm greeting the clampdown has muted the impact of a reduction in special draws next year to 8 from 11 previously.
"It will have minimal impact on the NFO players, given that these special draws come with 10% additional tax, which crimps profitability. While the top line will be reduced by less than 2%, net profit will be impacted by less than 1% and the shortfall should be absorbed by the potential uptick in ticket sales," says Kenanga Research in a Nov 20 report on BToto.
Another factor that could push ticket sales up, says another analyst with a local research house, is the prizes offered.
"If the prize snowballs to a big figure, you can be sure that more people will be interested in buying, and this will boost ticket sales," he says.
For the cumulative nine months ended Sept 30, 2019, Magnum's net profit jumped to RM182.44 million, more than five times that recorded a year ago of RM32.48 million. Revenue improved 5.1% year on year to RM2.07 billion.
However, 3Q2019 revenue was lower by 2.2% y-o-y at RM652.1 million as ticket sales for the quarter slowed.
Over at BToto, which recently changed its financial year end to June from April, its first quarter ended Sept 30, 2019, saw revenue at RM1.43 billion and net profit at RM66.96 million. There are no comparable quarters because of the change in year end.
According to CGS-CIMB Research, BToto's motor division recorded RM602.4 million in revenue for the quarter and RM7.8 million in earnings before interest and tax. Its NFO operations registered a revenue of RM800.5 million and Ebit of RM95.3 million.
Between the two listed NFOs, analysts prefer BToto to Magnum. BToto has five "buy" and five "hold" calls with a target price of RM2.69 while Magnum has two "buy" and four "hold" calls with a target price of RM2.92.
The dividend yields are similar with Magnum's marginally ahead of BToto at 6.18% while BToto yields 6.08%.
"I prefer BToto because its prize payout ratio is more stable compared with Magnum's. This means that BToto's earnings are more predictable as well. BToto also has a lower price-earnings ratio (PER) compared with Magnum," says one analyst.
Maybank Investment Bank Research likes BToto as it is seen as a cheaper proxy for more active enforcement against illegal NFOs.
BToto's forward PER is 13.7 times based on consensus while Magnum's is slightly higher at 15.45 times.